Valentine mantel decor that's simple and sweet, featuring easy DIY Valentine decor ideas. Pinks, purples and brass make this Valentines mantel shine!
Valentine mantel decor is so much fun to play around with, don't you think? Especially in the middle of winter when the skies are grey and the trees are bare, it's refreshing to bring out pink and purple decor to brighten things up! This year, I kept my decorating simple but colorful with my Valentine mantel decor.
I don't always decorate our home for Valentine's Day. In fact, since we've moved into our home, I think this is only the third or fourth time I've decorated for Valentine's Day. But this year, I felt inspired to dress up our mantel, and to make it colorful. I wasn't feeling particularly inspired for "winter decor" this year, and after I packed away our holiday decorations, I felt that I needed a splash of color on our mantel.
So my creative wheels started turning. I played around with some items I already have, but I just wasn't feeling it. I had the itch to make something instead, so off to the craft store I went!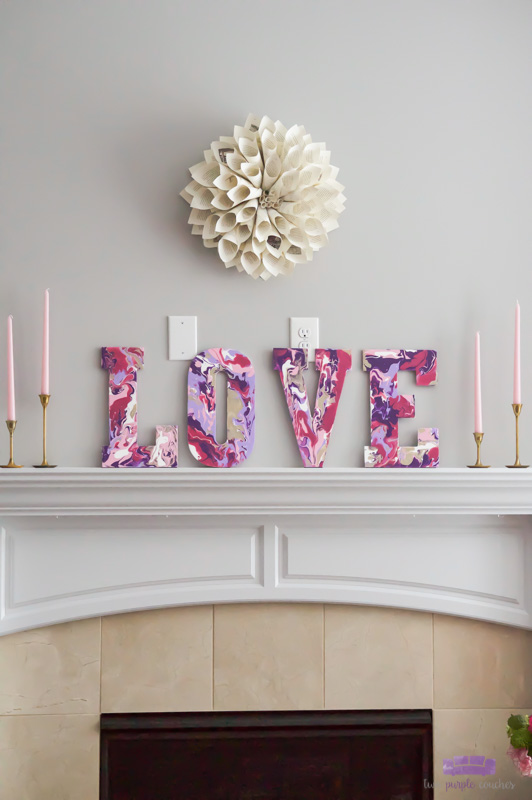 The main feature of my Valentine mantel decor are these bold DIY L-O-V-E letters. Click here for my tutorial on how to make these paint pour letters. Paint pouring has become my newest obsession!
To complement the letters, I brought out a variety of brass candlesticks and pale pink taper candles. The brass brings out the gold paint I used in the painted L-O-V-E letters. The finishing touch is this book page wreath. This wreath works year-round, but seems especially festive for Valentine's Day decorating.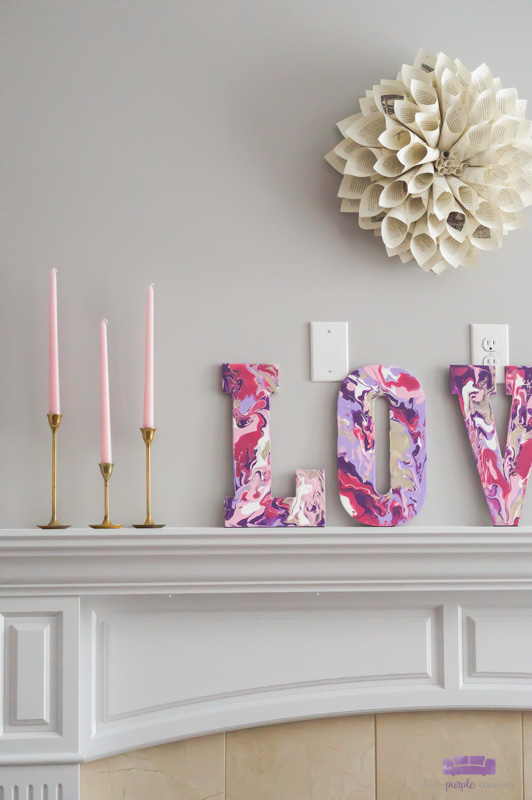 I was tempted to add a few more elements to the mantel, like a stack of books, a vase or even a garland. But after I got the letters and candlesticks in place, I knew a simpler approach was the way to go! I've been finding myself opting for simpler, more minimal decorating lately. Maybe because my mind is on decluttering at the beginning of every year, maybe because my decorating style is evolving a bit. Or maybe because my time is limited now with the baby! No matter the reason, it's nice to try a different approach to decorating.
I always like to create a cozy little spot by our fireplace when I'm decorating our mantel. I pull over one of these two cream chairs we have and add a throw, fresh flowers and a book. It's the perfect spot for warming up in the winter!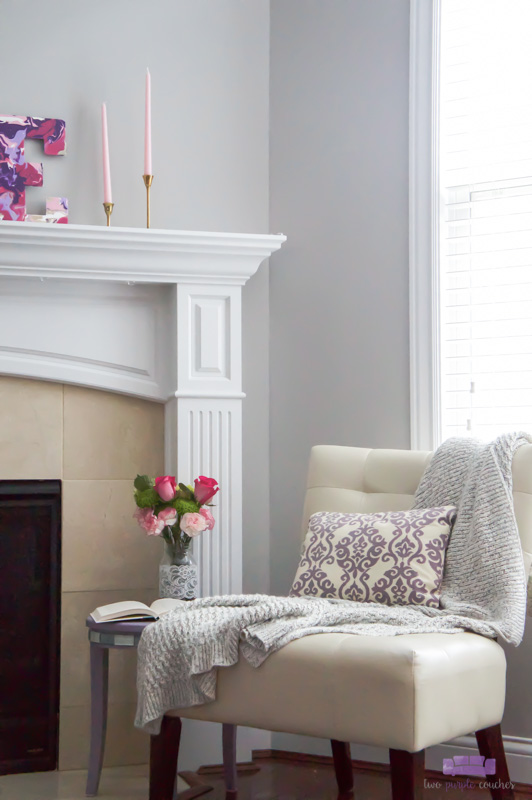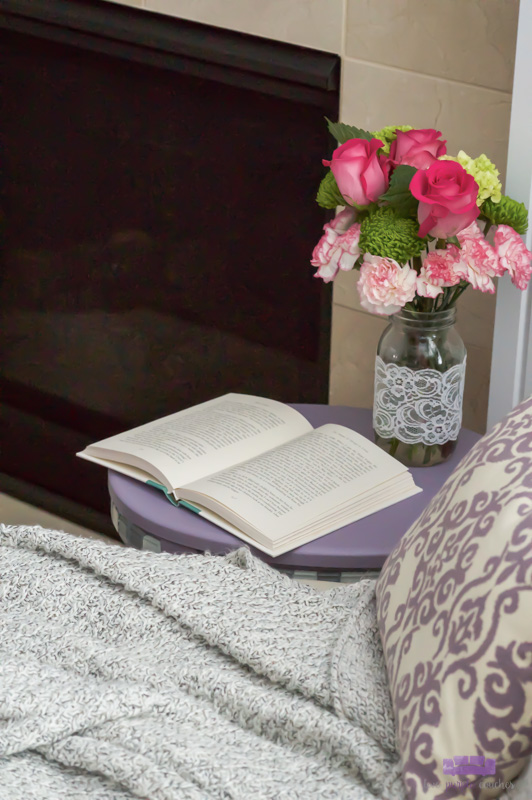 You can find more Valentine's Day mantel decor and Valentine's Day decor projects here: