First I want to say a big, huge, enormous, bear-hug type of THANK YOU!!!!!! to everyone who participated in my Blogiversary survey & giveaway! I'm so stoked that you took the time to celebrate with me, and let me learn more about what you love about this blog, and what you'd love to see more of in Year 3!
As I was planning for my 2nd Blogiversary Bash, it dawned on me that my house tour photos are also two years old. And while that doesn't sound all that old, considering the changes our home has gone through in those two years… well, it's a pretty drastic difference. At least to me!
So I thought I'd take some time over the next few weeks to update my house tour, room by room, and bring you guys along for the ride! Whoo! For your safety, please keep all hands, arms and legs inside the blog at all times.
Oh, and you guys are in for a few treats (warning: this may be an over-promise), because I also realized that there are some house things I haven't shared with you yet (gasp!).
In case you haven't guessed from the title of this post, we're kicking off this tour with our entryway and dining room…
Entryway
One of the first features I loved about this floor plan was the entry: a 14′-long hallway that sweeps you into the wide open family room and kitchen. You can see the whole length of our home from our front door. It feels light, breezy. Like the first perfect spring day after a long closed-up winter.
We painted the same gray (Natural Gray by Behr) in both our entry and our family room. Mostly because there isn't a break in the wall to separate the two rooms. You can see some of the angles and corners in the two photos above. But I like that it's all one color; it moves you effortlessly through these two spaces.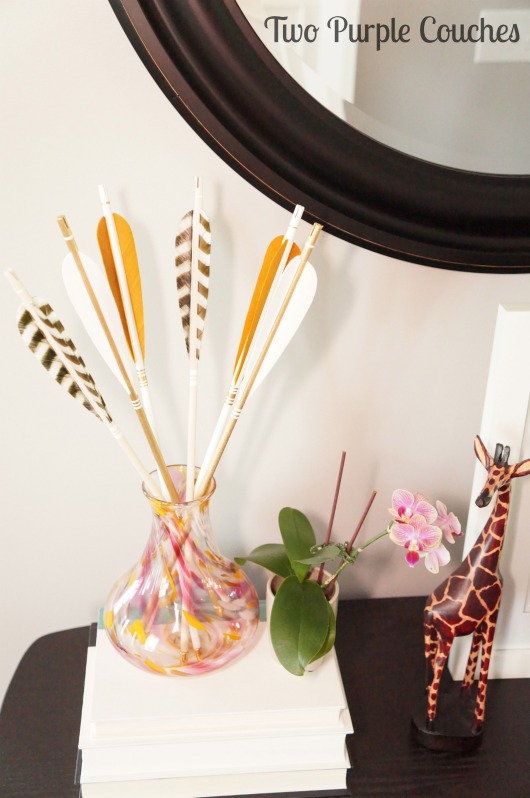 I'm still all about color, pattern, kitsch and gold when it comes to styling my spaces. Though in some spots, the gold changes out for silver, nickel or mercury glass. Or all of them at once.
I added the mini orchid to our entry console table for a cheerful pop of color. It actually works quite nicely with my set of Russian matryoshka dolls.
I also love that the angle of the orchid makes it appear that the giraffe is stopping to give them a smell. Yes, that was semi-intentional. I like to create inside jokes with my home decor and accents.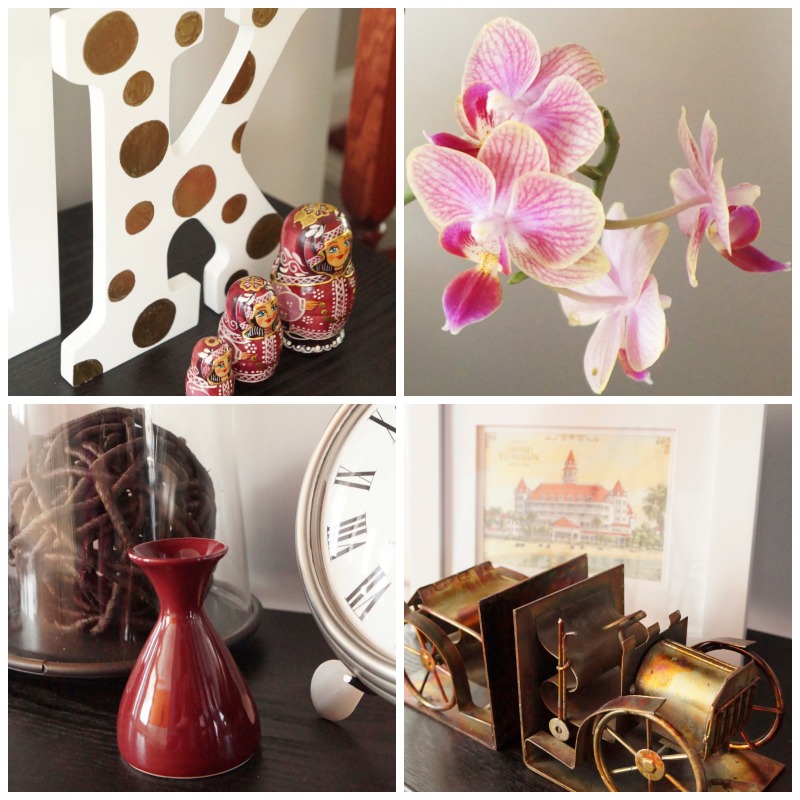 Still to-do in this space:
– Add art to the long, bare wall just inside of the front door.
– Add a stylish but durable rug or runner to replace our current doormat.
Dining Room
This is one of those rooms I've forgotten to show you! Shame on me! Well, you probably caught glimpses of it if you saw my Easter Tablescape, but, here she is in all her bold, orange glory:
Tom and I selected the color together (Calico by Devoe), and now he's trying to take it back. I love it. And I'm trying to convince him that some art and accents will tone things down a bit. And I promise you, it doesn't look this "Day-Glo" in person. It's quite lovely. Bold, yes, but it doesn't reverberate like it does in photographs.
Tom & I also installed all of the crown moulding and wainscoting in the entry, dining room and family room ourselves. You can read some of the tips we learned throughout that process here!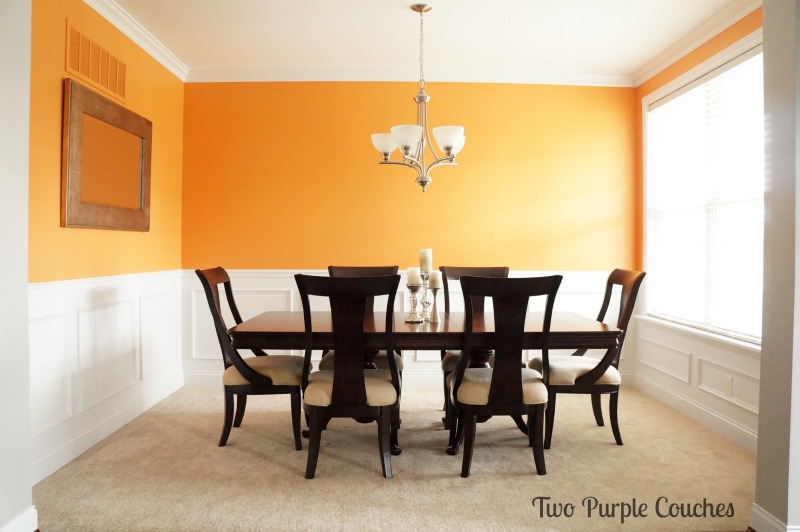 You've caught glimpses of the furniture here and here, but I don't know if I've given you a complete look at it. Both the table and chairs are from Haverty's, but they aren't from the same collection. The mirror is new; we recently picked it up at Pier 1.
As I said, I think getting some art and accents in here will tone down the orange a bit. So, still to-do in here includes:
– Add art to all the walls and to either side of the mirror.
– Figure out how to work in an accent color.
– Maybe add a bar cart for storage since we don't have room for a china cabinet or server.
And that concludes our tour for today!
Next up: my home office, i.e. where all the blogging magic happens. Get excited!
Sharing with: