Summer porch decor and potted plants ideas that are sure to enhance your front entry and your curb appeal.
Thank you to Champion Home Exteriors for sponsoring this post. All content and opinions expressed here are my own. Click here to read my full disclosure policy. 
Summer porch decor is arguably as, if not more, important than your interior decor. After all, your porch or front entry area is the first impression guests will get of your home! By treating your entrance decor the same way you'd treat your living room or dining room, you can create a cheerful porch to welcome guests all summer long.
If you've followed me here for a while, you probably know that one of my favorite days of the year is the day I head to the plant nursery to pick out our summer flowers. I love wandering the rows of blooms and selecting a colorful mix of flowers for our porch planters.
Every year I like to mix up the color palette of our flowers, as well as the types of flowers I buy. With our new Champion front door being installed earlier this summer, I was looking forward to choosing flowers that would complement the door's Plum Silk color. A few planters later, and our home's curb appeal is looking pretty good!
I use the same "Rules of Three" decorating philosophy that I apply to mantel and shelf decor for arranging planters. Groups of three (or five) always look more pleasing to the eye, and I like to mix in a variety of heights. I also apply the heights rule to the types of flowers I plant. So, for instance, in the larger planters that flank our front door, I mixed cascading Bacopa with Penta, Spike Dracaena and Vinca for height.
To complete the Rule of Three, I added a decorative birdhouse for added character. For color, I chose a mix of white, soft and bright pink and lavender flowers.The pot on the "Welcome" stand holds white Angelonia.  I wanted colors that would be somewhat subtle and allow our front door to shine.
One of my favorite features of our home is our wide front porch. I feel like every home needs a front porch – it was even on my list of must-haves during our house hunt! I've set up one side as a cozy seating area with a couple of chairs and colorful pillows. It's the perfect spot to enjoy a cup of coffee in the morning (or wine in the evening) and a good book or favorite magazine.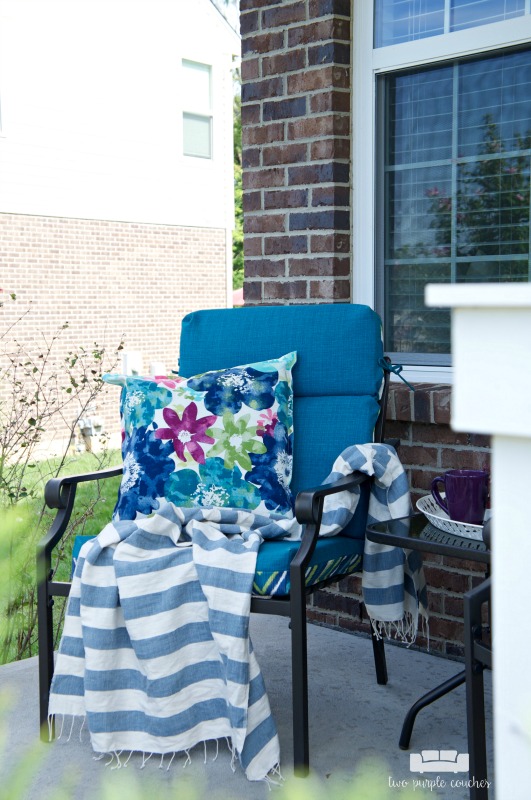 Normally I would also have a wreath or seasonal door hanger on our door, but right now I prefer to show off the beautiful glass design we chose. If you like to have a wreath or door sign, choose or make one that pairs well with the colors of your flowers and other porch decor. For more wreath and door ideas, click here to see an easy wreath update or click here for a simple chalkboard welcome sign.
To finish off my summer porch decor, I added this DIY doormat I made earlier this year. Click here to learn how to make a hibiscus doormat.
Do you decorate your porch or front entry space for the seasons? Or do you have favorite flowers or plants that you add each year? Leave me a comment below and let me know!
If you're looking to enhance your home's curb appeal with a stylish new front door, be sure to visit Champion Home Exteriors and check out their wide array of customizable options!
Love porch decor? You may also like: