Master Bath Tour – Simple DIY updates add style and character to a builder-grade bathroom.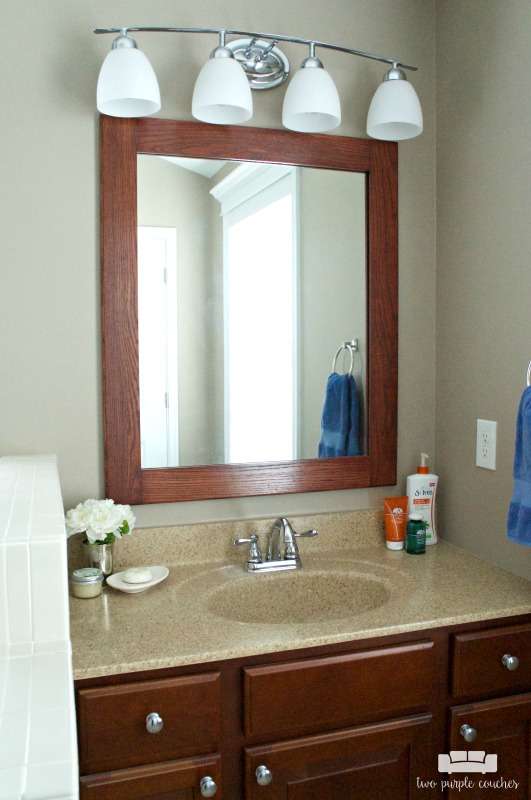 This week our Room by Room series is all about bathrooms. I'm giving you a Master Bath Tour, and this might actually be the first time I've shared some of our bathroom updates on the blog!
Be sure to scroll to the bottom of this post to see the other bathroom ideas being shared this week!
I am long overdue for sharing some of the updates we've made to our master bath. Over two years ago, I shared this post with a mood board and ideas for how I wanted to update our master bath. We've slowly chipped away at some of the projects. For instance, here's what our bathroom looked like at the beginning of 2015: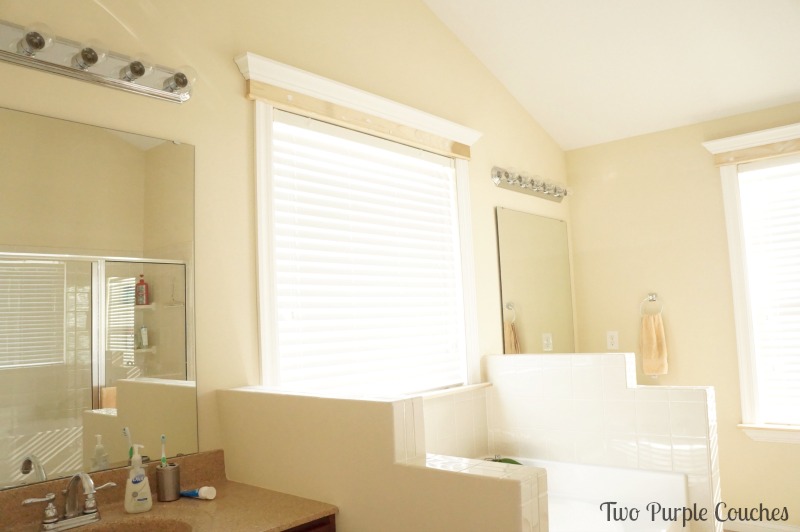 And here's what it looks like today: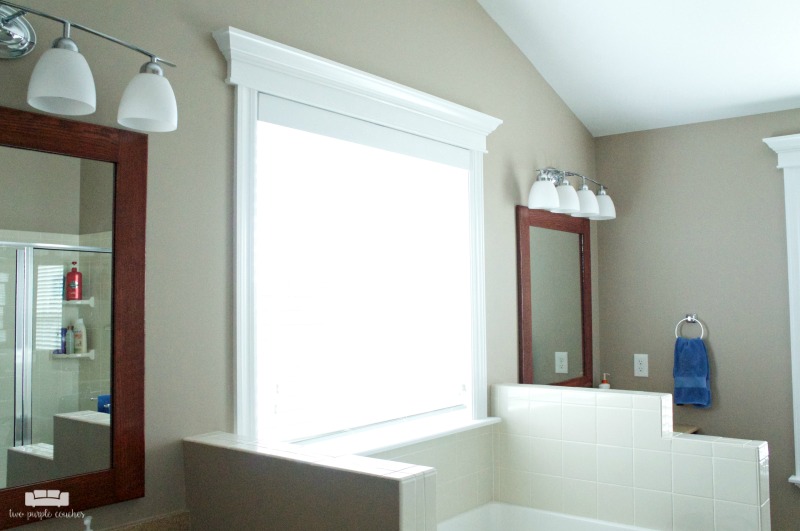 While we've definitely made progress, I wouldn't call this room "done" just yet.
To give you a better sense of the layout, our bathroom sort of reminds me of a galley kitchen. To the left side, we have our sinks, separated by a soaking tub. The shower is directly opposite the tub, with a linen closet on one end and a toilet closet on the other. I actually really like the fact that our vanities are separated. I don't have to worry about the hubs crowding out my space. Or maybe that's the other way around?
What we've done in our master bath so far:
Paint
After much debate, we decided to paint our bathroom a similar shade to the color in our bedroom. We went with Mesa Taupe by Behr. As much as I wanted a pop of color like a teal blue or deep purplish-pink, we were worried it would feel overwhelming, and we wanted our bedroom and bathroom to tie together without feeling matchy-matchy.
New Lighting
The hubs and I were both desperate to upgrade the awful Hollywood Dressing Room Lights, as I like to call them. With 6 bulbs in each fixture, they were overly bright, not to mention hot! Plus, these types of lights lack character and just don't feel polished to me. We opted to replace them with two 4-bulb vanity lights with frosted glass shades from Lowes. I don't remember the style name offhand, but if you're curious I can find it for you!
Framed Mirrors
We debated between buying new mirrors and cutting down and framing our old ones. We wound up going this route and have been really happy with the results. This reminds me that I've still never written up a tutorial for how the hubs built our mirror frames. He also customized the stain to get it as close to our cabinet color as possible. I think he did a pretty fantastic job, don't you?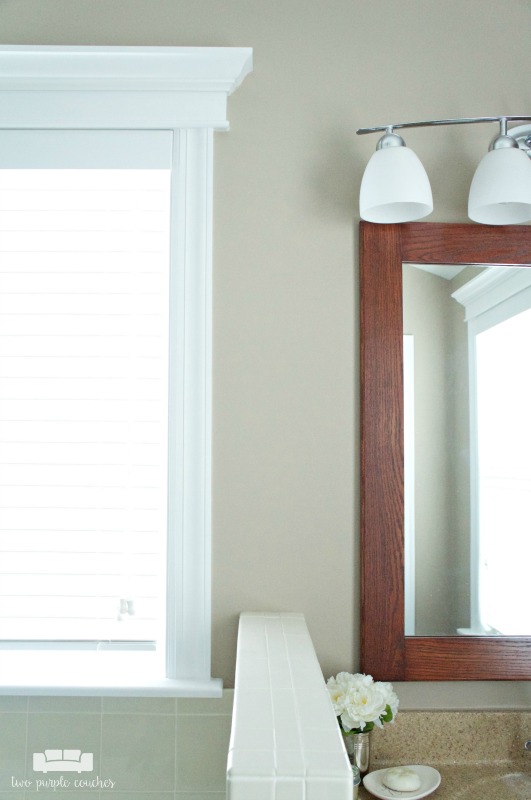 Framed Windows
When we added trim and crown moulding to our bedroom windows, we also did our two bathroom windows. It's amazing the difference it makes to in the room! Click here to learn how to trim out your windows.
Organized Linen Closet
I spilled my big (and probably only) organizing secret a few years back: bins! While I need to take a few hours to sift through and declutter the bins and drawers in our linen closet, his system still works well for us. Click here to read more about my linen closet storage solution.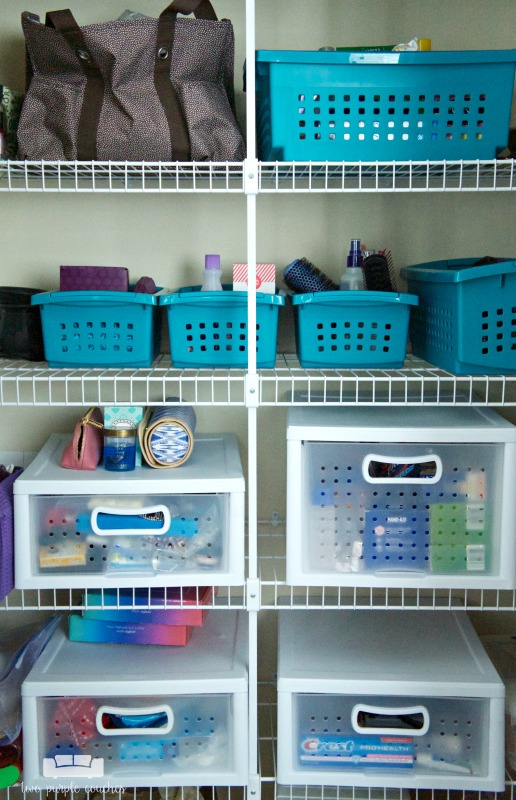 What we'd still like to do in our master bath:
Add artwork near sinks and to walls in toilet closet.
Replace builder-grade boob light in toilet closet.
Add cabinet or shelving above toilet.
Build a tray for our bathtub
Eventually replace shower and bath tile with something more stylish
Eventually replace laminate floor with tile floor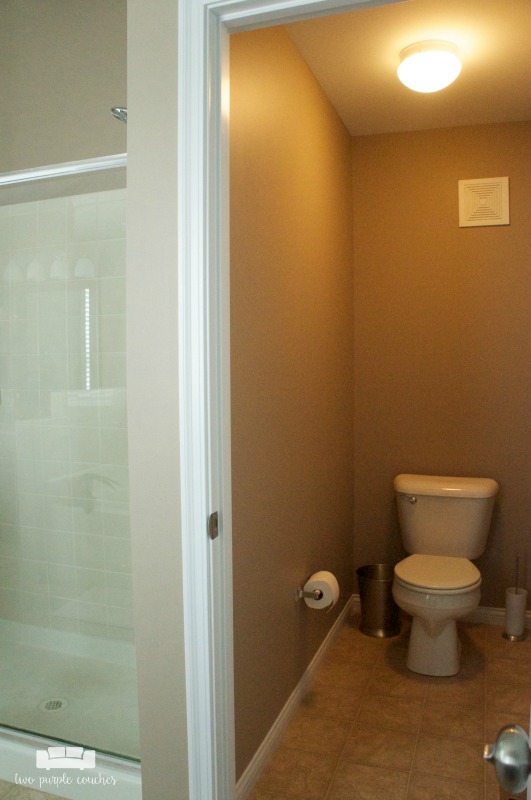 (that terrible light fixture needs to go!)
If you've missed a week or two of our Room by Room series, catch up here:
Room by Room Series: Bathrooms