So I just realized that it's August (whaaaa!?), and I've never taken you guys on our garden tour! I've talked about various gardening projects I've done, but never given you the full-monty view of our yard.
Please accept my apologies.
So, without further ado… the moment you've all been waiting for (at least I hope so)…
The Two Purple Couches Summer Garden Tour!
The biggest difference in our garden and landscaping this year is that we decided to plant flowers in the mulch beds in our front yard. While our larger perennials, like our Knockout roses, Japanese yew, boxwood, and Rose of Sharon tree are beautiful and thriving, we wanted some extra pops of color in the spaces between them.
I think we got what we wanted.
Two nursery trips and upteen billion dahlias later and we've got color-color-color, everywhere!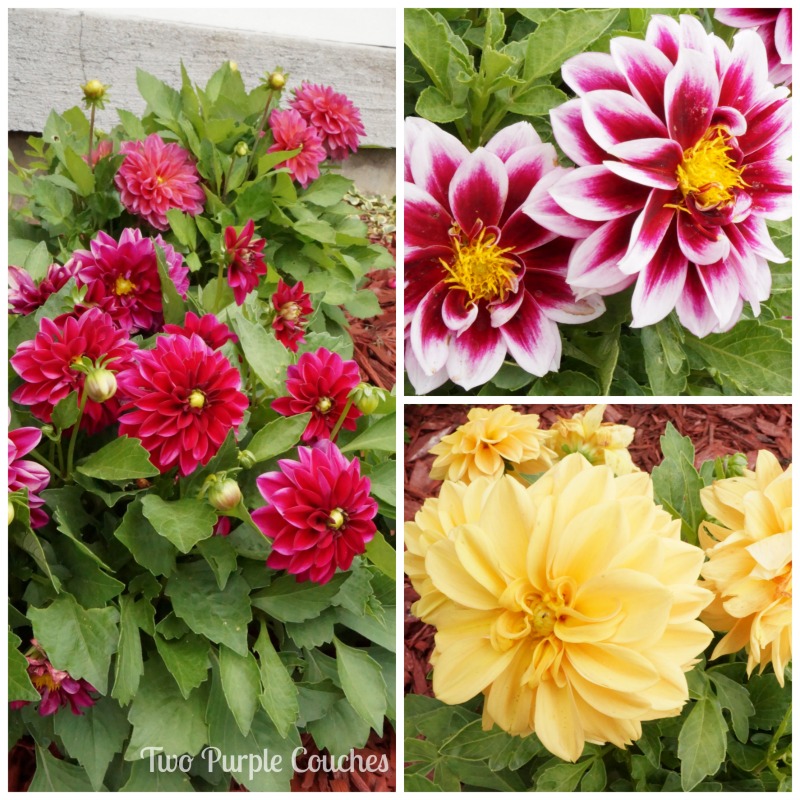 When it comes to flowers, I like big, bold, colorful blooms. And I've made a strong effort at getting these types of flowers into our yard, including dahlias, hydrangea and peony, though this last guy has yet to bloom. I've heard it can take 3 years before a peony bush produces blossoms, so if it doesn't next year, I'm going to cry. And then probably wait 3 more years for a new bush to bloom!
I know hydrangeas change color depending on soil quality, etc, but I was so surprised when these blossoms came up pink this summer! The year they were planted, they were a pretty pale blue to blue-ish lavender. They didn't bloom last season, and now they're pink! Crazy. But oh-so-pretty no matter the color.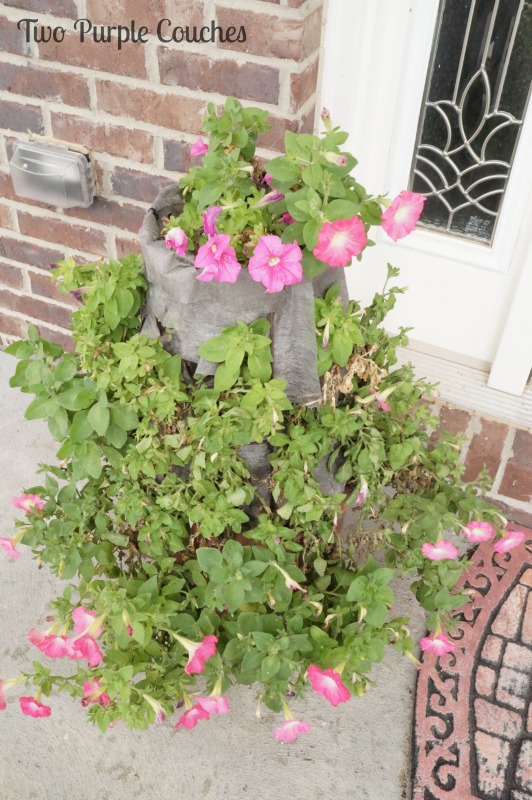 Remember the vertical garden I planted earlier this spring? Well… it's not doing so hot. #sadface. My petunias suffered a blight of aphids, which nearly wiped them out. Then they rebounded a bit only to be struck with very hot temperatures. Poor petunias.
My vertical herb garden on our deck is thriving. I added a pot of mint nearby, so I have a nice little collection of fresh herbs for meals and cocktails. Mint is a ruthless spreader, though, so I'd highly recommend relegating it to a container versus planting it in a bed! And if there's a mild winter, it'll probably come back, even in a container!
While we're out back, let's take a look around. My dad gifted me a whole bunch of canna bulbs, which I planted around our air conditioning unit. And they are absolutely huge! The stalks to the far left of the picture are taller than me! And the leaves are massive. You may recognize Philbert. I can't resist quirky yard art, and Philbert is loving his shady spot in the backyard.
I've got a nice little sort of butterfly and hummingbird garden happening back here. I have a hummingbird feeder hung on that shepherd's staff, plus some pots and window boxes full of the sorts of flowers that attract them, like lobularia and these vanilla-scented heliotrope:
The hummingbirds love the cannas as well, and they spend most days dive-bombing and chasing each other all over our backyard! It's very entertaining, and crazy how bold they are. I've been trying to capture a good shot of them on the feeder, but as soon as I turn their way with a camera, they're off! Darn fast birds!
And lastly, let's check in on the raised vegetable garden. Which, in usual fashion, is growing like crazy. I even reduced the number of plants I used this year, because I overloaded things a bit last year. But it's still a behemoth of a veggie garden. Plenty of tomatoes, one unruly cucumber, and two struggling bell pepper plants. I think I'm giving up on bell peppers from now on. Deer ripped one out, and the second is in daily danger of being consumed by the cucumber plant!
Here's a tip, if you don't have a trellis for cucumber to vine up, wrap the growing vines around a tomato cage. Works just as well!
That about does it! Hope you enjoyed this somewhat belated Summer Garden Tour! What are your favorite flowers or veggies to plant in your garden?
Sharing with: Share It Sunday