Now let's talk about where we saved money on building a house:
Where to Save:
Tile and Paint: Don't pay a builder to custom-paint your home. Just don't. We got four delightful shades of basic builder beige to choose from. And while it drives me nuts, I'm glad I didn't spend my money here. Because it's easy enough to paint myself, or just call my husband's uncles to come do it for us. And the quality of the paint isn't that great. It's not washable, and therefore not very durable. Now that we've been in our home for a while, I might argue to add the tile to the Where to Spend list. We didn't do any fancy sort of accent tile in our shower or anything, we just opted for basic almond (i.e. beige… see a trend here??) in our master bath. And it's boring. But the thought of re-tiling the master shower is seriously laughable. Not gonna happen. Not anytime soon.
Want a good neutral paint color but don't know where to start? Check out my tips for choosing the perfect shade of greige (grey + beige) paint here. 
Decorative moulding: Chances are your builder will charge and arm and a leg for this stuff. Crown and other decorative moulding is easy enough to install yourself, and more cost effective. We've added our own custom crown and wainscotting throughout our first-floor. You can read some of our installation tips here.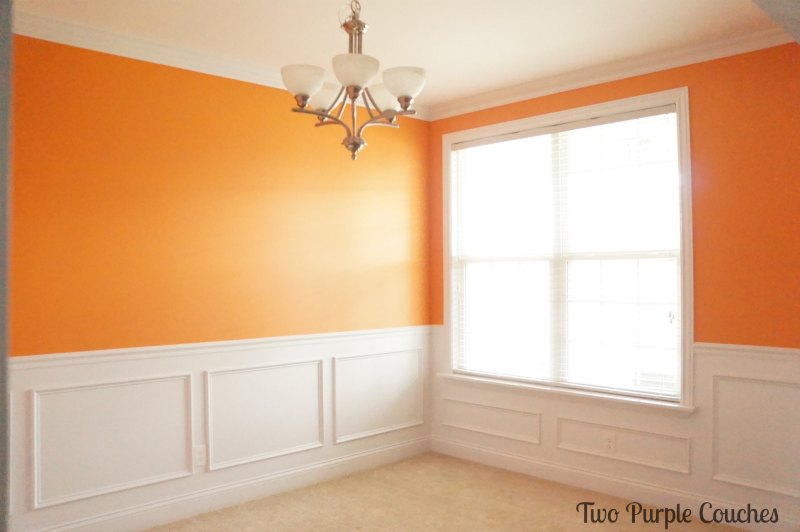 We also changed out our sills and added more decorative trim around our windows, giving our rooms a really custom look for a much more affordable price:
Learn how we replaced the sills here and designed and added the trim here.
Lighting Packages: This kind of goes along with the previous points: if you are at all handy, in any sort of way, you can change out a light fixture. So we went with "Hollywood dressing room lights," as I like to call them, in all our bathrooms. I hate them, but they came standard, and so they stayed. We've already changed out the fixture in our first-floor powder room and it didn't take long at all. Confession: we have naked bulbs in our spare bedrooms upstairs. We didn't even put boob lights up there! But we did pay to upgrade to a fixture that can hold the weight of a fan. And this pendant light in my office? $99.
Window Blinds: Do not, under any circumstance, buy blinds from the builder! You can find quality, affordable blinds online and install them yourself. We nonchalantly asked our builder what it would cost for blinds, and they quoted us in the thousands of dollars. We outfitted 18 windows for under $900. Yes, we had to measure and re-measure each window, then install them ourselves once they came in, but we saved so much money that way!
My last-but-not-least piece of advice would be Just Ask. You never know what you can impact until you ask. You may get a "no," but at least you'll know! We asked to add windows to our family room and got a no, but some of our neighbors with the same floorplan were able to add windows to other rooms. So, it never hurts to ask!
Have you ever gone through the home-building process? Do you agree with my tips? Do you have any you'd add?
Sharing with: Share It Sunday