It's no secret that I love me some washi tape. I don't know what it is about these tiny rolls of printed and patterned goodness, but I can't get enough! And thanks to Scotch being one of the Haven sponsors, my washi tape collection doubled! All of this awesome new tape was burning a hole in my craft supply pocket and I couldn't wait to start creating with it. So I've got a fun, quick and simple art project to share with you today: abstract washi tape art!
One of the best things about washi tape is that it doesn't have to take a lot of time to work with it. You can whip up a whole set of these "art prints" in minutes. And you could make as many as you can dream up, because the possibilities are nearly endless!
I used a pack of Scotch Expressions washi tape that I received in my Haven Conference swag bag to create this set of matching prints. You can find color-coordinated packs of Scotch Expressions washi tape that are great for projects like this, or you can purchase rolls individually to create your own color and pattern palette. I was immediately drawn to this glam pack of black, gold and silver tapes.
All it took was a pair of scissors and a few sheets of cardstock, and I let my imagination go! I cut strips of tape in several different lengths and started overlapping them to create the geometric style print. For the other two, I wanted simpler patterns, so I made horizontal and vertical rows using varying lengths and just two rolls of tape. I didn't use a ruler, so my rows are perfectly spaced or perfectly straight, but I'm okay with that. That's the beauty of abstract art!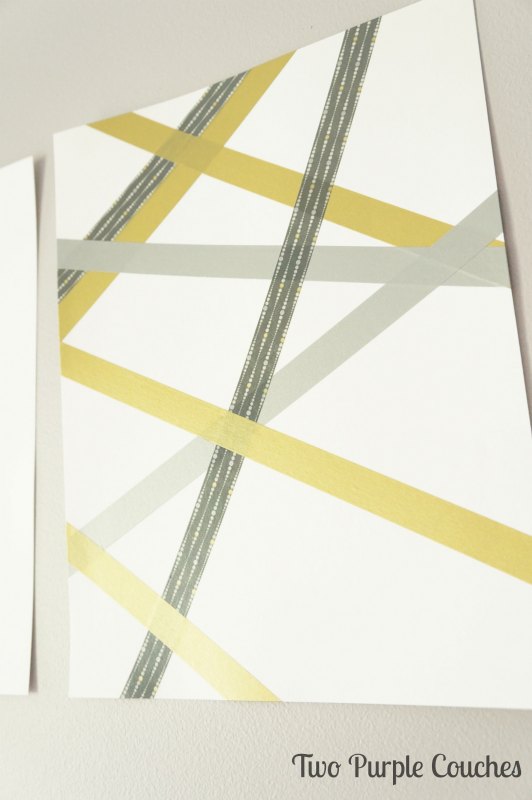 This project took me maybe 30 minutes. Probably more like 20. I was a little disappointed that I was done so quickly that I almost made another set!
I'm planning to hang these in the half-bath on our main floor. I've already got a painting hung in there with a similar color palette, so they should all complement each other nicely!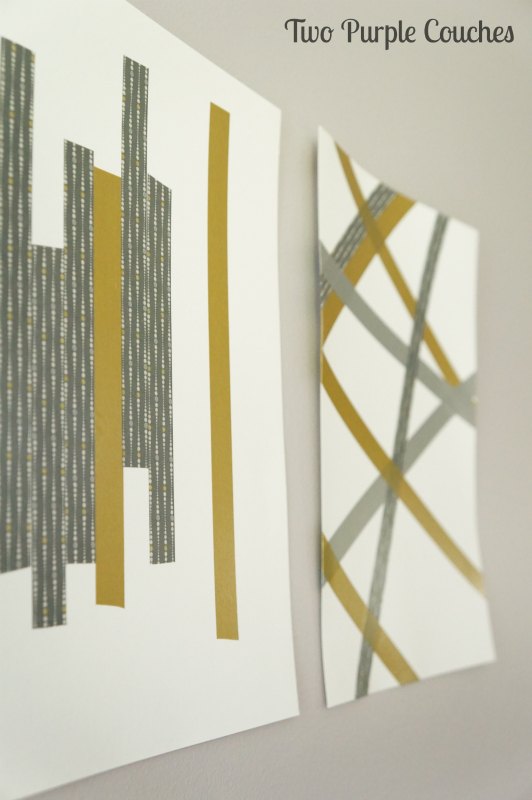 To make the art prints yourself, you'll need:
– 3-4 rolls of coordinating washi tape (like Scotch Expressions* washi tape)
– white cardstock, cut to any size you prefer (mine are standard 8.5″x11″)
– scissors
Have fun!
Do you like creating with washi tape? What are your favorite washi tape projects?
*Disclosure: I received Scotch Expressions washi tape in my Haven Conference swag bag; I was not compensated for this post. Some links contained in this post are Amazon affiliate links, meaning if you click through to Amazon and make a purchase, I receive a small commission (at no extra cost). Thank you for helping to support Two Purple Couches!