Back in September, I began my biggest DIY project to-date. This by far outweighs our previous crown moulding projects and window trimming work. This project was full of curveballs, starts and stops, second guesses, and even some bouts of self-doubt. But I pressed on and powered through, and today I'm sharing the before-and-after of my first big DIY triumph – this antique steamer trunk makeover.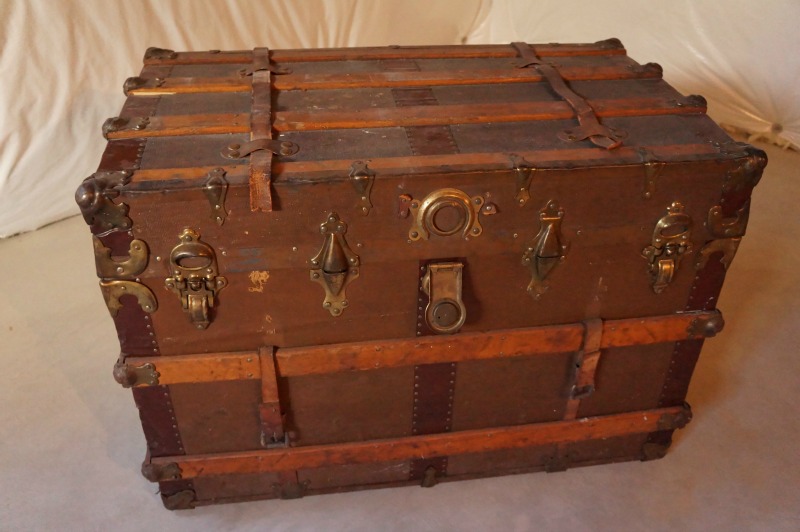 I remember helping my parents clean out my grandma's house after she passed away in the summer of 1998. I remember packing up her artwork and dishware. I even remember that I put a staple through one of my fingers that day. But I don't remember loading this old steamer trunk into the car. Some way, some how, it came to live alongside the stairs in my parents' basement. When they moved a few years ago, it came to live in our basement. And I knew that someday, I would do something with that trunk. And that someday has finally come around!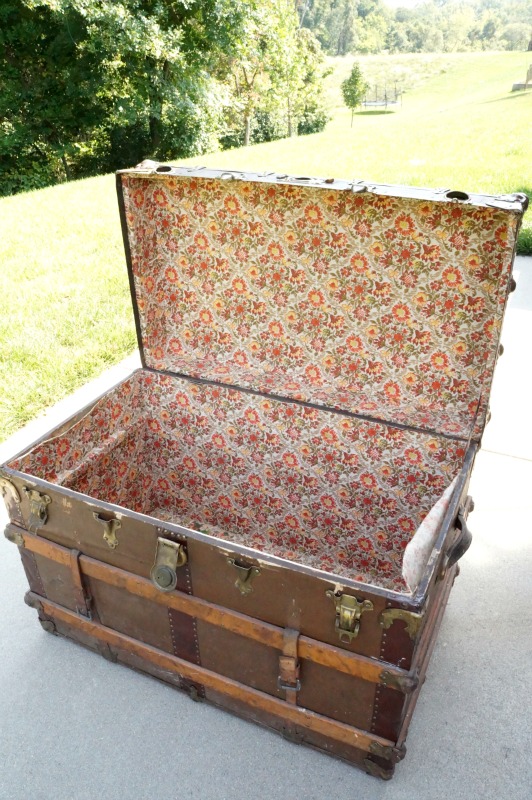 And lemme tell you, this poor beat-up steamer trunk needed a lot of somethings done. The exterior was scratched and dirty; the hardware was rusty, the wood slats full of gouges and scratches. And on the inside? Well, let's just say it's been hanging onto the smell of Grandma's basement, with a 1970s-era fabric liner to boot.
So, yeah. It needed work.
This post contains some affiliate links for your convenience. Click here to read my full disclosure policy. 
After a thorough cleaning, the wood got a sanding and a fresh coat of Minwax Wood Finish, the original leather handles were oiled, the hardware was brought back to life with Rub 'n Buff in Antique Gold, and the ugly brown canvas got a major splash of color in the form of RePurpose Paint in Mohair Blue.
Click here to read a detailed tutorial on how to paint a vintage trunk.
Moving to the interior, I lined the bottom and sides with cedar planks from CedarSafe, which smell incredible and have completely banished the musty-ness. Click here to learn how to build the cedar trunk liner.
After some debate, I decided to use fabric on the lid interior. I chose this bold teal and green ikat print that I bought several years ago. Click here to learn how to make a no sew fabric lining for a trunk.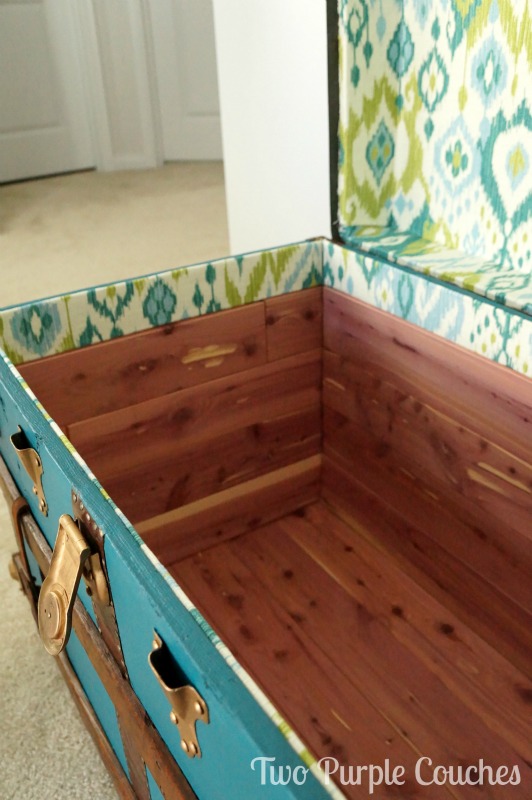 And I'm going to share all of these how-to's with you! But today, let's just admire the transformation.
This poor trunk seems to be without a story. Dad doesn't know how it came to be in Grandma's house, but he's positive it wasn't hers. She was one of ten siblings, so it could have come from someone in the family. We don't know who lined the interior with the 1970's fabric, but my guess is my Grandma, as she had a bit of a DIY streak. (see, it runs in the family!)
As I ripped out the old fabric and cleared away the layers of dirt, I was hoping to find some clues about the history, travels or former owner of this trunk, but the only information I can find is the manufacturer of the hardware, The Corbin Bros Co., which is engraved into the main lock on the front. Based on some internet searching, my best guess is that this trunk is at least 100 years old. The romantic in me likes to think it dates into the 1800s.
I know some people will probably say I should have left the trunk in its original condition. Because history and all. And I get that, I really do. But I want to use and love this piece in our home. The original condition was awful. And smelly. (plus that 1970s fabric—not a fan!). This trunk wasn't serving any purpose in our basement. But now it's the perfect place to stash blankets, sheets, even off-season throw pillows. And I'd much rather be putting this piece to use than having it slowly rot away in the basement. 
I'll be sharing all of the how-to details in a series of posts throughout this week and next. There was a lot of trial and error with this project, but it was all worth it!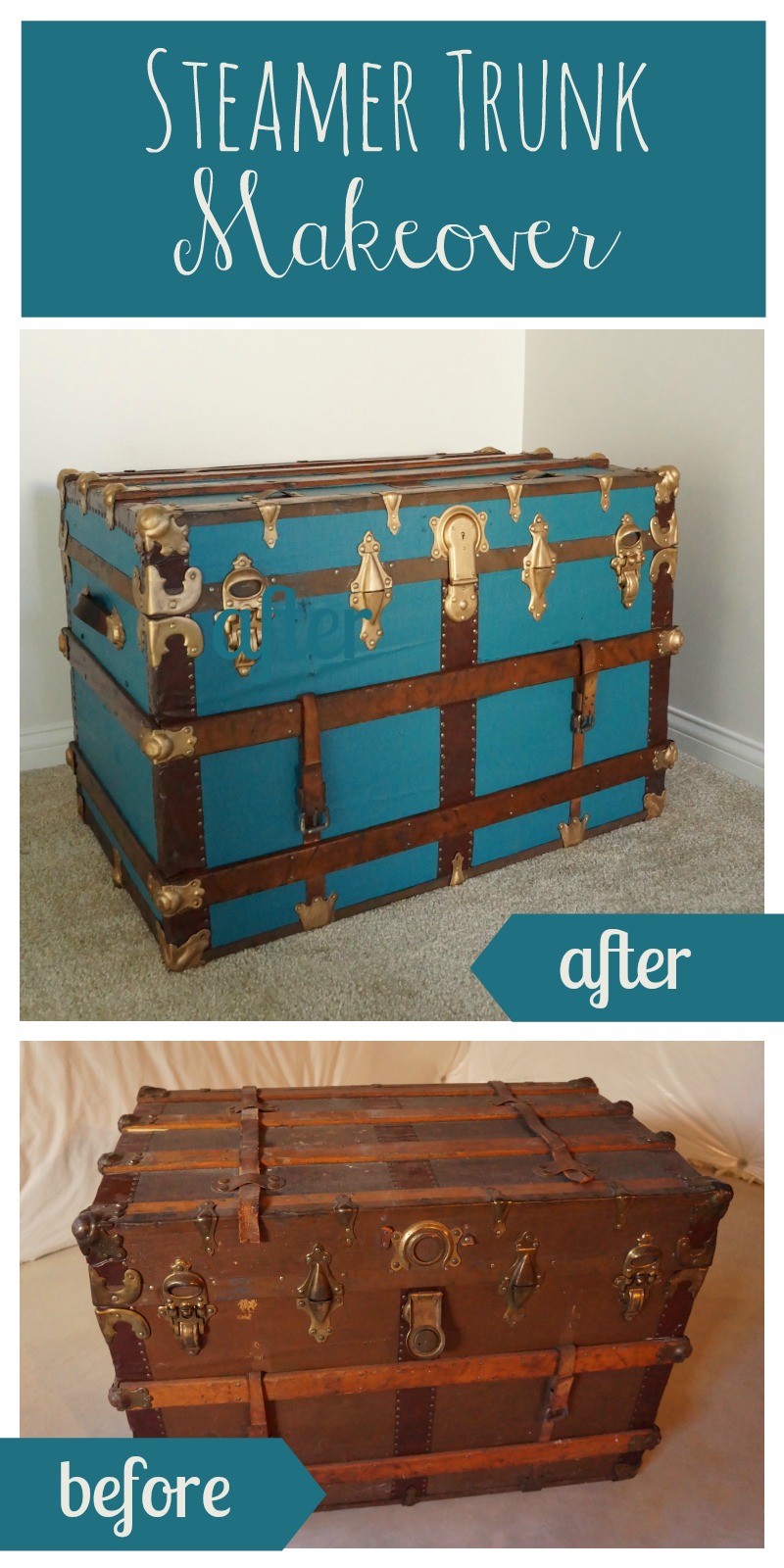 Sharing with: Work It Wednesday / Shabbilicious Friday / Live Laugh Linky
Want to see more vintage trunk makeover goodness? Check out these posts: