This weekend has truly felt like Fall here in Cincinnati, and in between sipping hot lattes and enjoying pumpkin-flavored baked goods, I was inspired to create a fun pumpkin craft—these Paint Stick Pumpkins—to celebrate the season.
I'm also participating in a very special Home for Fall Blog Hop, so be sure to scroll to the bottom of this post to check out my fellow bloggers and their awesome Fall projects, tablescapes, crafts and more! But not before I show you how to make these Paint Stick Pumpkins for yourself (wink).
What you'll need:
about 13 paints sticks (depending on how wide you'd like your pumpkin to be)
wood glue
acrylic craft paint
How to make paint stick pumpkins: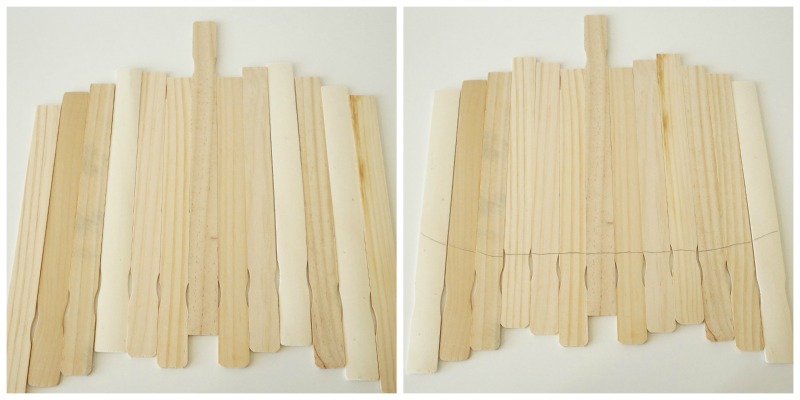 Step 1: Lay the paint sticks out into a pumpkin shape. I started by selecting one for the center and placing the notched part at the top. This will be the stem. Then place additional paint sticks to either side of the center stick, working in pairs and staggering the heights. Flip the sticks around so that the notched side is at the bottom. (these will get cut off)
Step 2: Once the pumpkin shape is as wide as you'd like it, use a pencil to draw a curved line that will be the bottom of the pumpkin. Then, using a compound miter saw, use the pencil lines as a guide to cut away the excess paint stick.
Tip: I'd suggest labeling each paint stick, i.e. C for center, 1L, 2L, etc, to the left and 1R, 2R, etc, to the right. I got halfway through my cuts and had to puzzle-piece my pumpkin back together!
Step 3: Re-assemble the paint sticks into the pumpkin shape, then flip over.
Step 4: Using wood glue, glue extra paints sticks or the excess cuts across the back of the pumpkin. Once dry, paint with 2 coats of acrylic craft paint. I mixed a reddish-orange and yellow to create my deep-orange color.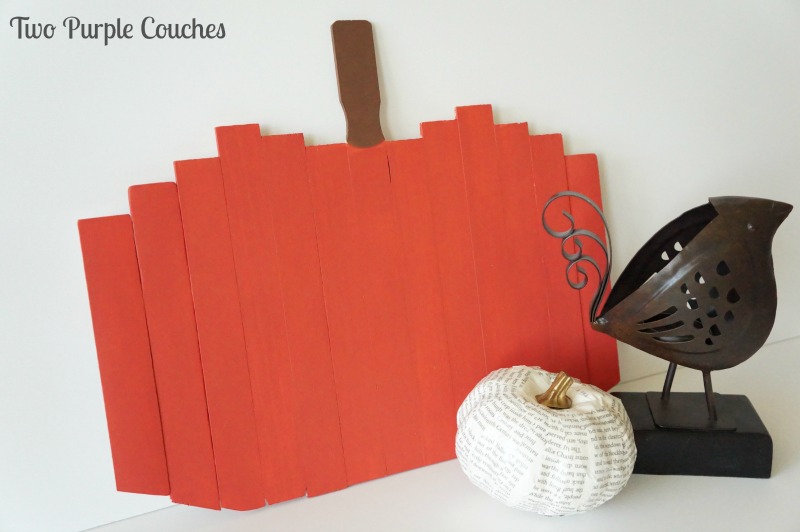 These paint stick pumpkins look so cute as part of a mantel or shelf display. Or you could add twine or ribbon to create a door hanger! Happy Fall!
Don't forget to check out the other awesome Fall projects being shared for our HomeTalk Home for Fall Blog Hop! You can also search the hashtag #homeforfall on social media to see more!