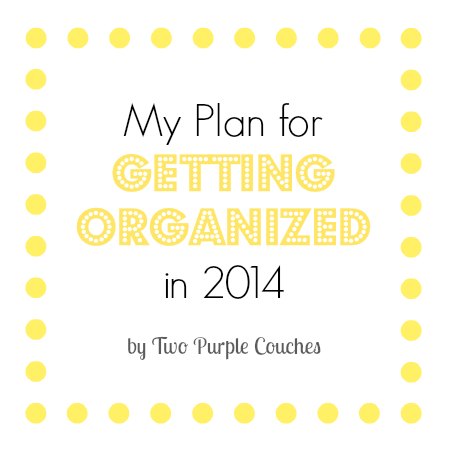 Now that 2014 is underway, and I've announced some of my goals, the big question is… how? How am I going to make progress on all the things I want to accomplish? Well, that's a darn good question. I've actually been asking myself the same thing!
And so far, my answer has been: Start Small.
Small = Manageable = Not Getting Overwhelmed & Quitting.
Because I am sooooo guilty of that last part.
I also need to remind myself of the progress I have made. Like, so far, I've conquered our junky kitchen drawer and linen closet. Easy-peasy.
What's next? I'm not 100% sure. I'm not necessarily going to work room-by-room. Though in some cases, it's like a domino effect… in order to clean & organize one space, I need to clean & organize another first. Or simultaneously.
But if I were to prioritize the next space, it would be our kitchen, mainly our pantry. It's a hot mess. I get the heebie-jeebs every time I walk into it. Clutter makes me crazy. And our pantry is very cluttered.
Then I might re-do some of our cabinets: re-arrange what's shelved where to create better access and storage.
After that… not sure. I should probably get a proper paper filing system up and running before tax season commence. Buuut… remember how I said Small = Manageable = Not Getting Overwhelmed & Quitting. Yeah, that one totally overwhelms me. I'll start by taking suggestions for filing cabinets – metal? plastic? some fancy new contraption I haven't seen yet? What works for you?
Also on the list:
– Organizing my craft supplies. This will come with the Liiiiiiibrary makeover I'm hoping for.
– Our bedroom / closet, especially our closet. We need to do a good decluttering in there!
Now that I've divulged all this… I need you guys to keep me honest! Help make sure I don't slip up, especially in the Paper Filing System Arena… this is 7 years overdue!
How do you tackle your organizing projects? Are you the small, slow, and steady type or do you prefer to start big and get it over with?