Send your trick-or-treaters off with these adorable DIY Mummy Treat Buckets. This easy Halloween project can be made with just a few simple supplies!
Making your own treat buckets for Halloween doesn't have to be complicated! This cute and simple project can be completed in an afternoon. Your little ghouls and goblins can help, too!
This article was originally published in the October 2015 issue of VRAI Magazine.
Every Halloween, our neighbors would turn their basement into a haunted house for the kids and scout troops to tour. We'd enter in small groups, winding our way past suspended skeletons and through spiderwebbed tunnels until we made it safely out to the garage, where powdered sugar donuts and apple cider were handed out to all those who braved the ghouls inside.
The experience was just scary enough for the elementary school set, so when myself and a few friends became too old for the festivities, our neighbors invited us to be part of the haunted house, playing different characters at different stations. One of these stations was the cupboard under their basement stairs—the perfect spot for jumping out and startling the groups walking by. After a few scares, I retreated back into the darkness of the cupboard, closing the door to wait for the next group. Except I closed the door too tight and… it got stuck, as old basement cupboard doors tend to do. I pushed and pushed on the door. Nothing. It wouldn't budge an inch.
Uh oh. Now my nine-year-old self was starting to panic. How long would I be stuck?? What if the adults forgot I was in here?? I began pounding on the door, shouting "Help! Help! Let me out!" Well, you can imagine that the kids passing by probably thought my shouts were part of the haunted house experience. After what felt like hours, I slammed myself against the door as hard as I could and it burst open. (whew!) I went tumbling across the floor, causing a group of kindergarteners to start screaming and rush past me into the next room.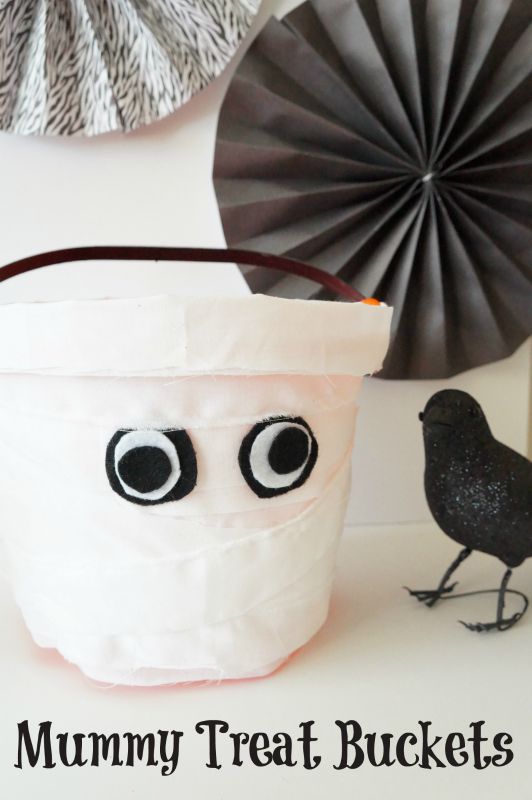 These Mummy Treat Buckets remind me of my childhood Halloweens, full of memories of homemade costumes and trick-or-treating with neighborhood friends. It's a fun and easy way to dress up a generic bucket and add a special touch to your Halloween festivities.
This post contains some affiliate links for your convenience. Click here to read my full disclosure policy. 
What you'll need:
White or cream-colored muslin

I purchased one yard of fabric and still have some left.

One sheet each of black and white felt (or a set of large wiggle eyes)
Hot glue gun and glue sticks
To make the eyes: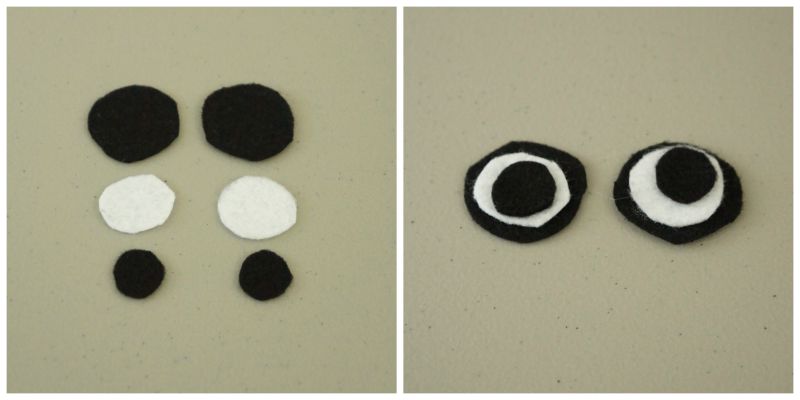 Cut out three sets of circles: two large black circles, two medium white circles and two small black circles.
Using the hot glue gun, carefully glue the small circles inside the medium circles, then the medium circles inside the large circles.
To make the mummy treat bucket:
Begin cutting the muslin fabric into strips, about 1.5″ – 2″ wide. Once you cut the fabric about an inch or so, carefully rip it the rest of the length to create the frayed edges and loose strings.
Once you have a pile of fabric strips, use the hot glue gun to begin gluing and layering the strips around the bucket. Since the bottom of this bucket is narrower than the top, I started my first strip a couple of inches from the bottom, and then layered a few strips to cover the bottom before working my way up to the top rim.
The more strips overlap, the less the original orange color shows through.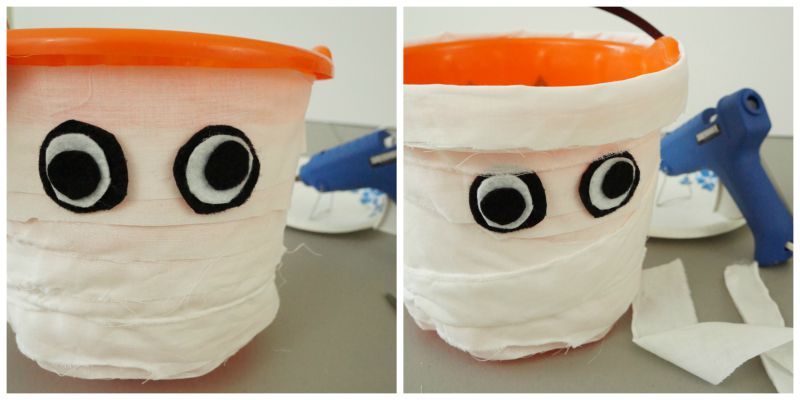 Choose a spot about two-thirds of the way up the bucket to place the eyes, and attach with hot glue.
To finish off your mummy treat bucket, take a couple of extra fabric strips and layer these so they just cover the top and/or bottom edges of the eyes.
Of course, these buckets would be perfect for your little mummy, witch, superhero or princess to take out trick-or-treating! But they also make for perfect decor on a Halloween party table.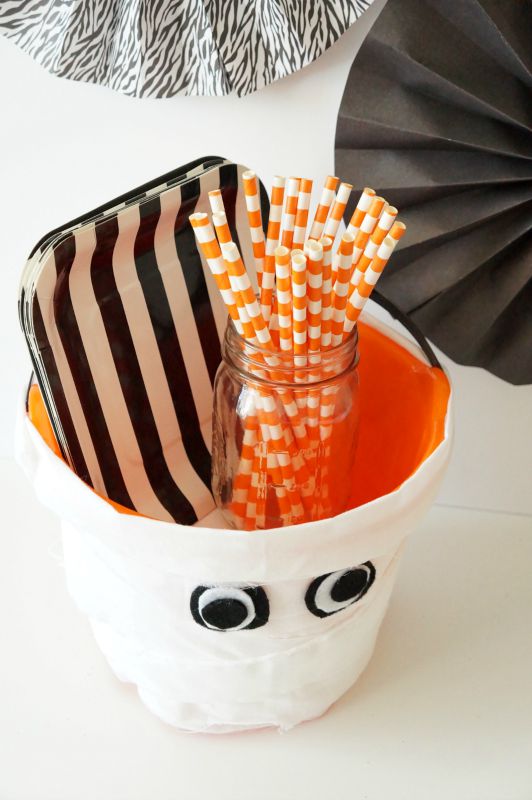 Fill them up with festive plates, napkins, and silverware. Or keep one near the door to hold goodie bags for party-goers to grab as they leave.
Well, that's a wrap, folks! Happy Haunting this Halloween!