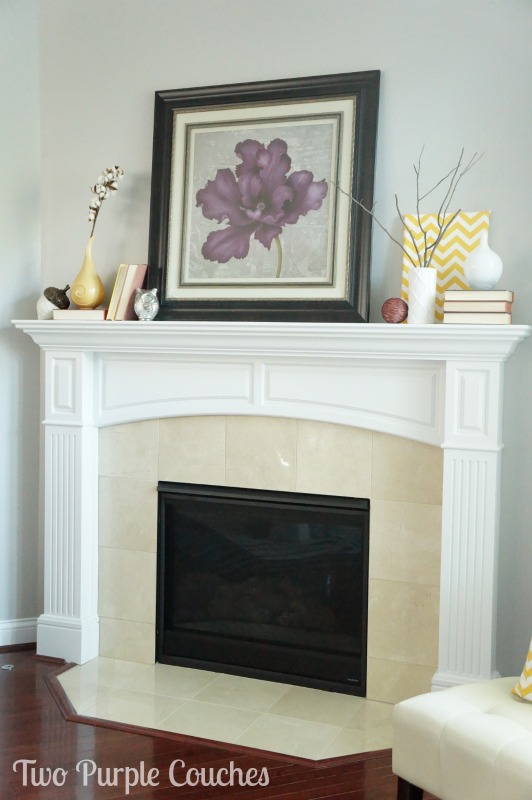 I took a slightly different approach to my Fall mantel this year. While I do love much of the traditional decor you find during the Fall season, it just doesn't jive so well with my style. But I was still so inspired by the mantels I shared last week, that I had to change things up for the season, just with my own twist!
So I give you, my modern Fall mantel with touches of texture, neutrals and saffron yellow!
I went pretty neutral with last year's Fall mantel decor. But I am on a yellow kick this year, first with my Spring mantel, and now with my Fall one.
I don't know what it is, but this color has me wrapped around its cheery little finger right now! It's bright, warm, and I think, totally works for this time of the year!
I still kept plenty of neutrals on the mantel, with a white vase and mercury glass owl, plus plenty of book pages. Both intact in actual books and covering giant plastic acorns.
I made this book page acorn decor last year. And I didn't do a step-by-step post. Major #bloggerfail. But here's how you do it: cut tons of 1-inch strips out of old book pages. Then get a giant bottle of regular Mod Podge and go to town. Brush some Mod Podge onto your surface (in this case, the acorn), then lay down a strip of paper, then Mod Podge over it, lay down another strip of paper, more Mod Podge, another strip of paper… you get the picture, right?
It's a messy project, but the results are worth it!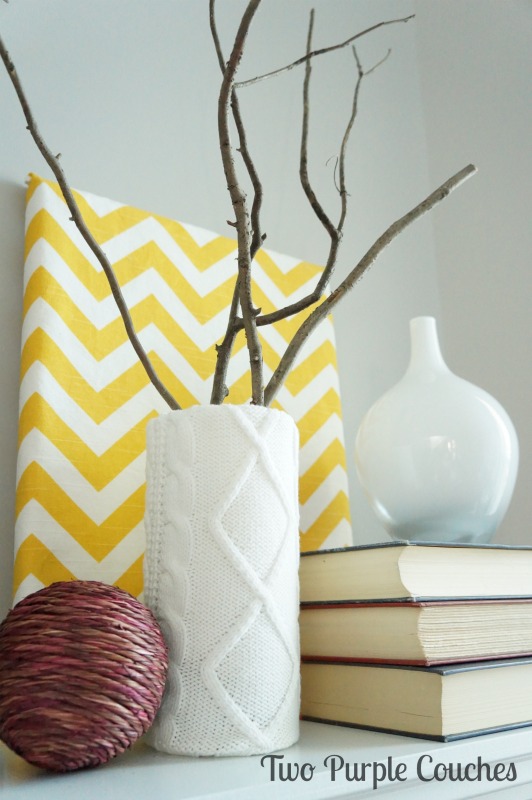 Moving on… This? This might be my favorite thing, that was SO inexpensive to create. All you need is an old sweater (hit up Goodwill if you don't have one in your to-donate pile), trim off the sleeve, and you've got instant style on any plain vase!
I love that this sweater knit and the cotton blossom branch add some soft, fuzzy texture to my mantel. Which seems so appropriate for the season we're heading into. Cozy, comfortable Fall!
I am also in love with this new vase I treated myself to. Do you treat yourself to new home decor? I'm sure I'm not the only one who does!
This vase is from a famous local pottery here in Cincinnati called Rookwood Pottery. They've been crafting world-renowned vases, steins, and architectural tile for over 130 years. There are tons of historic homes around the city that have Rookwood fireplace surrounds; I have my sights set on a Rookwood backsplash for our kitchen. (If anyone from the Rookwood Pottery Company is reading this… I'd love to collaborate with you!!!) The fluted design is so elegant, and the muted saffron yellow is an absolute perfect fit for my modern Fall mantel!
What do you think? I realize there is nary a pumpkin in sight. And this seems somewhat blasphemous, consider that I am, in fact, calling this my Fall mantel!
But never fear, pumpkins are making an appearance on other surfaces around my house! Which I'll show you soon. And there will certainly be some good ol' orange pumpkins added to our front porch as well!
Looking for more Fall decorating ideas and inspiration? Check out my Modern Fall Entryway Table and these simple pressed leaves prints!
Sharing with: Outside {the Box} / Creative Spark / Work It Wednesday / Weekend Re-Treat / Share It Sunday