Have you seen some of the recent tours through Blogland? It's been a fun sort of get-to-know-you round robin, with one blogger sharing another, then that blogger shares another, and so on. It's a neat way to get to know more about each other and to show what goes on "behind the scenes" of our blogs.
I've enjoyed getting to know more about some of my favorite bloggers and friends, as well as meeting some fab new people! I hope you'll feel the same way, because today I'm sharing as part of this Tour Through Blogland!
I was asked by my friend Candace over at Lucky Scarf if she could "tag" me in her Blogland tour. Candace and I met for the first time at Haven this past July.
She'd commented on this post I wrote about prepping for a blog conference and how she was nervous to be a newbie this year. Well, we bumped into each other at the opening cocktail hour and it was like we were meant to be bloggy buds!
Candace is a blast, so full of contagious energy and joy. She has great diy and design style, plus a shop full of personalizable scarves and accessories! You should really check her out 😉
But I guess the point of this Blogland tour is to give you a peek into my behind-the-scenes and my creative process. So here we go…
What am I working on right now?
It seems like there are always 501 projects underway around here. But I think it feels this way because I'm constantly decorating and DIY-ing in my head. Actual, physical projects that are currently underway? One. But it's a big one! Tom and I are framing out the windows in our bedroom and bathroom, and then we'll be moving on to painting both of these spaces as part of our big #MasterBedroomMakeover. Then a few new pieces of furniture, art, accessories… y'know, the fun part 😉
How does my blog differ from others in this genre?
In many ways, the "big picture" of my blog is the same as many other DIY / Home Decorating bloggers: I blog about my home and the projects happening around here. However, Two Purple Couches is unique because it's a reflection of me and my style! And actually, now that I think about it, I've never met another blogger who owns one purple couch, much less two (wink, wink). You can see both in my family room tour.
I'm discovering more and more about my style and preferences as we work through each room in our home. And one thing I know for sure, my style is not shabby-chic. My style is this. I don't do distressed furniture and I don't do a lot of burlap. Which is kind of outside of the norm for a lot of the DIY / Home bloggers I know!
Why do I write and/or create what I do?
I've loved writing and creating for as long as I can remember. Creativity is in my blood: my aunt is a musician, my cousin is a glass-blower and sculpture artist, my mom is a quilter and my dad has a mean green thumb. All unique and beautiful ways of expressing creativity. I have a Bachelor's Degree in Creative Writing, and I have my sights set on writing fiction someday. And then I'll display my own hardcover books between these bookends I made!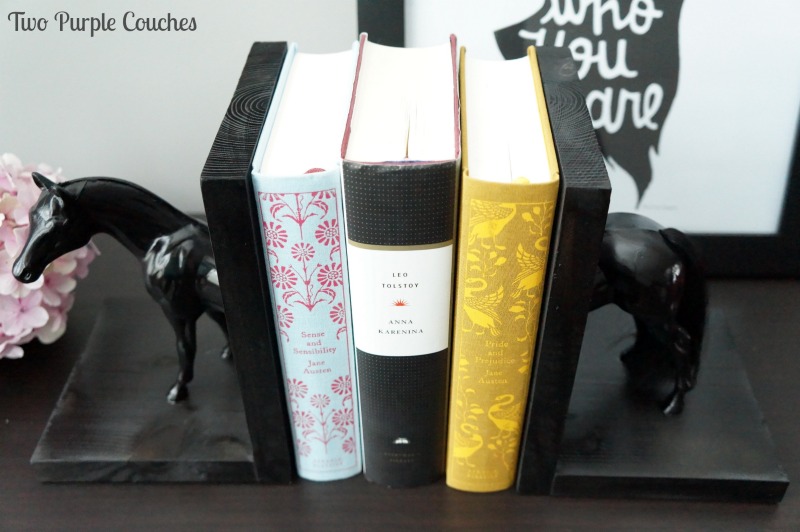 The craft / decorating side of my creativity emerged and blossomed after Tom and I got married and moved into our first home. Even in college, I dreamed of my first home and how I'd decorate it. My style has changed since then, but the excitement and satisfaction of pulling together a space that makes me happy never gets old!
How does my writing/creative process work?
Try as I might to be a very scheduled, organized person, my creative mind is pretty much a hot mess. And I say that in as loving a way as possible! I am more of a fly-by-the-seat-of-my-pants creator, going where the mood and the moment take me. Sometimes inspiration strikes as I'm taking Molly for a walk; sometimes as I'm browsing Pinterest or walking the aisles at Pier 1, sometimes while I'm talking with my mom, my husband, my friends and co-workers.
This quote pretty much sums me up. I think I need to make this into a ginormous piece of art! Or maybe just a tee shirt I can proudly wear, day-in and day-out!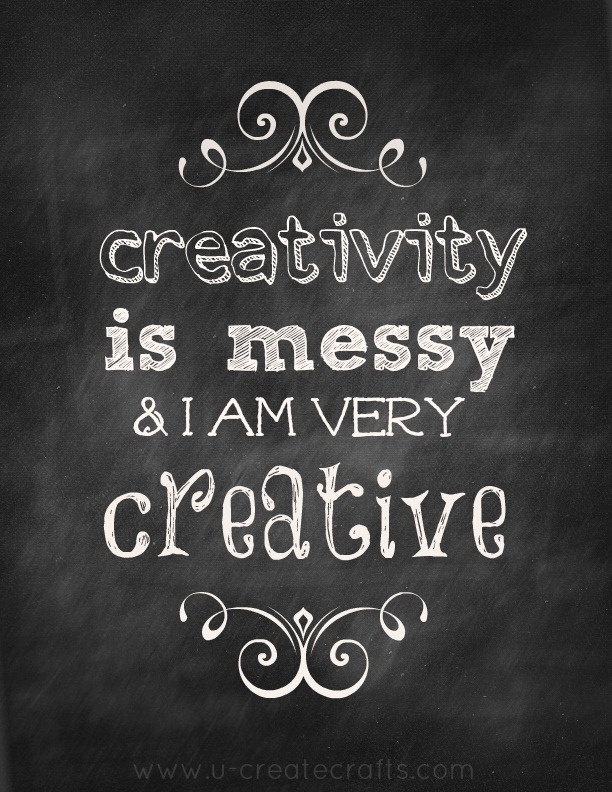 Now, I want to turn this Tour Through Blogland over to you!
Whether you're a blogger or not, it doesn't matter! Because we're all working on some project or other, and we all possess some element of creativity, though we may express ours in different ways.
So, I want to hear your answers! What drives you to write, paint, sew, garden or create?  How does your process work? I love to hear how others are driven by their creativity! I think there are tips and tidbits we can all use in our own creative lives!