Yep, that's right. The title of this post is plural. Now that we're entering Phase 3 of our Master Bedroom Makeover, i.e. the fun part, I am hitting that ol' familiar wall of too-many-options-and-inspiration-that-my-head-may-explode. So I did the only logical thing to do at this bump in the road. I made a mood board. Or rather, I made three mood boards to help me decide on a direction.
It happens every time I finally get to dig into the accessorizing phase. I sort of get the interior decorating version of stage fright. What if I choose the wrong frame color? What if the chair I want is uncomfortable? What if I regret the lamps? Should we splurge on one piece? 
I personally view home decor and accessory shopping as a hobby of mine. One that I feel I'm pretty proficient in. I peruse plenty of inspiration online and in magazines. I have Pinterest boards full of decorating ideas and accessories, like this one, this one and this one. I have my go-to stores and sites. And I know what I'm comfortable spending when it comes to furniture, art and accessories. So why do I always hit this wall?
I have no freaking clue.
But thank goodness for free websites (I use Olioboard) that are pretty simple to use and help me sort through my jumble of ideas. Laying out different combinations helps me think through my decorating decisions and, hopefully, bypass any buyer's remorse.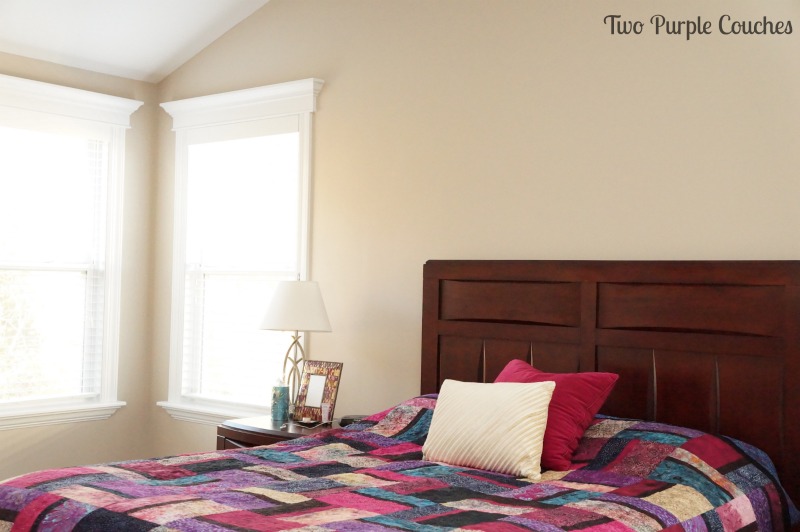 Here are my plans for finishing out our Master Bedroom Makeover, and then you can see how I mixed and matched different looks in the three mood boards I created.
Master Bedroom Plans:
– Create a reading nook. Need: an armchair, a small rug, a side table/ottoman, and maybe a floor lamp.
– Beef of our bedding with some additional pillows, maybe a throw. (Tom is SO not on board with more throw pillows! Poor guy…)
– Swap our nightstand lamps.
– Add artwork above our bed, and to other massively bare walls.
– Consider a storage bench or trunk. I have a super old trunk stashed in our basement that was my grandma's and needs a ton of TLC… but maybe now is the time to fix it up??
– Maybe add a large potted plant?
Also to consider: neutral vs. colorful lamps, wood frames vs. white frames (I'm a little particular when it comes to frames… they all need to be the same color and style), etcetera, etcetera, etcetera.
So, with this swirl of ideas in mind, I took to the boards:
Option 1: Colorful Chair + Colorful Rug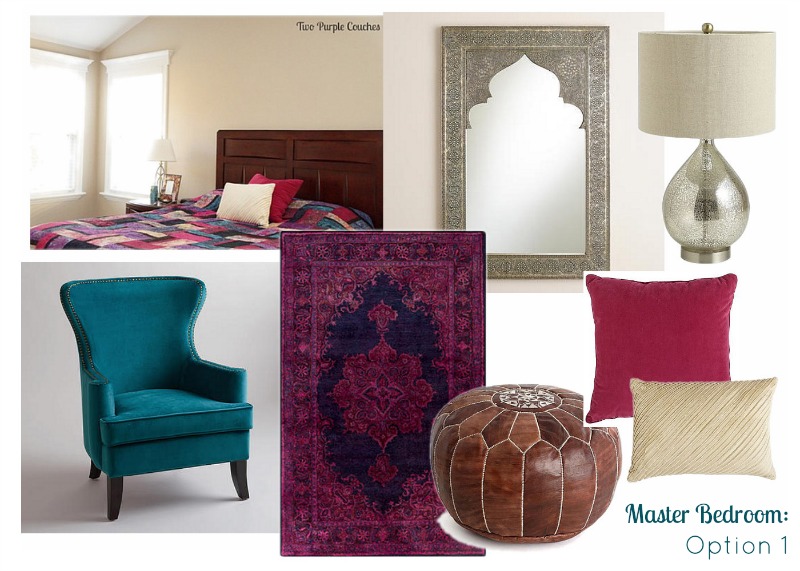 Option 2: Neutral Chair + Colorful Rug
Option 3: Colorful Chair + Neutral Rug
Now I want to hear what you think! What would be your combination of choice? Or do you have a great suggestion that I didn't even list here? Help me figure it out!
Sharing with: Creative Spark / Work It Wednesday