Can you tell we like soup in the Kennedy house? And folks, this Italian Sausage and Tomato soup is a crowd-pleaser.
It's full of flavor, easy to throw together, and makes enough to feed all the guests at your football and holiday parties! I know this from experience (wink, wink).
This recipe could easily be adapted to your tastes, depending on your preference for ground meats (we used turkey instead of ground chuck), as well as diced tomatoes (we opted for the already-seasoned kind). Or you could add your own seasonings, like fresh minced garlic, onions or bay leaves.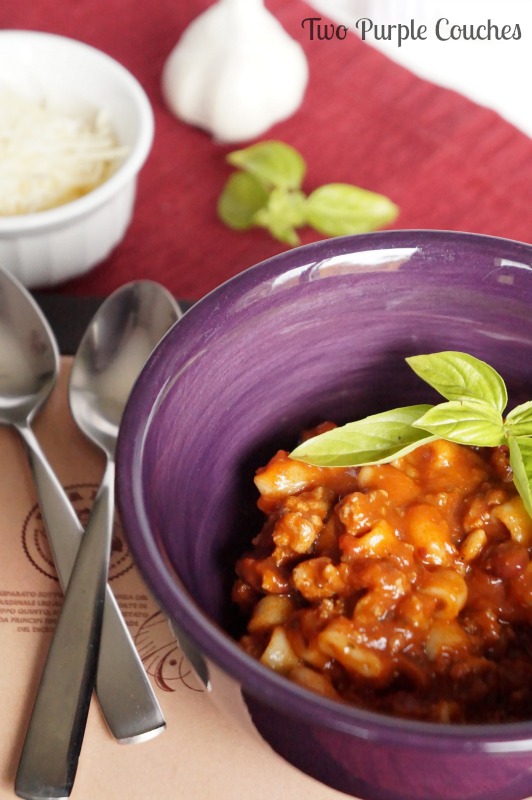 Cook up a big pot of this and serve with grated parmesan, crusty Italian bread or as a hearty side to meatball subs or chicken parmesan. Either way, you won't be disappointed!

Italian Sausage & Tomato Soup
Author:
Two Purple Couches
Recipe type:
One Pot Meals
This zesty, flavorful soup is perfect for serving a crowd, or freezing for later.
Ingredients
1lb ground turkey or ground chuck
1lb Italian sausage
1 can pizza sauce (we love LaRosa's original sauce)
1 can Schiavones All Purpose Italian sauce (28oz)
1 can Northern beans (15.8oz)
1 can red kidney beans (16oz)
1 can diced tomatoes with basil, garlic and oregano
1 cup uncooked Ditalini noodles
Instructions
Brown the ground turkey and Italian sausage and drain fat.
In a large pot, combine meats, sauces, diced tomatoes and beans.
Simmer for at least 1 hour, adding 1-2 cans of water as needed.
minutes before serving, add Ditalini noodles and stir often.
Sharing with: Weekend Re-Treat / Outside the Box / Share It Sunday / Work It Wednesday