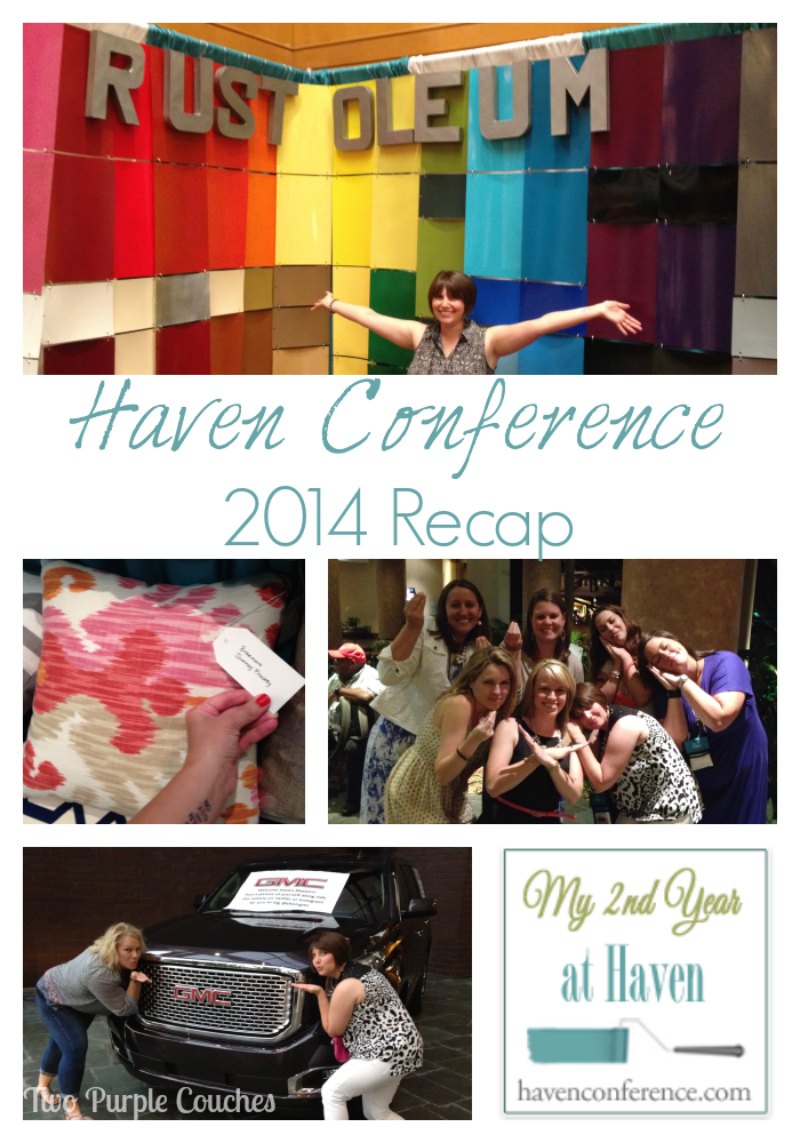 I promised you more, more, more on Haven Conference 2014, and here it is!
In a few words, this year was completely different yet not. With 2 years of blogging under my belt, I was prepping for this year's Haven Conference with a different mindset: more determined, ready to push myself. To take the more technical sessions. To approach brands I'd love to work with. To leave my shy tendencies at home. Yet at the end of the weekend, my head was swimming just as much as last year, my brain working so fast to process all the amazing info it just took in. My cheeks hurt from smiling for so many photos. And my voice was hoarse from chatting morning, noon and night with strangers who are now dear friends.
Sounds amazing, right? Because IT WAS!!
This year, I opted for automobiles over airplanes. And I had THE BEST roadtrip buddy in Anne from Anne Thompson Designs. She lives just across the river from me in Northern Kentucky. And she will probably be seeing and hearing a lot more from me. Because she's the bomb and now I have a bloggy buddy who practically lives in my backyard! Eek!
Once we arrived at the hotel and checked in, I pretty much squealed when I walked into my room and saw this: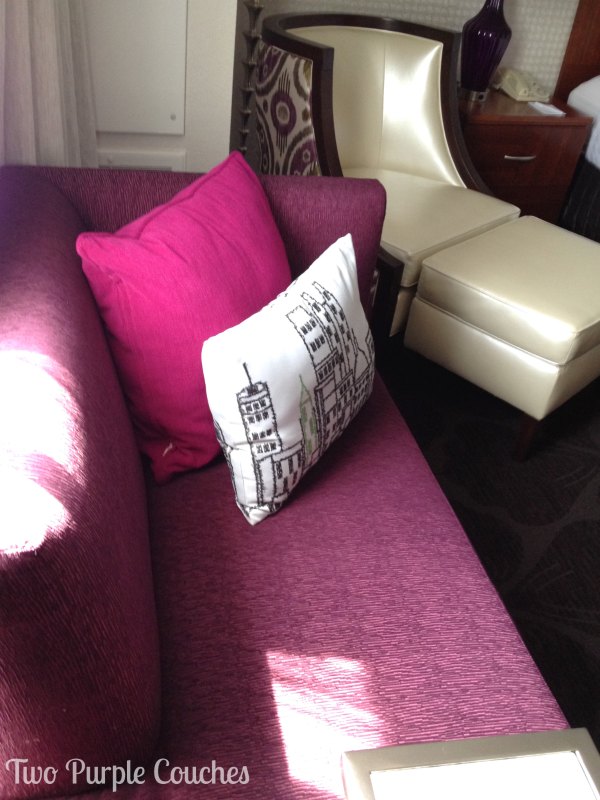 It's like they knew I was coming, decking out my room and all its furnishings in my favorite color! I mean seriously, what are the chances?
I was also beyond stoked to find out that I was selected to be part of the Ballard Designs Coffee Table Challenge! My team didn't win (#sadface), but we had a great time putting our pretty coffee table together. My team: Kathy from Petticoat Junktion, Melissa from The Happier Homemaker, Rachel from Maison de Pax and Heather from Setting for Four.
Throughout the weekend, I got to spend plenty of time catching up with the friends I made last year, including (some of) my amazing tribe: Money Never Sleeps.
Here we are charade-ing our awesome tribe name. From L to R: Lauren from The Thinking Closet, Laura from The Turquoise Home, Melissa from The Happier Homemaker, Candace from Rusted Roots, Jamie from So Much Better with Age and Jenna from Rain on a Tin Roof.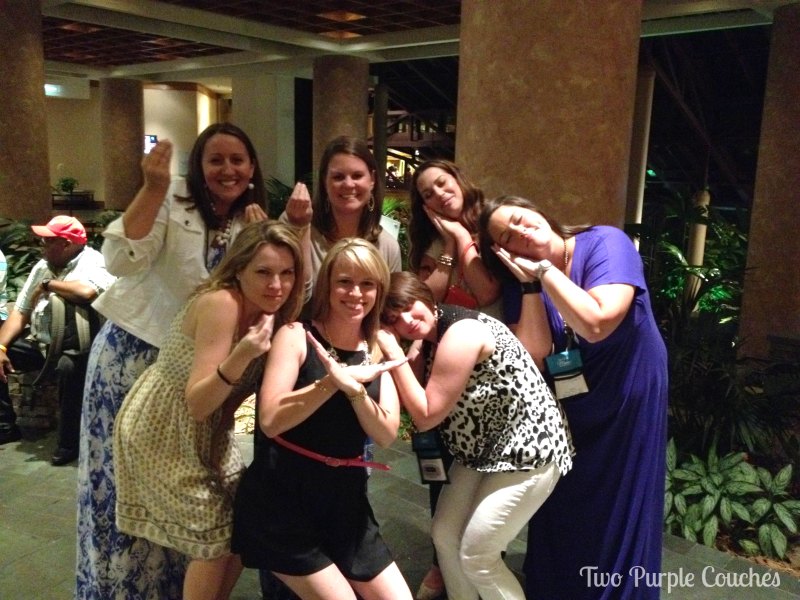 There were a bunch of familiar faces among the crowds of Mavens, including Michele from Our Rosey Life, Lynda from Oh So Shabby. I adore these ladies. We had a blast at the Ryobi party! Here we are with Darla from Heartwork Organizing: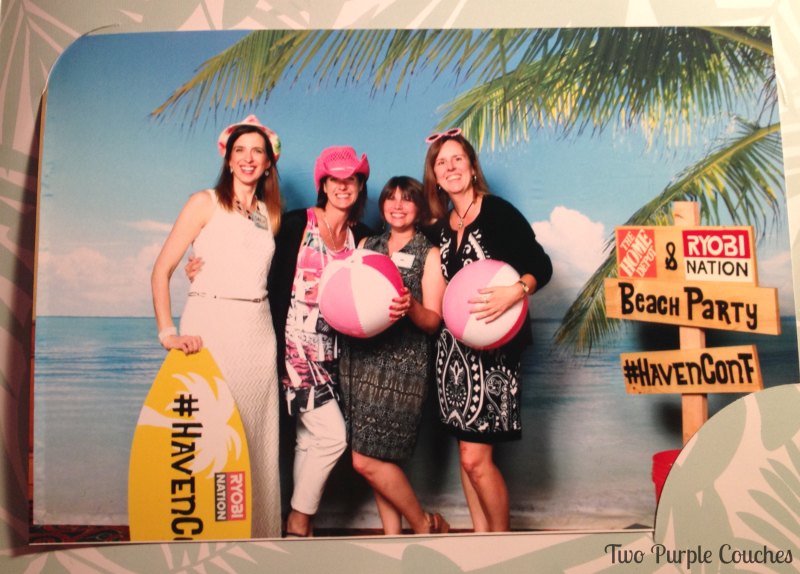 I connected with so many fun and talented ladies! Some I knew from last year, like Melody from My Passion for Decor, Kim from The Kim Six Fix,  and Brandi from Don't Disturb This Groove. And some I was just meeting for the first time, including Dee from Cupcakes and Crowbars, , Sondra from Sondra Lyn at Home, Charlotte from Ciburbanity (a fellow VRAI Magazine editor!), ChiWei from One Dog Woof, Tara from Suburble, Kadie from Seven Alive, Maria from Rusted Market, Michelle from Weekend Craft… and probably 100 more that I'm forgetting.
Here I am with the fabulous Candace from Lucky Scarf. We both won pillows from Online Fabric Store!
My nerves of last year were replaced with a rush of excitement that carried me through the weekend. I took those tougher sessions, and I came away with a wealth of great and actionable information. I felt so much more confident, approaching brand representatives with a smile and bounce in my step.
And while I feel like I came home with a fraction of the business cards as last year, I'll take that as a sign that I was having long, meaningful conversations with bloggers who I'm so honored and thrilled to call friends. I tell you what, there ain't no hug like a hug from a blogger friend you're just meeting in real life.
This was definitely the best Haven Conference yet (can I say that when I've only attended 2?). I soaked up a lot of valuable knowledge, I connected with some fabulous brands that I hope to develop relationships with (ahem, Online Fabric Store, I <3 you), and I reunited with friends from all over North America. From Florida to North Carolina to Illinois to Vancouver, B.C. It was such a rewarding weekend, and a great reminder that there really is no place like Haven.
(see what I did there?)
Now if only I could click my heels together three times and go back!