Felt book ornaments make the cutest DIY Christmas craft for the book lover in your life. This simple felt craft idea makes a great gift, too.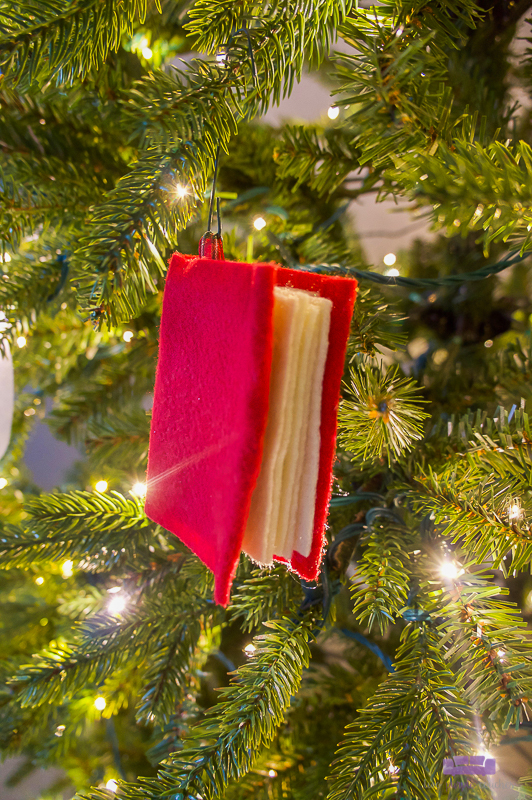 Felt book ornaments make the perfect gift (or gift topper) for the book lover, librarian, English teacher, book club friends, or writer in your life.
These felt book ornaments are an easy felt craft you can make yourself, and with careful supervision (there's a hot glue gun involved), they'd be fun for kids to help make, too.
Last year, my husband surprised me with a second tree for my office and I had this idea to decorate it all in literary and book-themed ornaments. I went through our regular ornaments and pulled out the ones that felt bookish, but I didn't have nearly enough to decorate a whole tree. So I turned to my craft stash to see what I could come up with!
I found some great inspiration online, and then put up a poll on my Instagram Stories asking for ideas. A friend gave me the idea to make little books out of felt. I happened to have a whole stash of felt, so I got to work making these cute felt book ornaments. Oh, and incidentally, felt ornaments are perfect if you've got a toddler in the house. Our daughter has been very curious about our trees this year, but I don't need to worry about her breaking felt ornaments!
This post contains some affiliate links for your convenience. Click here to read my full disclosure policy.
Supplies Needed for Felt Book Ornaments:
*Note: When I made my first felt book ornament, I used fabric glue. I had to secure my book with binder clips overnight to get the glue to hold—hence the clips in my photos below. The next day, my toddler got ahold of my ornament and pulled a couple of the pages out. So I got out my hot glue gun and that solved the problem! Learn from my mistake 😉 I don't recommend fabric glue for this project, and toddlers can be a threat as well, haha.
How to Make Felt Book Ornaments:
1.) Measure and cut all of the felt pieces needed, based on how many felt book ornaments you'll be making. The cream/white felt pieces will be the book pages. The red felt (or green or whatever color you choose) will be the cover. For reference, I was able to cut enough pages for one book ornament from a 9″x12″ sheet of cream felt. I got multiple covers out of one sheet.
2.) Cut a piece of ribbon about 2-inches inches long. Glue each end on either side of a piece of felt, near a corner. It should look like a bookmark sticking out from the top of a page. This will also become a tab for hanging the felt book ornaments.
3.) Sandwich two more pieces of cream felt on either side of the felt page with the ribbon. Glue together along one long edge to form the "spine" of the book. Continue until all seven pages are glued together.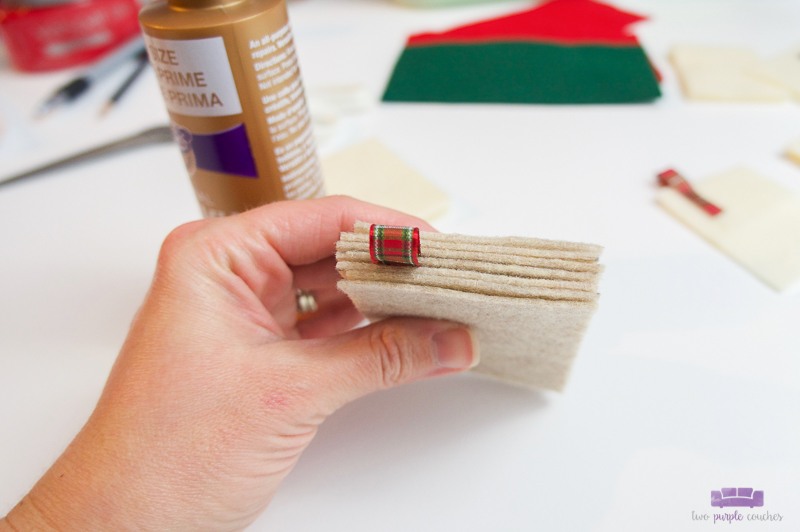 4.) To add a cover to your felt book ornaments, wrap the piece of red/green felt around the stack of pages. Secure to the front and back pages with hot glue. Reminder: you shouldn't need binder clips if you're using hot glue! This was from my first try when I used fabric glue (and it didn't hold well.)
5.) Fold the extra edge of felt over the side of the front and back pages and attach with glue. This will finish off the book cover and give it a clean look.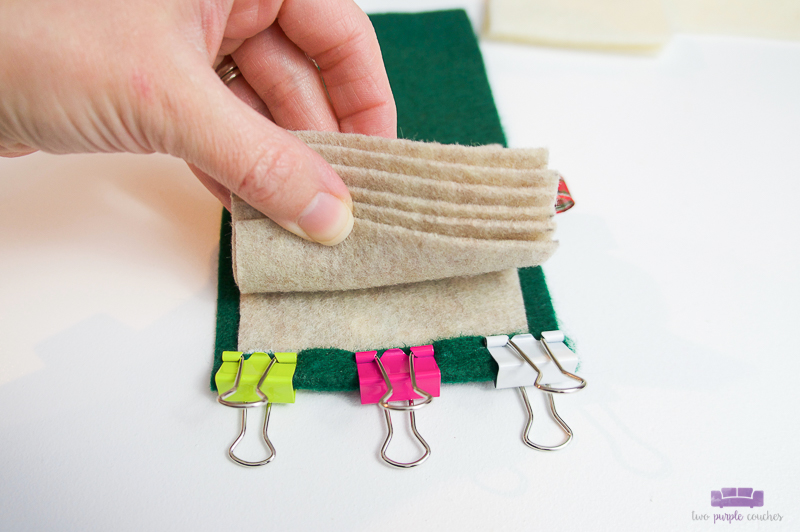 Optional step here: add embellishments or text to the covers of your books. I thought about using a paint pen to add a title to mine, but decided instead to keep them simple.
6.) Loop an ornament hook through the ribbon "bookmark" and hang your felt book ornaments on your tree!
Love this? Don't forget to Pin It or Bookmark It!