Steam clean a tile shower and glass doors with these steam cleaning ideas and tips. Give your bathroom a deep clean with just steam.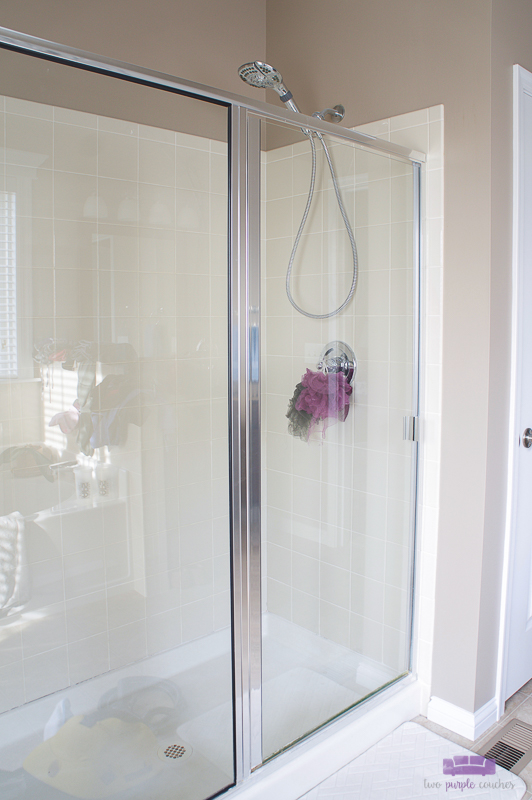 Steam clean a tile shower, glass doors, even your whole bathroom—no chemicals needed! Using a steam cleaner is a great way to deep clean your home. Today I'm sharing some ideas and tips on how to use a steam cleaner to give a shower a thorough cleaning.
Thank you to Wagner SprayTech for sponsoring this post. All content and opinions expressed here are my own. Click here to read my full disclosure policy.
While I know the whole concept of "spring cleaning" is a popular one, I think that the beginning of a new year is a great time to deep clean and start fresh. Plus it's a great way to rid your home of those winter germs!
I recently had the opportunity to try out the Wagner 915 On-Demand Steamer and decided to put it to the test and deep clean the shower in our master bathroom.
Until recently when we installed a water softener, we lived with hard water for years. Our tile shower really shows the effects of all that hard water build-up, with lots of staining and cloudy mineral deposits left behind on the tile walls and glass doors. The caulking where our floor pan meets the tile is pretty stained, too, and while we figure it's probably time to rip it out and re-do it, I wanted to see how the steamer would handle it.
The 915 On-Demand Steamer is pretty easy to set up and operate. And all you need is filtered or distilled water, so you never have to worry about running out of cleaning solution and rinsing soap out of your carpets, upholstered furniture, etc. One of the things I really like about this steamer is that it comes with several different attachments to help you tackle just about any job, including carpets, upholstery, automobiles, even wallpaper removal.
I couldn't decide which attachment would work best to steam clean our tile shower and glass doors, so I decided to try three: the squeegee, the large cleaning brush with pad, and the jet nozzle brush.
Let me show you how to set up and use this steamer and some of the attachments.
This post contains some affiliate links for your convenience. Click here to read my full disclosure policy.
Supplies needed to steam clean a tile shower
How to set up the steam cleaner
Fill the container with water. The included manual has a chart to reference with how much steam time you'll get based on how many ounces of water are used. You can actually cover a good amount of surface area with 16-ounces of water, so don't feel like you have to max out the water tank to start!
Select the attachment you want to use and connect it to the trigger. Then plug in the steamer and turn it on. Both red and green lights will be on as the unit heats; when the red light turns off, you're ready to steam.
How to steam clean a tile shower
To activate the steam, pull the trigger. For light steam, just pull on it slightly. For more steam, depress the trigger further/hold all the way down. I didn't mean to, but went full-blast when I first started using it and I was so surprised at how forcefully the steam came out! Just a warning if you were expecting a light, gentle flow of steam!
Now, let's talk about the three different attachments I experimented with to steam clean my tile shower. One important thing to note first—to switch attachments while working, you'll need to turn off the steamer and allow it to cool first, per manual instructions. It's also a good idea to wear gloves and eye protection while working. The trigger handle does get pretty warm, and of course it's always smart to keep your eyes shielded!
Squeegee Attachment
According to the manual, this is the best attachment for cleaning windows and tiles. And it truly did an incredible job on our glass shower doors. I used a light to medium flow of steam and they are sparkling now! After using the squeegee, I wiped down our doors with a clean towel to dry any water droplets that got left behind. It didn't leave any streaks behind, and the glass is super clean and clear now.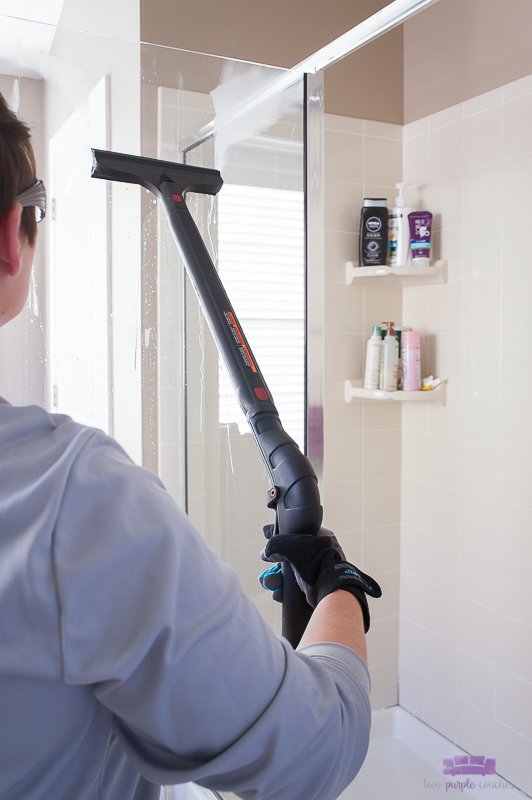 I think the squeegee did a decent job on our tiled shower walls. The grout lines didn't come as clean as I was hoping they would. I think for an initial deep clean, the two attachments below worked better for me, but for maintenance cleanings, I think the squeegee will do well.
Large Cleaning Brush with Pad
This attachment worked well on our tiled walls. Using the pad on the brush means you can scrub tiles a little more effectively. Some of the grout was still stained in spots, but overall, this did a pretty thorough job.
It's also the only attachment that worked on our textured plastic shower floor pan. It took up most of the discoloring and mildew stains and made it feel a lot cleaner.
Jet Nozzle Brush
The jet nozzle with one of the brush attachments did a great job at targeting stubborn stains and dirt. I could get into the corners and small edges, especially where the wall tiles meet the floor pan, and scrub at the hard water and mildew stains. There was also a stripe of cloudy hard water residue along the bottom edge of our shower door, and the jet nozzle brush took it right off!
While the caulk around the floor pan is still stained, it's definitely a lighter color now than it was before I used the steamer, so I am calling this experiment a win!
After you're done steam cleaning
When I was finished steam cleaning our tile shower, I turned off the steamer and released the pressure by activating the trigger. (Hold until all pressure is released; this may take several minutes). I allowed the unit to cool for 20-30 minutes, then emptied the water reservoir and packed it all up.
All-in-all, I'm really pleased with the deep clean I got from this steamer. Our shower not only looks much cleaner, but it feels cleaner too. Neither my husband or I had realized how much hard water residue had built up until I blasted it off with the steamer!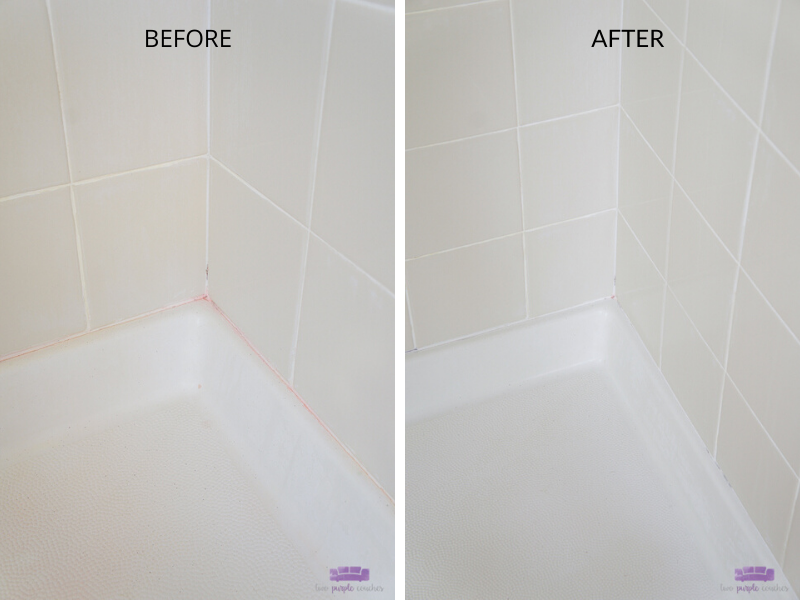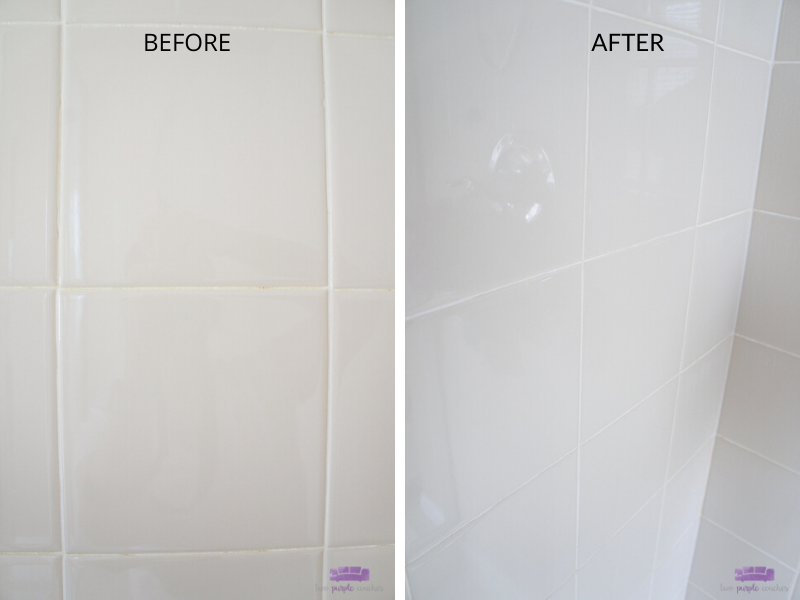 I'm looking forward to seeing what else this steamer can do. I want to try it out on our upholstered couches and I'm also thinking our windows could use a good clean (both inside and out) once the weather warms up.
Love this? Don't forget to Bookmark It or Pin It!