Now that our bedroom is all trimmed and painted, our bathroom needs to catch up! But there's a few more items we want to check off our Bathroom To Do list before we can put this room in the books. And one of those is switching out our vanity lights. So I've been hunting down a whole bunch of bathroom lighting ideas to help us decide what we want!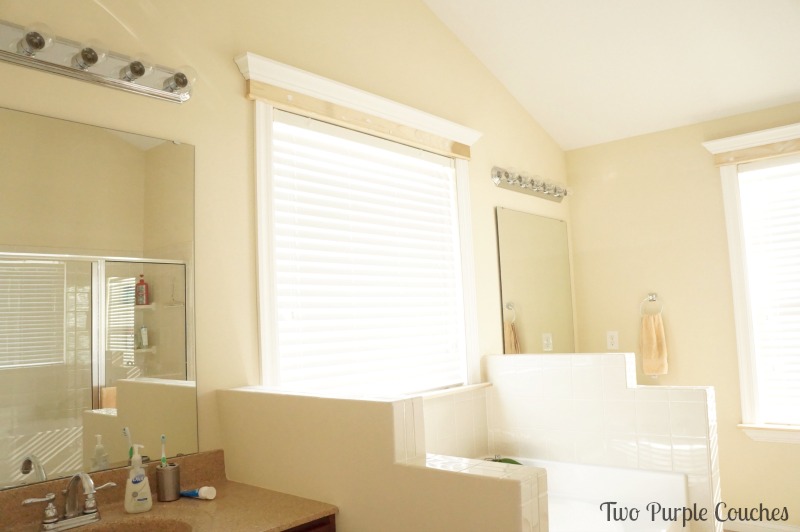 Part of our bathroom makeover is already underway; we were on such a roll with our bedroom windows that we went ahead and trimmed our two bathroom windows as well. Though, as you can see, they still need to be painted.
Also on the To Do list for our "Builder Basic" bathroom: paint the walls, frame the mirrors (which will require cutting the mirrors to a smaller size), and change the light fixtures. These were some of the upgrades that we opted to do ourselves instead of paying our builder to do for us.
We've been living with "Hollywood Dressing Room Lights", as I like to call them, since we moved in. Personally, I think these kinds of lights are awful. They're just naked bulbs with no character! Plus, with 6 bulbs apiece… that makes 12 bright, blinding bulbs assaulting our sleepy eyes every morning. Am I being overly dramatic about these light fixtures? Probably. But all I know is that they're coming down soon! And that means I can start gathering up some bathroom light fixture inspiration!
And you know what I discovered? That we have a very important decision to make: wall sconces or vanity lights?
Who knew!?
Vanity lights are clearly the easier route to go, as all we'd need to do would be to switch out the current fixtures and maybe patch up a bit of the wall. Sconces would require running wiring alongside both of our mirrors. And the wall in question is an exterior wall, so that could pose some challenges with insulation and all that jazz. But there's something so simple and chic about sconces. Plus, our eyes wouldn't be assaulted with the light of 12 bulbs!
Now Tom and I are feeling torn. Which way should we go?
Which side of the Bathroom Lighting Game are you on? Are you Team Sconce or Team Vanity Light?  
Sharing with: Work It Wednesday / Creative Spark