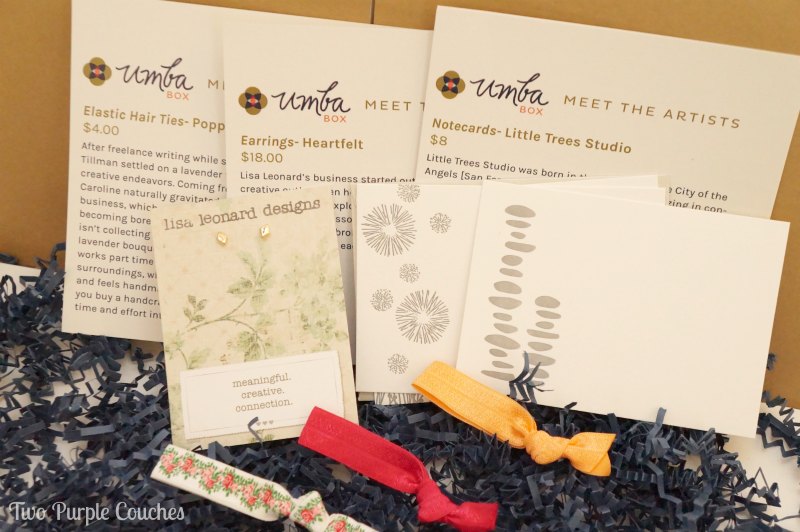 Happy Thursday, friends! I've had a rather quiet week, which has been nice for a change! Life feels a little less chaotic, and the time change means that twilight sticks around a little longer. It's amazing what a little daylight can do for the soul!
You know what else is good for the soul? Handmade goodies showing up in your mailbox every month! And with that, let's take a peek at the goodies in my March Umba Box…
I really enjoyed the contents of my February Umba Box. Especially that brownie. Yum! I would not be sad if one of those treats showed up at my door every month!
But, this month did not bring food. Instead, it brought earrings, notecards, and hair ties.
First up, this precious pair of shiny gold diamond-shaped earrings from Lisa Leonard's Heartfelt collection. I've mentioned her here before, but if you don't know about Lisa Leonard, she's an amazing woman with a pretty cool story. She's all about finding beauty in the brokenness, and telling this story through beautiful hand-crafted jewelry and accessories. Her Instagram feed is full of beauty and incredibleness, as well. I highly recommend.
This sweet set of notecards by Little Trees Studio will be perfect for writing up a birthday or Mother's Day message, or even a little "just because" note. I love the variety nature-inspired designs on each card.
The last item – these hair ties by Poppy & Elle – are actually a repeat. I received a set of the same hair ties in one of my summer boxes last year. They're super cute, but with my short hair, they don't do me much good!
Is there any special handmade artist or item that you've been loving lately? Please share! I love discovering new handmade goodness!
Curious about Umba Box? Check out the variety of boxes and subscriptions here. Save $5 on a new subscription by entering code EMILYKENNEDY at checkout.
Disclosure: As an Umbassador, I do earn a 20% commission on all purchases made through umba.com/emilykennedy. I am very passionate about supporting the handmade community, and all opinions expressed here are my own. I wouldn't share a product, artist or brand I don't believe in.