Welcome to the first day of our Holiday Craft Party festivities! We've got 5 days of holiday crafts happening across 5 blogs, so I'm sure you'll find plenty of inspiration and ideas to kick start your holiday decorating and gift-giving. Oh, and there's an awesome giveaway to celebrate, too, so be sure to read all the way to the bottom of the post to check it out! 
Today, we are all sharing handmade ornaments, and I made up a few of these beautiful glittered sheet music ornaments using vintage-style Christmas music. This was a very simple project—one you can do with craft supplies you probably already have in your stash! Let me show you how…
I love ornaments. To the point where we may need a second tree because we're running out of branches on ours! But for as much as I love ornaments, I realized that I've never made my own. I decided I wanted to use materials I already had on hand, and then remembered that I had some leftover cedar planks from my recent steamer trunk makeover project (you can find that project here).
First, I cut my cedar planks down into squares so I'd have a nice surface to use. Any kind of scrap wood would work for this project, or even wood slices.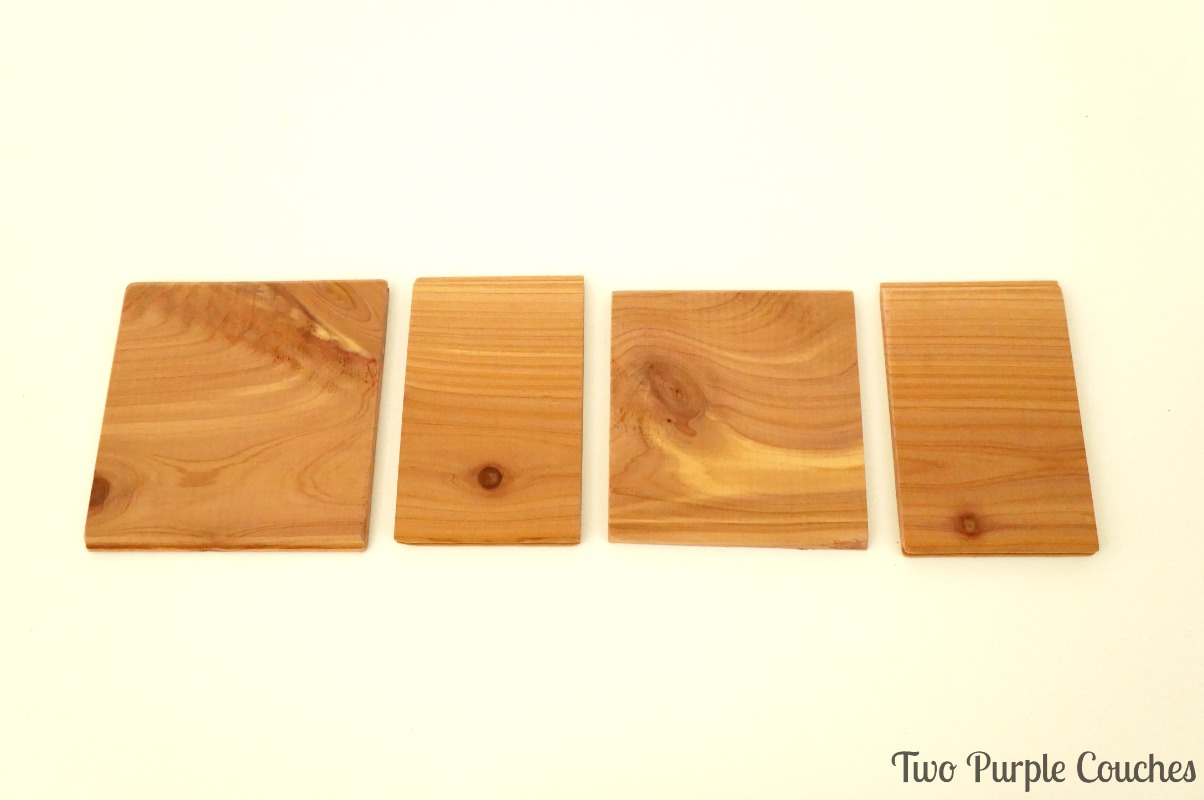 While I have plenty of books of sheet music from my piano-playing days, there was no was I was cutting them up. Instead I did a Google search for vintage Christmas sheet music and printed out a few pages. I wanted them to look aged, so I used the same tea method as I did for my Halloween book page banner.
I wanted to play around with different shapes and styles for my ornaments, so I raided my cookie cutters and found a tree and a star that were the perfect size to fit on my cedar squares.
I used Mod Podge in a matte finish to glue the sheet music to each cedar square, lightly brushing some on the back of the sheet music, and then going over the top of both the paper and the cedar to seal it onto the surface.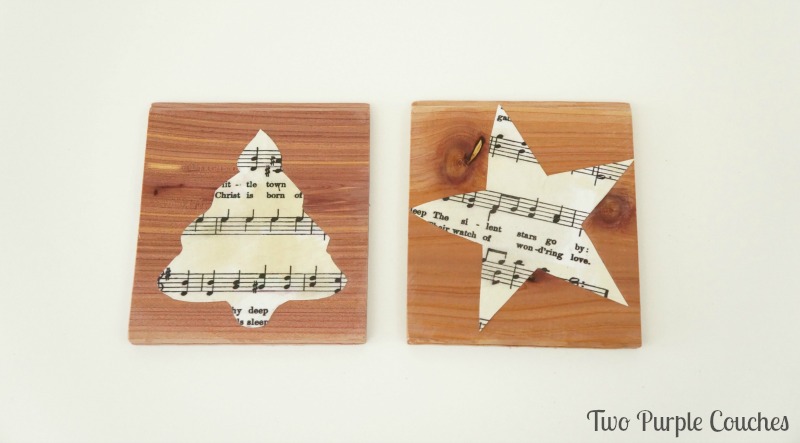 Once dry, I added a light coat of Mod Podge wherever I wanted to add glitter, then coated the surface with glitter and shook off the excess. Be sure to do this over a bowl or piece of paper so the glitter doesn't make a huge mess! Plus then you can save the excess.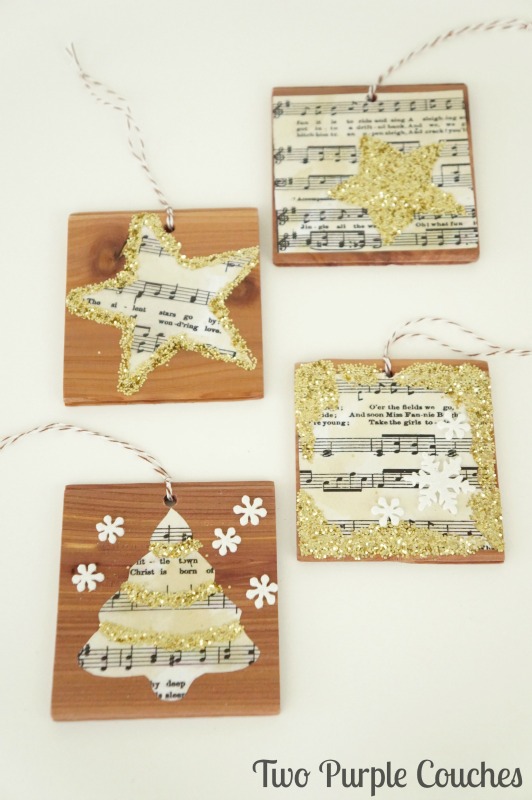 I played around with different styles for each of my ornaments – some with shapes and some covering the cedar with squares of paper. I also used a smaller cookie cutter to create the gold star on the top ornament. It was fun to play around with the different styles, adding glitter here and there, and even dressing a few up with some foam snowflake stickers. Just have fun with it!
When my sheet music ornaments were completely dry, I sprayed each with a coat of a clear acrylic sealer to help keep the glitter from flaking off. Then I drilled a hole in each and added some baker's twine for hanging!
I love, love, love putting up our Christmas tree, and am already looking forward to picking it out this year (we always go with a fresh one). I can't wait to add my new handmade glittered sheet music ornaments to its branches!
Remember how I said earlier that there are 5 bloggers sharing ornaments today? Be sure to go check them out!
Vacations Photos Ornament by Simply Kelly Designs
How To Make Mercury Glass Ornaments by Weekend Craft
How to Make a Yarn Ball Ornament: Two Methods! by Where The Smiles Have Been
Glittered Sheet Music Ornament by Two Purple Couches
DIY Medallion Christmas Ornaments by The House Down The Lane
But wait, there's more!
To celebrate our week of Holiday crafting fun, we're offering a giveaway! There are three awesome prizes up for grabs. Use the widget below to enter.