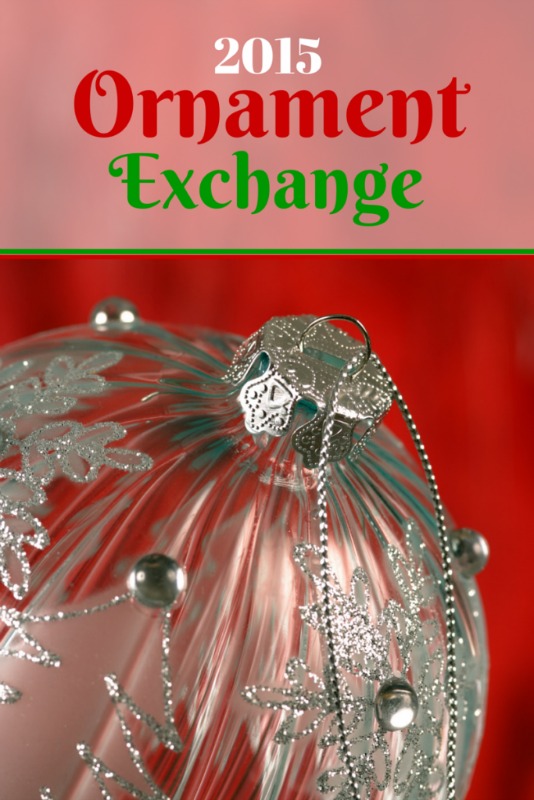 Happy Saturday, friends! I hope you're having a wonderful weekend so far, and maybe you're starting to get into the Christmas spirit?
If you are, you've come to the right place! Remember the wintry owls ornament I shared last week for the Ornament Exchange? (If you didn't see it, or if this is your first time here, you can find my ornament tutorial here) Well, today we're launching a huge ornament link up party so you can share your awesome ornament creations with us!
You can also find every single one of the beautiful, clever and creative ornaments dreamed up by the Ornament Exchange participants over the past two weeks. Then scroll all the way to the bottom to add your link so we can see the ornaments you've been working on!
Welcome to the first 2015 Holiday Ornament Exchange!
Want to see all the amazing ornaments we have shared?
We are linking up all of our ornaments in the link below so everyone can see all the beautiful handmade and/or store bought goodies we came up with!
Let's all get inspired this season!
The Hosts of the Exchange~
My Pinterventures | Made in a Day | The House Down The Lane | The Kolb Corner | Intelligent Domestications | Where The Smiles Have Been | Ash and Crafts | Inside the Fox Den | C'mon Get Crafty | Olives-n-Okra
We want to say a huge "Thank You" to all the blogs that shared the exchange announcement on their sites, we could not have done it without you! Hugs!
Lexi Michelle Blog | B is 4 | Xo, Lorey | Craving Some Creativity | Cherishing a Sweet Life | Our Crafty Mom | MidMichigan Mom
---
Make sure to visit all the other wonderful bloggers of the 2015 Ornament Exchange! All of their incredible creations are linked in the link party below.
DIY Adulation | The Farmhouse In The Field | Tastefully Frugal | My Sweet Things |Christmas Tree Lane | Simply Kelly Designs | Munofore | Decor To Adore | Tulips & Orchids | Rhinestones & Sweatpants |Happily Ever After, Etc. | From This to That | DIY Just Cuz | This Design Journal | I am Homemaker | Organized by Sunshine | Displaced Yinzer | My Life From Home | Nets Blog About Jnets Line | 10 Acres and 6 Chicks | Books and Life | Gardenchick | Two Purple Couches | DIY Just Cuz | Across the Blvd | Kentucky to Cali | Insolence + Wine | Our House Now a Home | Weekend Craft | Mary and Martha's House | Random Bits of Happiness | Dragonfly and Lily Pads | Garden Matter | Recipe For a Sweet Life | Mama's Journey | Amber Downs | Toolbox Divas | Craving Some Creativity | Vikalpah | Flourish & Knot | Raising Fairies and Knights | Blue Willow House | The Road to Domestication | Love My Messy Messy Mess | An Oregon Cottage | Home On The Corner | Fearlessly Creative Mamma | The Evolution of Mom | The Green Mountain Couple | Simply Home Love | Run with Jackabee | simple.pretty.life | The Chilly Dog | Try it – Like it | Gypsy Road | Playfully Tacky | Wife Mommy Me
We want to see your ornament tutorials too! Show us your creations by adding your post to the party below! Please add only ornament tutorials to the party. Thank you!