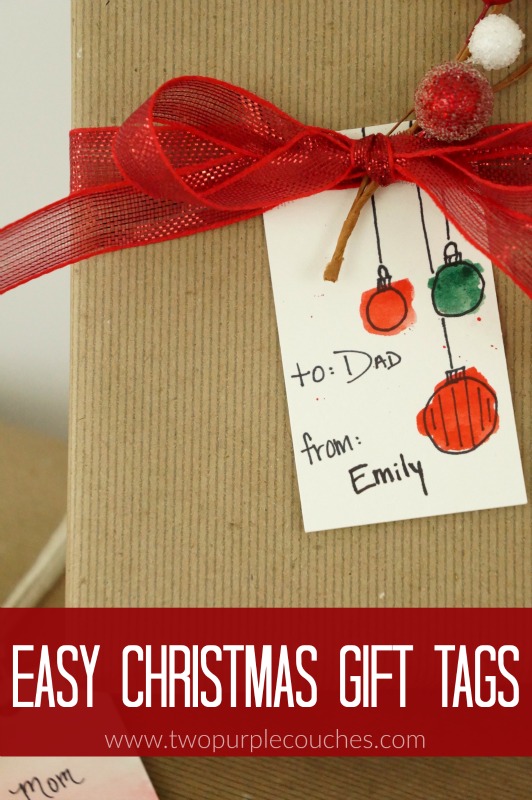 It's Day 2 of our Holiday Craft Party and today is all about gift tags! Be sure to scroll to the bottom of this post to check out more gift tag ideas and enter our giveaway! If you missed yesterday's collection of ornaments, you can check them out here.
Given my recent obsession with watercolors, they had to make an appearance in my holiday crafts! These easy watercolor Christmas gift tags are just that—easy! And they're quick, too. Especially the more abstract styles, which are always a favorite of mine.
I used my Silhouette Cameo to cut the gift tag shapes. There was a design already in my library that I edited slightly (eliminating an outer border) and then duplicated until I filled one 9″x12″ page of watercolor paper with tag shapes. Then I sent them to cut, using the same settings I used for my watercolor leaves table scatter: blade 8, speed 2, thickness 15 and check the box for Double Cut.
Then I sat down to brainstorm with my watercolors and "sketch" different wintery and holiday designs. I decided on a range of four designs (because I can never just do one thing!) from very easy to slightly more detailed.
Here are the designs that I settled on: the abstract wash (i.e. the easiest watercolor technique ever), squiggly trees, large dots (which will become ornaments) and a wreath. I used a size 2 and a size 8 brush to create the designs for these gift tags.
For the wash, pick up some color in a brush, then place the brush at the bottom (or top) and start painting. Lightly rinse the brush every few strokes to pull more water and less color up (or down) the page. This creates a nice ombre sort of effect.
For the squiggly abstract trees, start in the center of the tag, then slowly pull the brush down and side-to-side, just as if you're drawing a squiggly line with a pencil. Each line should extend a little further than the last to create the triangular shape. I like the ombre effect achieved here, too. Once these tags were dry, I added a star with a silver paint pen.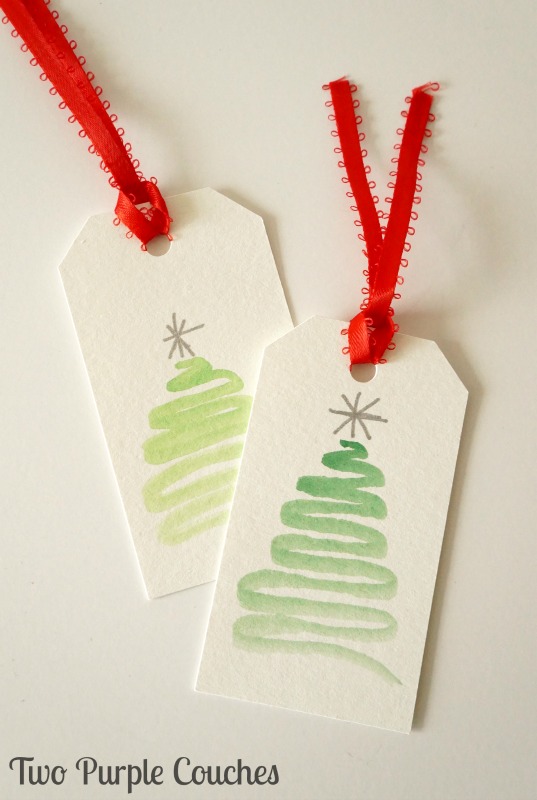 For the ornaments, paint a few differently-sized dots on the tag in one or two colors. I chose three dots as three is always a nice number for a grouping. When the paint is dry, use a fine-tipped permanent marker to draw each ornament around/inside of the watercolor dots.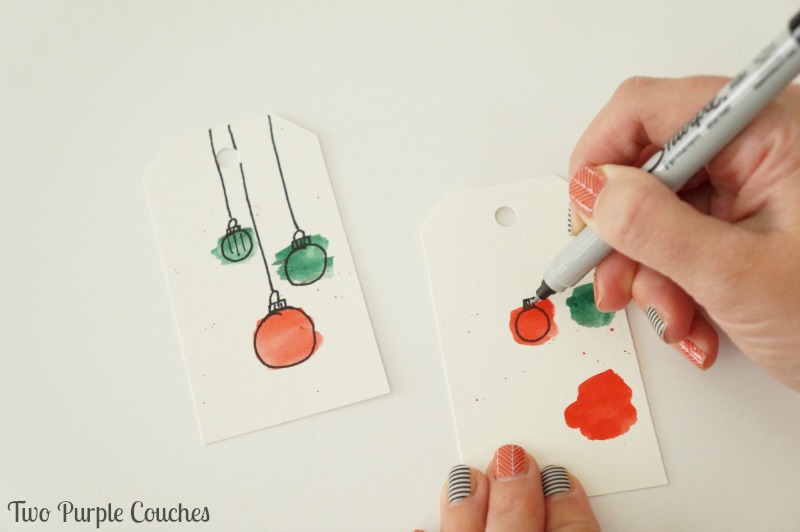 For the wreath, start by painting a small curved line and adding a few leaves off of it. Work in small sections to extend the line and add leaves until you come full circle (ha). Then use a very fine-tipped brush dipped in red paint to dot on a few berries. (If you want to learn more watercolor wreath painting techniques, I highly recommend this class from Creativebug).
I love how each of Christmas gift tags turned out, though I think the ornaments might be my favorite, or maybe the wreath… I can't decided! I love them all!
Be sure to check out all of our awesome Christmas gift tag ideas!

Easy Holiday Place Cards with Gift Tags by Weekend Craft
Easy Watercolor Christmas Gift Tags by Two Purple Couches
Free Printable Santa Approved Gift Tags by Simply Kelly Designs
Gift Tags That Will Make Your Packages Sparkle by The House Down The Lane
Free Printable Colorful Snowflake Gift Tags! by Where The Smiles Have Been
Don't forget about our awesome giveaway!! Use the widget below to enter!