I've gotten to the point in the summer where I want to clear out my closet and start fresh with all new pieces. But of course, this isn't practical, nor would I actually do it. But it's nice to dream about, right? And whenever I start dreaming of ways to refresh my wardrobe, I immediately turn to jewelry and accessories. A pair of jeans and a plain tee can take on so many looks just based on the accessories you pair them with! So of course, as soon as I saw the latest summer accessories from Umba, I started dreaming up all kinds of looks in my head!
And there are some seriously fabulous new items. Swingy earrings. Bold statement necklaces. And plenty of juicy summery colors to go around.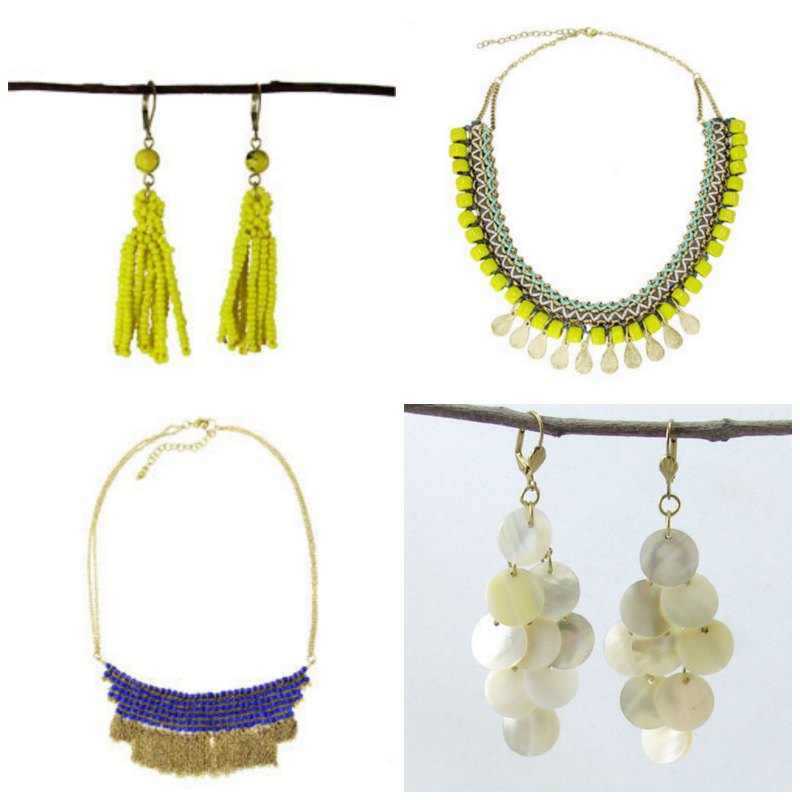 top row: Lemon Tassel Earrings / Sun & Sky Necklace.
bottom row: Cobalt Fringed Necklace / Mother-of-Pearl Chandelier Earrings
I don't wear much yellow clothing, but I would totally rock that yellow and brass Sun & Sky necklace. I'm imagining it paired with white jeans, a solid-color top and neutral wedges.
Here's quick style board I whipped up to bring the look to life. Is it obvious that I'm not a fashion blogger!? No matter, I am still obsessed with this necklace, and will dream of all the ways I could pair it with what's already in my closet.
Jeans & top: J. Crew. Wedges: Clarks.
You can shop these necklaces, plus the full Umba catalogue here.
How would you style these pieces for summer? Have you ever cleared your whole closet and started fresh?
Sharing with:
Creative Spark / Work It Wednesday
Disclosure: As an Umbassador, I do earn a 20% commission on all purchases made through umba.com/emilykennedy. I am very passionate about supporting the handmade community, and all opinions expressed here are my own. I wouldn't share a product, artist or brand I don't believe in.