I started blogging to have a personal, creative outlet. It was the place where I would share the vision I had for our newly-built home, and watch it come to life. It was the place where I would try out all those projects and ideas I'd been pinning for months. And it was the place where I would write how I wanted.
Two Purple Couches is still all of these things to me, but some days, it's easy to forget why I started. And I need a simple reminder—four powerful, motivational words in the form of a DIY quote art project—to jolt me back to those early posts, and the reason why I hit publish in the first place.
I think it's so easy for our day-to-day tasks to consume us and cause us to lose sight of the larger picture, the greater cause, and the passion that drives us. Not just with blogging, but with any job or daily responsibility. Bloggers get caught up in the Facebook posts we feel we need to write and the tweets we feel obligated to tweet. We work tirelessly on things "behind-the-scenes" that, quite frankly, most readers may never notice, and probably don't even care about.
These things happen with any job… we get caught up in day-to-day "maintenance" tasks and devote less and less time to pursuing the passion that made us start it in the first place.
I keep one piece of art on my desk that has become my mantra. It needs to be my mantra because I am the queen of list-making. And while I love my lists, they also consume me and stress me out.
I saw this quote on Instagram a few weeks and I haven't been able to get it out of my head. And I decided this one was the perfect mantra to repeat each and every morning. As soon as my eyes flash open and my feet hit the floor, I need to remember why I started. I need to live each day working towards the bigger purpose and passion I'm shaping for myself. Some days I will make great strides. And some days I will go at a snail's pace. But I just need to go. And to remember why I'm going.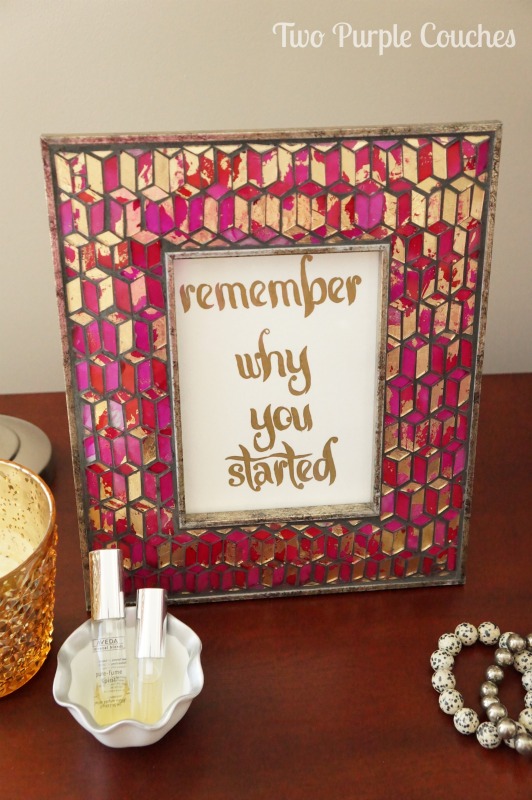 Sharing with: Creative Spark / Outside the Box / Share It Sunday / Something To Talk About