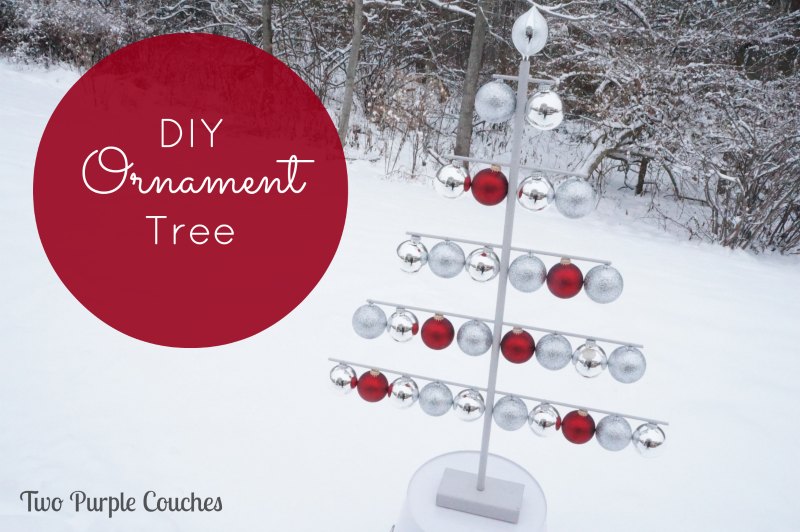 My hubs may not admit it, but he's got a crafty streak. His doodles and sketches are frame-worthy, and he's got a knack for "hobby" woodworking. Especially during Christmastime.
Last Christmas, Tom made a ladder for our tree, and this Christmas, he wanted to make an Ornament Tree. So we made a trip to the store, picked up some ornaments and dowel rods, and he got to work!
Materials:
30 standard-sized ornaments (you could use any size you like, which would determine the length of your branches)
Four 1/4″ dowel rods for the branches
One 5/8″ dowel rod for the trunk
Drill with a 1/4″ bit and a 5/8″ bit
Optional:
Paint
A topper for your tree (we used an oblong-shaped ornament that we already had)
Tom started by laying out the ornaments until he found a pattern he liked. We selected mostly silver ornaments with a few hits of red to match the rest of our decor this year.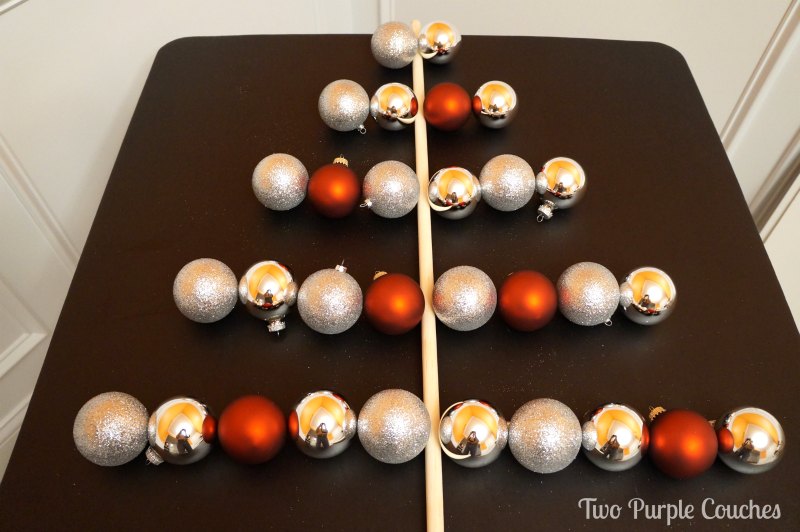 Once the ornaments were laid out in a pattern and spacing we liked, Tom marked where to drill holes in the 5/8″ dowel rod that is the "trunk" of the tree. Each branch is about 6″ apart. Then he drilled 1/4″ holes in the trunk, and threaded the 1/4″ dowel rods through. Although tricky with round dowels, be careful to drill all holes straight through so the branches lie on the same plane. (If they don't fit tightly, secure them with a bit of wood glue). He also made a base by drilling a hole in an 8″ 2×4 piece of wood. The lowest branch is about 9″ from the base.
When all parts of the tree were assembled, Tom painted the dowel rods with leftover paint from our family room (Natural Gray by Behr). Once dry, he strung on the ornaments, just using the metal loops already at the top. And there you go! Easy-peasy dowel rod ornament tree!
They're pretty snug up against each other, and we haven't had one roll off yet! If the existing loops are too small, you could easily use ornament hooks, or even little loops of ribbon to hang the ornaments on the branches.
Since the ornaments aren't glued down, we could switch around the pattern, or change out colors in the future.
What do you think? Would you try your own dowel rod tree?