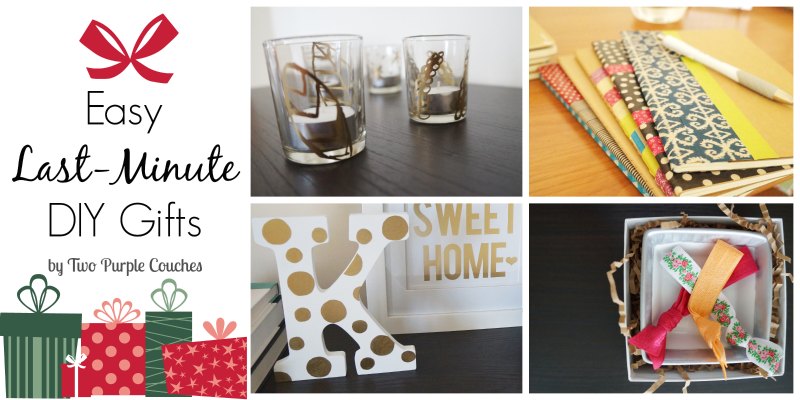 Christmas is less than one week away! As you're reading this, you're either smiling to yourself because you're ahead of the game, or your palms are starting to sweat because you've barely started your shopping and your cards aren't addressed yet.
Never fear! I've rounded up a few of my favorite, and easiest DIY gift ideas to help you get through these last few days, hopefully without breaking a sweat.
These are seriously some of the easiest diys I've ever done, and you can complete them in no time flat. We're talking 10 minutes max!
DIY Gilded Votives: Grab a paint pen and couple of clear glass votives, and you can whip up a set of beautiful candle holders in about 30 seconds. Seriously.
Washi Tape Notebooks: Dress up a plain sketchbook with washi tape for a simple, yet customized gift.
Polka-Dotted Monogram: Make a monogram! I used a gold paint pen to jazz up a "K" for our entryway table.

Silver-Rimmed Bowls: Rim the edge of a small bowl with silver or gold paint, then fill with hair ties, lip balm, or a fun treat.
Happy Crafting!