DIY mud cloth pillow handmade with a pillow cover and paint. Learn how to create your own beautiful African style mud cloth throw pillow for your home!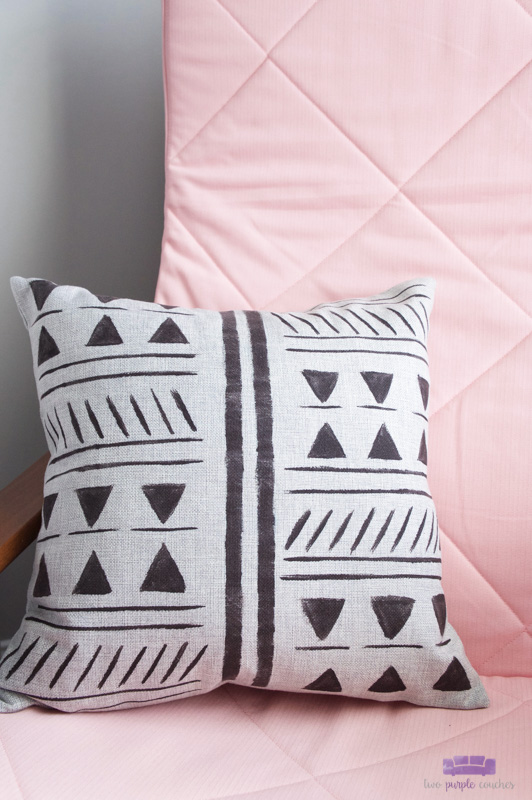 This DIY Mud Cloth pillow is a great way to add handmade boho style to your home. My simple tutorial will show you how to make your own African style painted mud cloth throw pillow.
Thank you to DecoArt for providing the paint and fabric medium for this project. All thoughts and opinions are my own. Click here to read my full disclosure policy.
I've really been drawn to boho home decor lately, and I want to take some small steps to incorporate more of this design look into our home. Mud cloth, and especially, mud cloth throw pillows, has become a popular design element for boho style, but it can also get pricey. I wanted to add some mud cloth style to our living room, but do so in a budget-friendly way.
Throw pillows have always been one of my favorite ways to update my decor on a budget. So I decided to try painting own DIY mud cloth pillow cover. I am so pleased with the results, and I also love that I was able to customize the look and color of this painted DIY mud cloth pillow to suit our home and style preferences! The other bonus? This project only took me about an hour!
This post contains some affiliate links for your convenience. Click here to read my full disclosure policy.
How to make a DIY mud cloth pillow
Materials Needed:
Fabric marking pen
Paintbrushes
Cardboard
Ruler
Tutorial:
1.) I started my DIY mud cloth pillow project by sketching out a few traditional mud cloth designs. I combined a few of my favorite elements into one design for my pillow cover. Then I used a ruler and fabric marking pen to mark the center of my pillow cover and sketch out a few of the design elements. I didn't draw the whole design on my pillow cover before painting because I prefer to free-hand. But you totally could if it would make you feel more comfortable!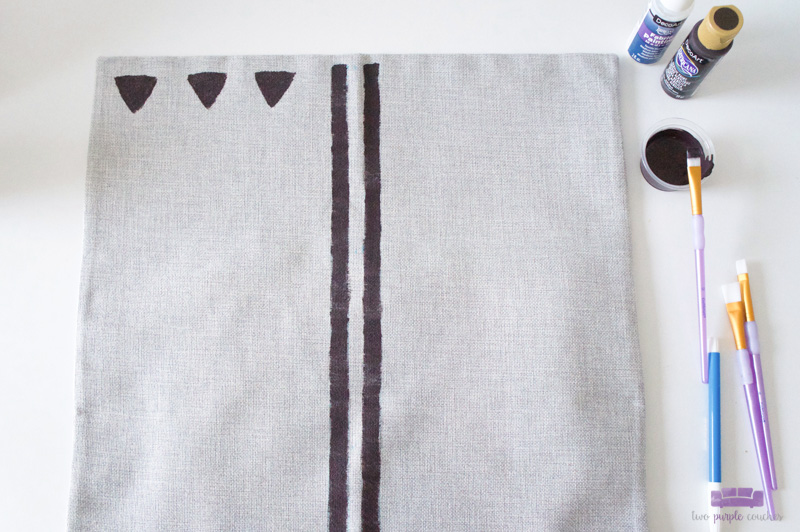 2.) Slide a piece of cardboard inside the pillow cover so paint won't bleed through to the other side. Mix the acrylic paint and fabric painting medium in a cup per the instructions on the fabric medium bottle (about 2:1 paint to medium).
3.) Paint on your design. I started by painting the two lines down the center since these kind of anchor my mud cloth design. Once those were finished, I painted the left column, then the right. Allow the paint to dry fully and follow bottle instructions to heat set.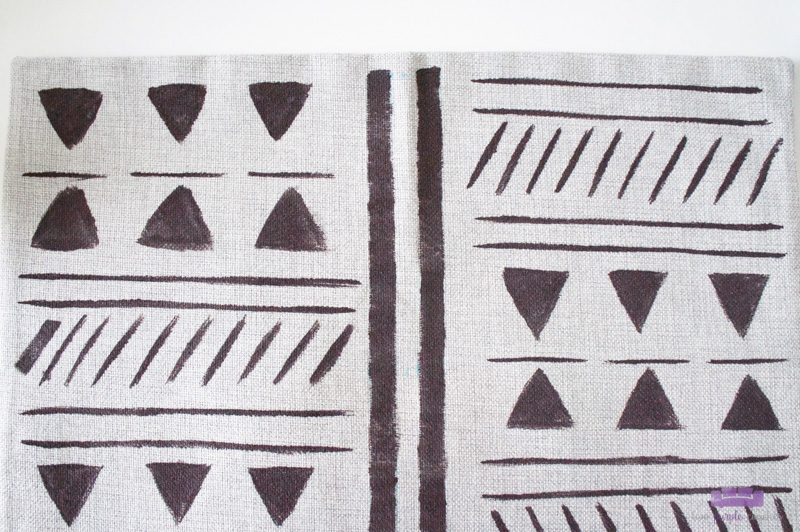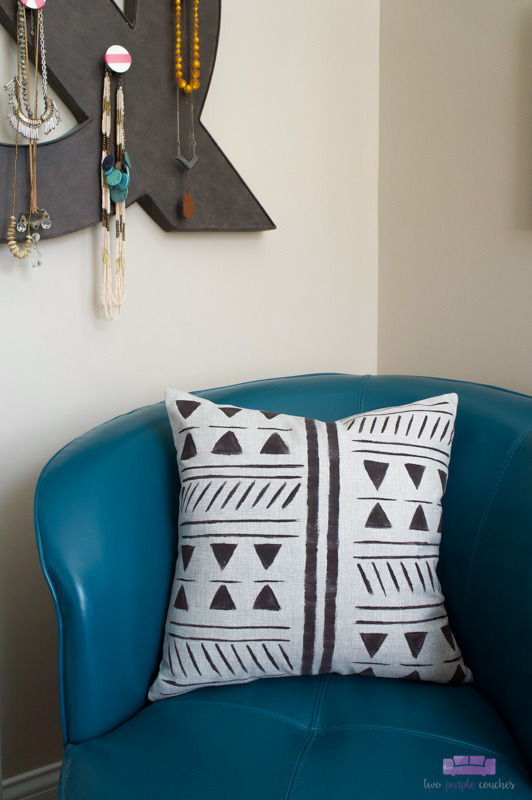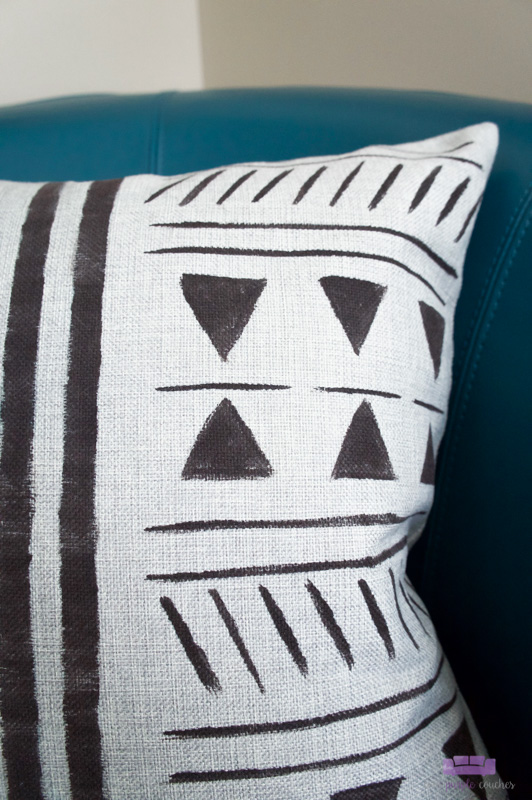 Don't forget to PIN this project or Bookmark it for later!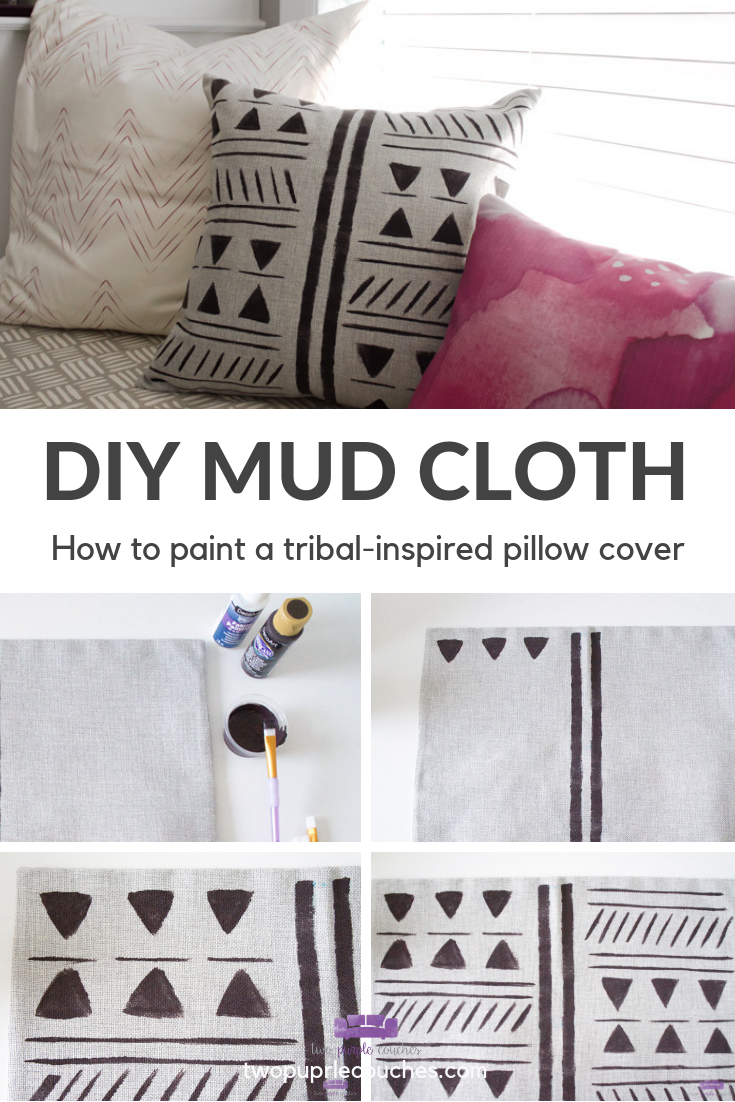 Want to see more boho style DIY throw pillows? Check out these projects:
(middle pillow) Watercolor Pillow with Fringe / (far right pillow) Geometric Pillow
If you love the tribal look, check out Trendy Tribal Throw Pillows