Last Friday, I hosted a somewhat impromptu craft night with my girlfriends. Because sometimes, you don't need the inspiration, you need the TIME! Each girl brought along projects they haven't gotten around to yet. We snacked, sipped on sangria, watched Frozen (not kidding), and crafted. And I finally had the time to check a fun project off my list: diy fabric wrapped letters.
I was inspired by this 3D letter tutorial from Grey Luster Girl using a Silhouette Cameo. But I decided to free-hand my letter, since I figured a "K" is a relatively simple letter form. And also since I still feel like a major newbie with my Silhouette and sometimes I think it's easier to freehand than to mess around with the design program. I am SO intimidated by fancy design programs. I know, I know, I need to get over that fear…
I used an empty cereal box, as it was the perfect size for the 3D letter I wanted to create. I drew and cut out the first letter, then used it as a template to trace the second letter.
When I had my two K's cut, I hot-glued pieces of styrofoam to one K so it would have some dimension, then hot-glued the other K to complete my K sandwich.
For the fabric, I wanted to use some scraps of yellow chevron fabric from the throw pillows my mom and I made a couple of years ago. Now, I do have a tip for you if you try this: go with 100% cotton, or maybe even jersey or ribbon. The fabric I used here is duck cloth, so it's a bit heavier, and was therefore a bit trickier to work with. Not impossible, but I think a regular cotton would've been easier. But, my need for coordination trumps all.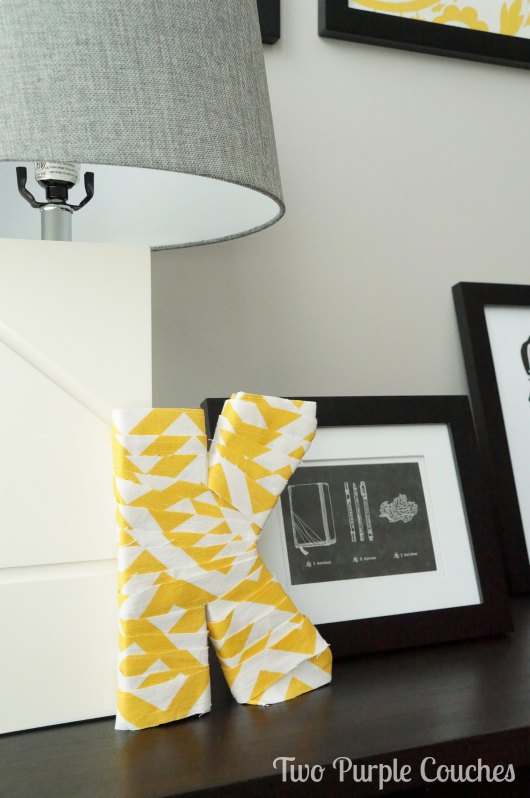 I started by wrapping the left side of the K, gluing with fabric glue every so often (hot glue would probably also work). Then I wrapped the top-right "leg" and then the bottom-right "leg". I was too distracted by the movie to take pictures of this part. Or maybe it's the multiple glasses of sangria I drank… Whoops.
This isn't a very time-consuming craft. Maybe 30-ish minutes? Unless you're hosting a craft night and subsequently eating buffalo chicken dip, drinking sangria, laughing, singing Disney songs, and trying to comfort an upset baby whilst crafting. But why wouldn't you be doing all these things simultaneously!?
Sharing with: