This article was originally published in the November 2015 issue of VRAI Magazine.
In my opinion, a book page covered pumpkin has become a classic element of Fall decorating. I love their charm and versatility. And really, I love any project that involves book pages, as you can see here, here and here.
But as I was thinking about the upcoming Thanksgiving holiday, I thought the classic book page covered pumpkin could use a special, personalized twist. Instead of ripping through a dollar-store or thrifted book, I decided to make my own pages, filled with personal notes of thankfulness.
I'm calling this beauty my Thanksgiving Gratitude Pumpkin, and she's taking center-stage at my Thanksgiving table this year.
I started by typing up what and who I'm thankful for this year, and why. I took a journal-entry approach and began free-writing my thoughts and feelings. Then I found a scripty, handwritten font and printed off several pages. You don't need a special design or word-processing program for this—I wrote mine out using Google Docs!
I'd recommend using a faux pumpkin—you can find a variety of sizes and shapes at your local craft store. I decided to dress up the stem with glitter before applying my pages. Just brush some regular Mod Podge onto the stem, then cover thoroughly with glitter.
I cut my paper into strips, about 1.5 inches wide. Then I brushed Mod Podge onto the pumpkin and applied the first strip of paper. I continued decoupaging the pumpkin in sections, until I worked my way around the whole thing. Then I set it aside to dry overnight.
This pumpkin makes a perfect centerpiece for my Thanksgiving table; I love the personal touch that it adds. And don't worry if you're feeling self-conscious about baring your soul in the center of your dinner table—the scripted font and size are small enough where it's not super legible. That's the beauty of making your own book pages—you can make the font as large or small as you like!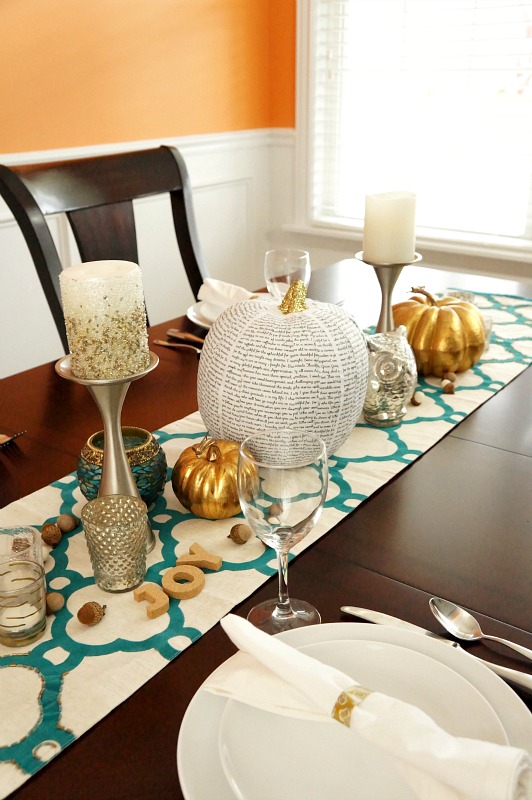 This idea of Gratitude can easily carry over into the Christmas holiday. Try decoupaging personalized messages onto ornaments. Or if decoupage seems too messy, simply cut the pages into small strips and fill a few clear ornaments. However you use them—it's the thoughtfulness that counts!
Sharing with: Inspired By You