One of my oldest, dearest friends is having her first baby this month! I would've loved to have diy'd a shower gift for her. But to be honest, time kind of got away from me. Plus I had no idea what sort of gift I would diy in the first place, and I certainly didn't want to half-ass a last-minute gift for one of my best friends!
So, I did the next best thing. I diy'd the card. With washi tape. Because that, apparently, is what I do. Washi Tape Card Making Goddess, right here.
Seriously, though, if you're thinking either 1) "I'm not very crafty" or 2) "I don't know what I'd do with washi tape", stop those thoughts right now! Washi tape is one of the easiest crafty supplies to use. And while you can get really fancy with your washi tape application, you can also make cute cards out of simple designs. Case in point: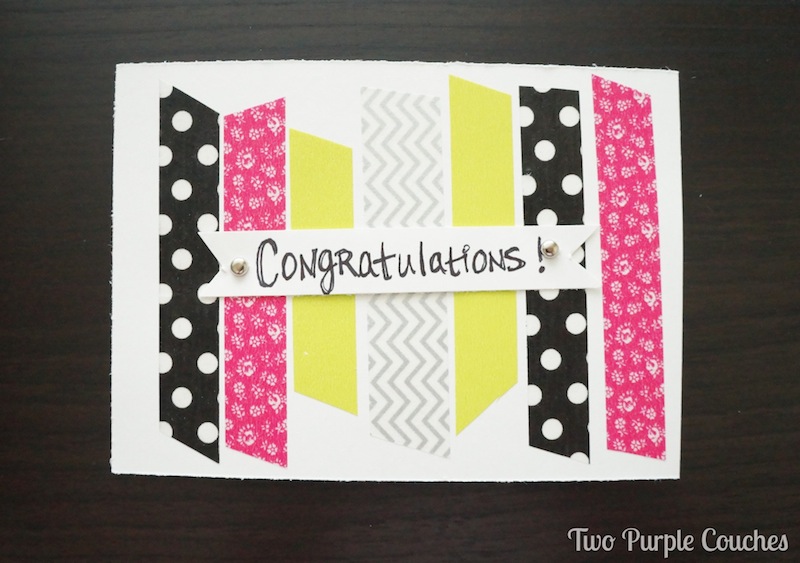 Yup. I just taped down single pieces. No edge-to-edge action here. No crazy chevron patterns or overlapping designs. Just single pieces of tape, cut at slightly different lengths and taped onto card stock. BOOM! Instant cuteness.
I considered doing a little washi pennant banner on top of this, but ended up going with a simple message on a separate piece of card stock and attached with brads.
The bright, bold color palette was inspired by the shower invitation:
So, there you have it! A simply diy'd baby shower card.
Have you gotten crazy with washi tape lately? What did you make?