Another month, another Umba Box appears in my mailbox!
This month's goodies are some of my favorite to-date!
I love the variety of artists and items that Umba finds; from food to body care to paper goods, there is always something unique. And this month was no exception.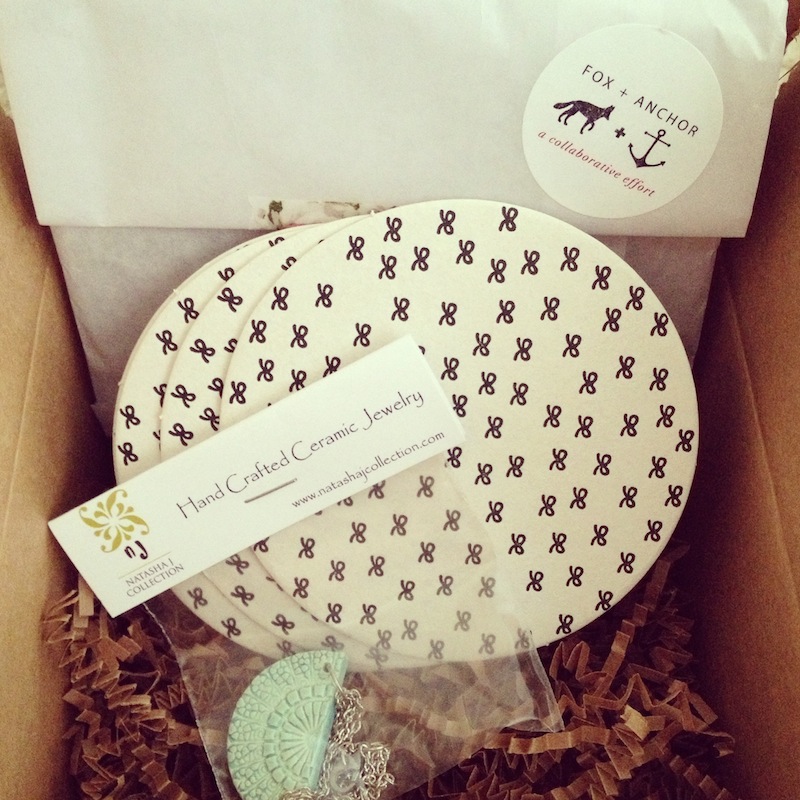 As soon as I peeked inside, I started laughing that kind of "I can't believe this" laugh. For I was wearing the exact same necklace nestled in my Umba box! Great minds buy handmade alike, right?
The necklace in question is by Natasha J Collection, and I purchased mine earlier this year at the coolest craft show in town, the Crafty Supermarket.
The adorable bow coasters are by Fox + Anchor.
Now, I have a very exciting announcement to share with you! It's pretty obvious that I have a passion for handmade, whether I'm making them myself or supporting my favorite independent artists at local events or through the wide world of Etsy. And I'm very excited to announce that I'm joining Umba in their mission of spreading the handmade word as an Umbassador: sharing the passion and talent of artists around the world and making it easier for you to find high-quality handmade items.
I'll have more details to share soon! I hope you all have a lovely weekend!