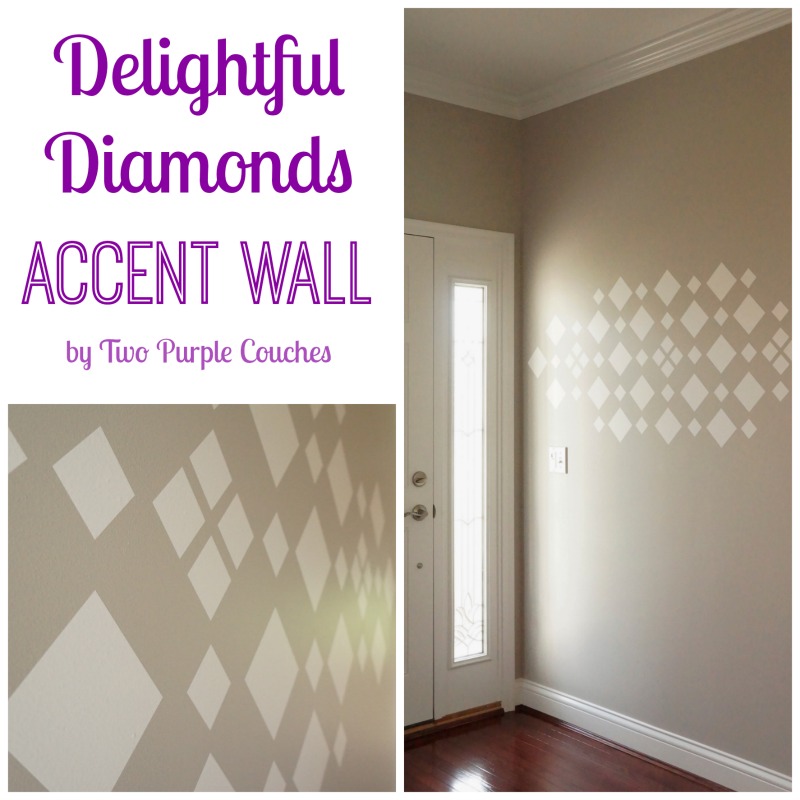 There are two things that have been on my to-try list for a while. One is a wall stencil and the other is a wall decal. And thanks to the awesome team at Cozy Wall Art, I got to give the latter a try when they asked me to review their decals!
At first I was thinking I'd go for a nature or floral decal, but then I came across their section of wall pattern decals. And I got really excited. They have so many different shapes to choose from, and once you find a shape you like, there are plenty of size and color options. The possibilities are endless! And the team at Cozy Wall Art could not have been more helpful! I described the pattern I wanted to create using two different sizes, and they figured out how many I'd need for the space I was working in! Math and measurements aren't my strongest suit, so I loved that they took the guesswork out of it for me!
Once I had made my selection— the Square Diamond Wall Pattern decals in 2″ and 4″ squares in white—I started sketching out different patterns and arrangements. And once my decals arrived, I grabbed some painter's tape and scissors and cut each square individually so I could arrange the patterns on the wall to see what they'd look like at full scale before applying.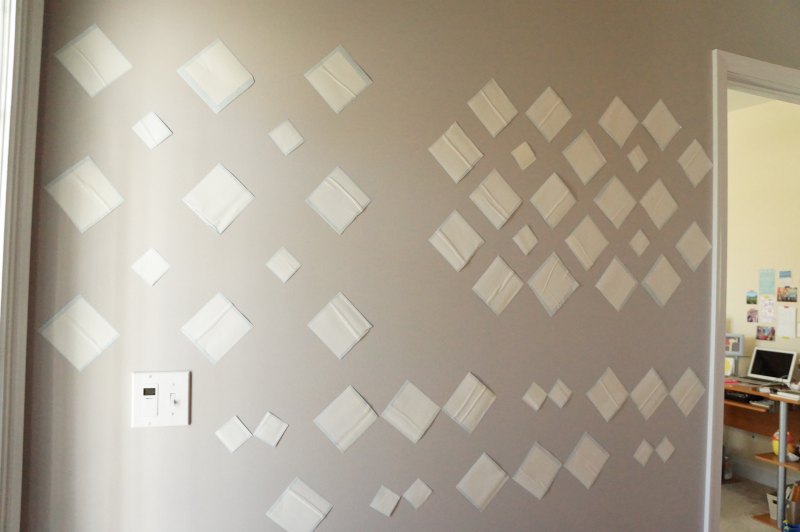 I was envisioning an accent "stripe" across the main wall in our entryway, but as Tom and I were playing around with them (he wanted to get in on the fun, too!), we wound up with this stripe-shape hybrid: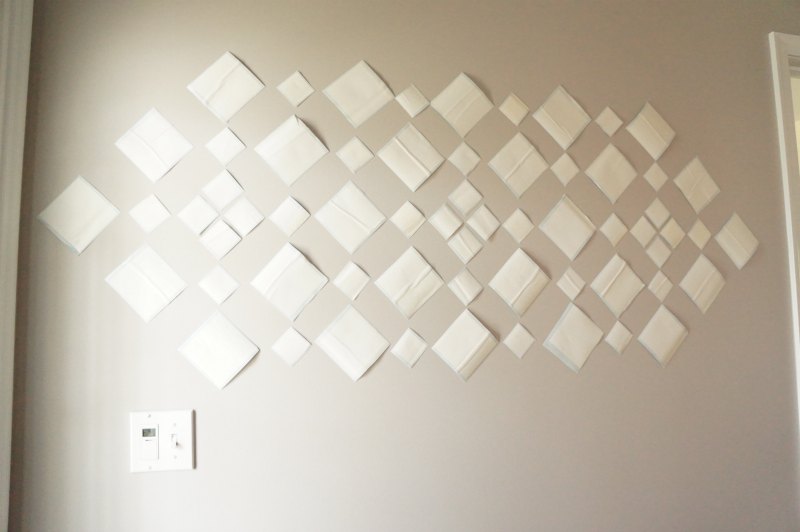 After a day or so, we decided this was the arrangement we liked best. So then began the installation! Now, until I unrolled the sheets full of individual squares, some silly part of my brain thought this would be a simple peel and stick process (remember how math and measurements and I aren't really friends?).
This is partly true, partly false. Yes, the decals themselves are SUPER simple to install, and come with easy-to-follow instructions (plus a test decal!) But in order to get this pattern just right, there was a lot of math and measuring involved! Thank goodness Tom's got that good ol' engineer brain of his!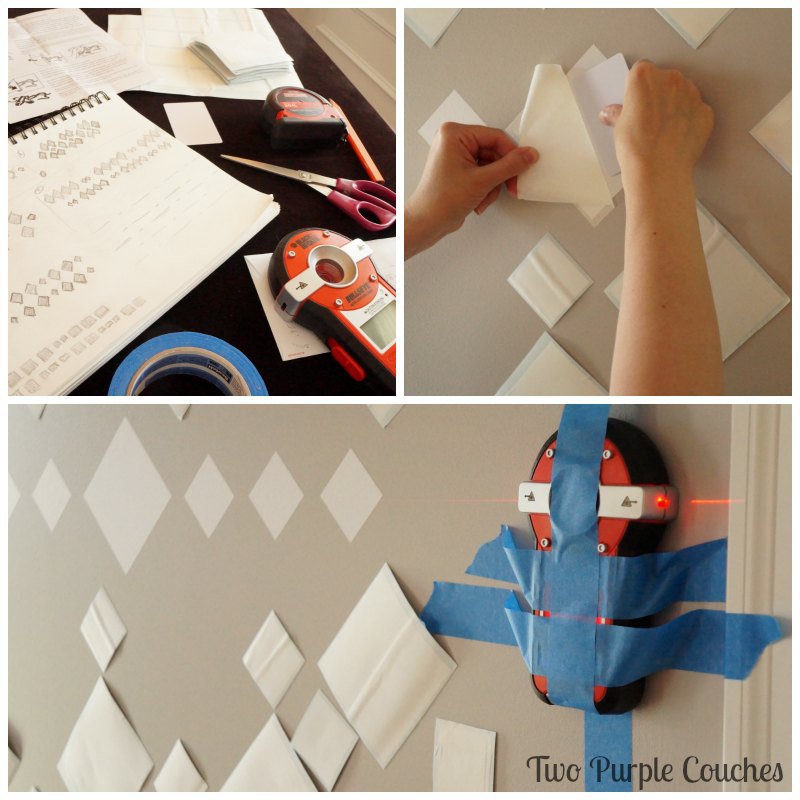 So we carefully measured, spaced and leveled each decal before peeling, sticking and smoothing each one on the wall. Why yes, this is our laser level taped to the wall! You might think we're crazy, but this really helped the installation go a bit quicker!
We started at the center and worked our way out. At one point, we considered just leaving things like this: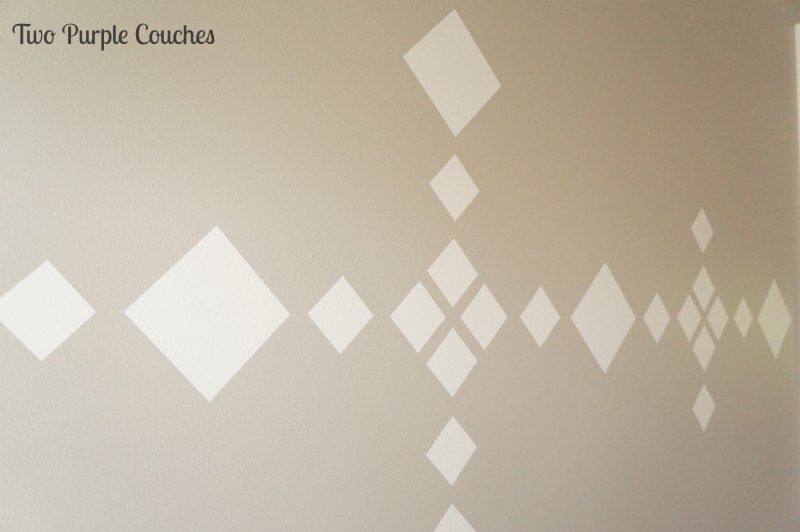 But we pressed on, and I'm glad we did! It took a few hours, but the end result was definitely worth it!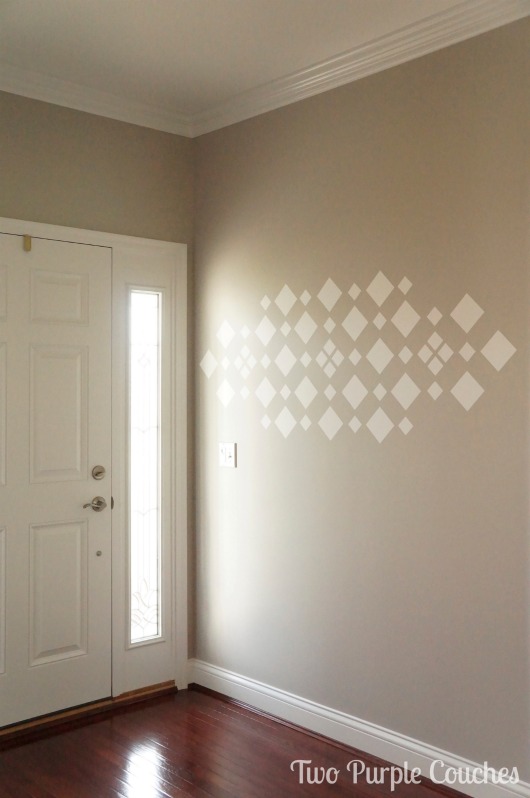 I love how these decals add a fun pop of pattern to our otherwise bare entry. This wall is tricky because it's the first thing you see when the front door is opened, but that also means we can't have anything bulky or sticking out from the wall that guests would run into. So a decal was the perfect solution!
And, because I had to know, they really do peel off easily! Almost like a window cling!
And I love that with a pattern like this, I could remove a few here and there and get a totally new look! Who knows, maybe this will become a sort of rotating bit of art? How fun would that be!?
Full Disclosure: This post is sponsored by Cozy Wall Art. All opinions expressed are my own; I wouldn't share a product, artist or brand I don't believe in. You can read my full disclosure and privacy policy here. 
Sharing with: