Fall porch decorating ideas. Update your entry for autumn with these simple DIY ideas, from potted mums to rustic planters and colorful pumpkins.
Decorating my fall porch has become one of the hallmarks of the season that I really look forward to. With a few flowers, such as mums and pansies, and of course some pumpkins, you can create a beautifully decorated outdoor entry.
We had an unseasonably hot start to the fall season here in Cincinnati. The temperatures have finally cooled down a bit and put me in the mood to redecorate our front porch. In years past, I've kept our porch decor simple with a couple of mums and pumpkins. But last year, I got the itch to do more, and that same itch returned this year. Click here to see last year's fall porch.
I repurposed a few items I'd bought and made last year to create our 2017 fall porch, and I love how it turned out. I'll include links to my DIY projects and similar products where I can!
I made the oversized "Welcome" sign last year. It was really easy to make, and the perfect project to complete in a day or two. Click here to learn how to make a large porch sign.
If you're a frequent reader, you know I'm no stranger to color. I apply this philosophy to my outdoor decor and gardening, too. I love having a mix of colorful flowers and plants on our porch. This year, I selected a palette of orangey-yellows, whites, and hot pinks. And of course my signature purple makes a few appearances, too.
This post contains some affiliate links for your convenience. Click here to read my full disclosure policy. 
Similar galvanized bucket available here and here.
I was really drawn to the yellowish-orange gourds this year. And there is something about the knobby, bumpy ones that draws me in! I like the added texture.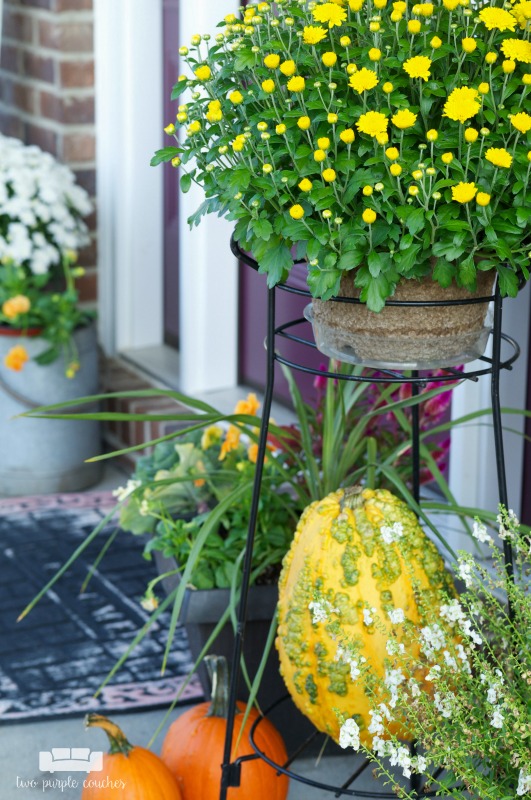 Similar plant stands here and here.
I made my own "pumpkin patch" complete with my childhood toy wheelbarrow. It's the perfect size for a few small-to-medium pumpkins!
If you're hunting for fall porch inspiration, you're in the right spot! I'm joining up with a bunch of my blog friends to share fall porch and outdoor decorating ideas. Many thanks to Tara of Lehman Lane for coordinating!
Outdoor Decor & Fall Porch Hop