Hello friends! I hope you've had a wonderful holiday season. I took some time away from Two Purple Couches to enjoy the days, and enjoy them we did. Lots of cheesy Christmas movies were watched, tons of sweets were eaten, and lots of memories were made with family and friends. In short, it was a fabulous and much-needed break to wind down the year.
When I was a kid, I used to steal away to my room on New Year's Eve and recap the year in my diary. I'd create two columns and write down the good and not-so-good things that happened that year. While I haven't done this in well over a decade, I still reflect back on the highs and lows that the year has brought, and this blog gives me a way to document and share it in a different way. I thought it'd be fun to put together a 2016 Year in Review and look back at the biggest and best highlights, projects and accomplishments of this year!
I won't hit every project or post shared throughout the year, because that would be ridiculous, but I love to see which posts and projects you loved most, and share a few of my faves (in case you missed them).
I kicked off the year with a snow-day themed winter mantel. I always get so bummed when all of our Christmas decorations come down, so I decided to do something simple yet seasonally-appropriate with our mantel to help transition out of the holidays. I may just repeat it this year, I loved it *that* much.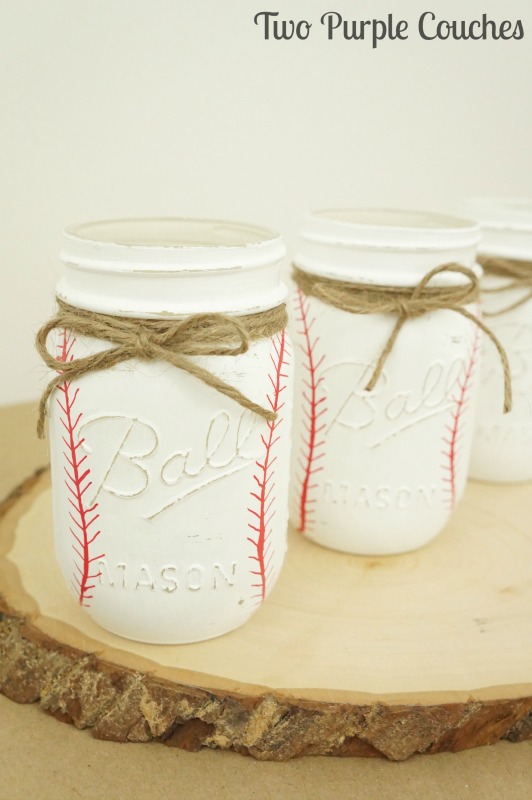 Then I launched into party-planning mode for the next few months. First up was a baseball-themed baby shower for my best friend Katie. Ya'll loved these ridiculously easy painted mason jars and baseball food labels. And I don't blame you—easy (and adorable) projects are my favorite, too!
After the baby shower, I moved into planning a garden party bridal shower for my new sister-in-law, Nicole. This giant paper flower backdrop was a huge hit, both with the guests and on Pinterest. It's one of my most favorite creations ever. Some of my other favorite details from her shower were these seed packet party favors and simple paper straw flags. To me, it's these details that make showers and parties so fun and special.
I did lots of fun crafts and DIY projects this year, too. A few favorites include this springy wood pallet sign, washi tape cupcake cards, clay gem magnets, and these hand-lettered gift bags.
2016 was my first year participating in the One Room Challenge, and I did it twice! In the spring, I turned a spare bedroom into a craft room, made a framed magnetic display board, and made that fun "CREATE" wall art which included a floral monogram letter, a fabric covered letter and a punched-paper letter.
For the Fall One Room Challenge, we transformed my home office into my dream office/library, complete with a 7-foot-long window seat and storage bench! This was our first experience building our own furniture, and I am SO proud of the hard work and effort we put into this space!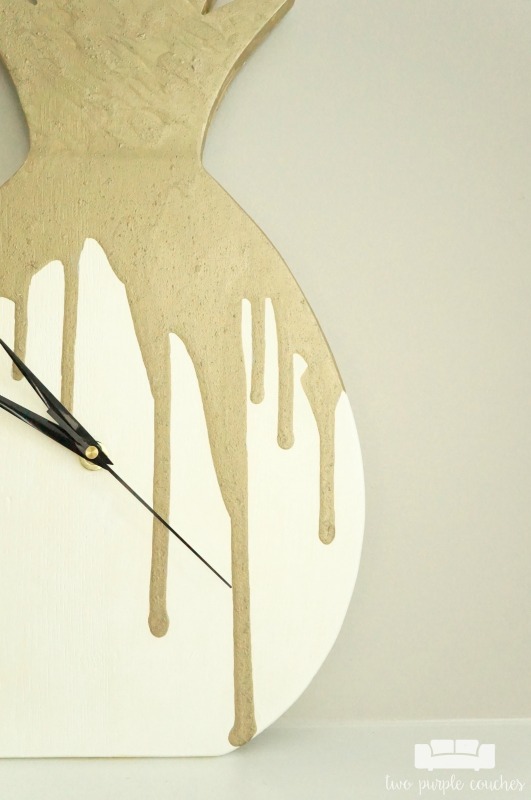 I was thrilled to join in with two more rounds of #SwapItLikeItsHot! Back in the spring, I turned some old 45s into a wall hanging, and then in the fall I turned a pineapple serving platter into a modern clock!
I shared several different recipes this year, including my grandma's pumpkin pie, this ginger and peach sangria perfect for summertime, cream sherry cake, and my favorite Moscow Mule recipe. These spring simmering pot ideas were also a huge hit with you!
As the weather turned cooler, I got really into decorating for fall this year. I had a blast creating our fall front porch with some finds from this year's Country Living Fair. I made a large "welcome" sign that I can't wait to put back out on our porch!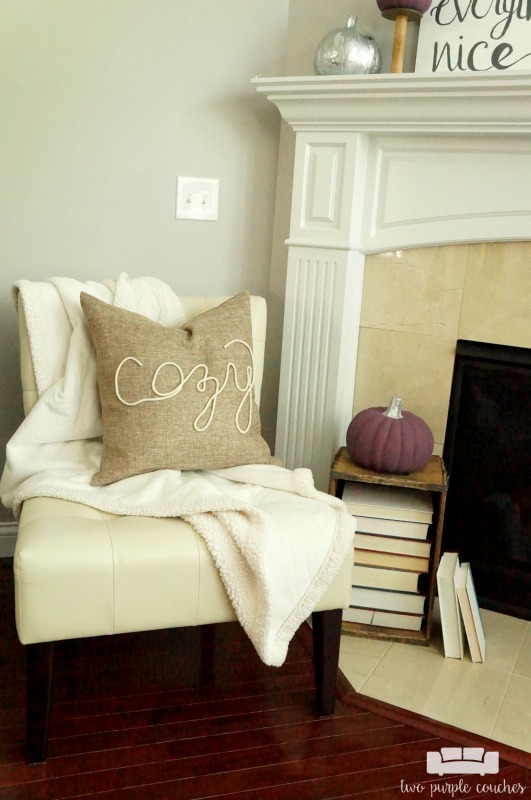 Inside our home, I was crafting up a storm this fall with a cozy pillow makeover, stenciled pillow cover, pumpkin spice art and a full fall home tour! Whew!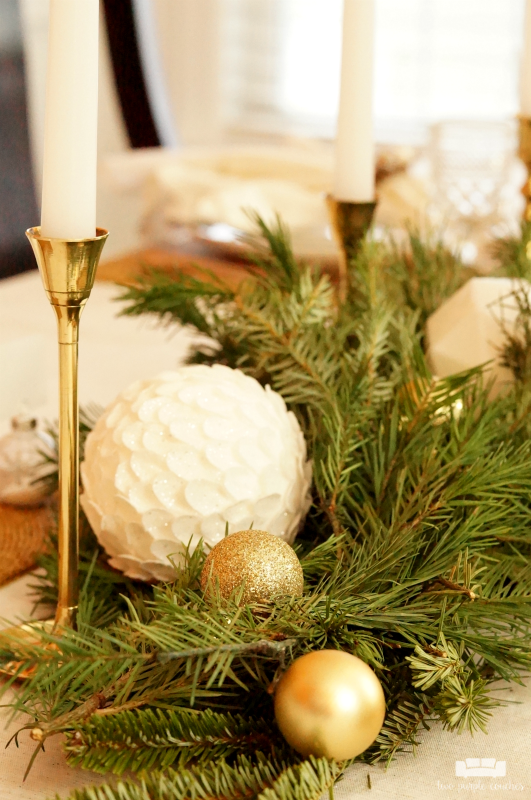 And this brings us to Christmas! I made a few of these simple mason jar wreath ornaments, decorated our dining room with fresh greenery and plenty of gold, our front porch got a vintage-inspired scene, and lastly, I shared a full holiday home tour!
Wow, we did a ton! It's funny, I didn't realize how much I've actually accomplished until going back through it all. If you want to catch up on all the crafty and DIY goodness, don't forget to pin this post!
This year also brought a major creative accomplishment—I wrote an e-book! This is something I've been dreaming of doing my whole life, and I am beyond thrilled that it came to fruition in 2016.
Two Purple Couches also got a beautiful new logo this year, I attended my third Haven Conference, partnered with some amazing brands, and learned a lot more behind-the-scenes technical kind of stuff. I realize that doesn't sound super exciting, but it helps me on the business end of running this site. And, 2016 was my first year as a full-time blogger! Being self-employed definitely has its challenges, but I've had a blast this year, and I am so grateful to be able to wake up and do what I love every single day: create, learn, share and inspire!
I am excited to see what 2017 brings! We've got at least one big home improvement project planned for the beginning of the year. I have a few other house-related things I want to tackle, namely our laundry room and our back yard. In the crafts area, I want to do more watercoloring and hand-lettering in the new year. I enjoy these things so much, but don't make as much time as I should to just create and experiment.
Thanks for hanging with me to the end of this post! Whether you're a new reader or you've been visiting since the early days, thank you. Without you, this blog would be me talking to myself (ha, who am I kidding, that's exactly what this blog it!). But seriously, you have no idea how much it means to me to have to stop in and see what I've been up to.
Happy New Year!