Do you ever get home from a vacation and find yourself constantly looking back at your photos and reminiscing about all of the fun things you did? Yeah, that's what I've been preoccupied with since the minute we got home from Kauai. Actually, I think I was looking back at our photos on the plane, so I barely even made it home first! Is it possible to be homesick for a place where you don't actually live??
I asked recently on Instagram if you'd like to see some travel posts about our trip, and the resounding answer was yes! So today I'm taking a break from my usual home- and craft-related projects to share 10 of our favorite, must-see spots on Kauai, HI!
This was a special trip for the hubs and I as we were celebrating our 10th wedding anniversary. We honeymooned in Maui and had been talking for a while about traveling to another island for our big anniversary. Honestly, though, don't wait for a special occasion to visit Kauai because it is g-o-r-g-e-o-u-s!!! Seriously, it's the most beautiful place I've ever been! Tom and I keep saying that our photos don't do it justice. Every bend in the road, every break in the trees, there is gorgeous scenery on all sides. I don't even think a camera can capture the hundreds of shades of green of the leaves, vines and trees. It's truly breathtaking!
Our trip lasted a week and we crammed a lot of sightseeing and adventures into our visit. Next time (I've already sworn to eat ramen and peanut butter for the next year if it means we can plan another trip back soon!) I'd like to stay for at least 10 days. There are so many beautiful natural sights to see, from the oceanside to mountain waterfalls, but you also want a little bit of downtime. This is paradise, after all! Who wouldn't want to relax in paradise with a few frozen tropical umbrella drinks!?
The really cool thing about Kauai is that the island is something like 96% undeveloped. County laws prohibit building on all but 4% of the island, and buildings can't be taller than a few stories. This really gives the whole island a quiet, secluded vibe, plus it means there's tons of natural beauty to be found!
Overall tips – bring or buy water shoes if you plan to check out these locations! You will want them, even for enjoying the beach and ocean as the sand is coarse and the coast is very rocky (hello igneous lava rocks!)
10 Must-See Spots in Kauai
1. Queen's Bath (North Shore)
Of all the things we did and saw on our trip, Queen's Bath takes the cake. The most incredible ocean views and the chance to swim in a tide pool right next to the ocean (!!!). It's a short but steep and slippery hike down to the pools, but oh so worth it! Watching the waves crash onto the coastline is magnificent—we watched several giant sea turtles swimming amongst the waves—and I've never seen water as clear and turquoise-y blue as the water in the pools.
If you go, be sure it's during low tide, and only swim in the third pool. There are numerous signs and warnings posted about deaths due to swimming in two other, rougher pools, or people being washed out to sea during higher tides. We got there towards the end of low tide and took a quick 10-15 minute dip in the pool. We could've spent more time in the pools, but were a little nervous about how quickly the tide might rise.
2. Waimea Canyon
Like a greener, more lush version of the Grand Canyon, Waimea offers some breathtaking views. If you have the stomach for it (we didn't!) I'd recommend a helicopter tour of the canyon. You can drive up into the canyon and stop at several scenic overlooks, where you'll get beautiful views into the canyon and be able to see some waterfalls, too.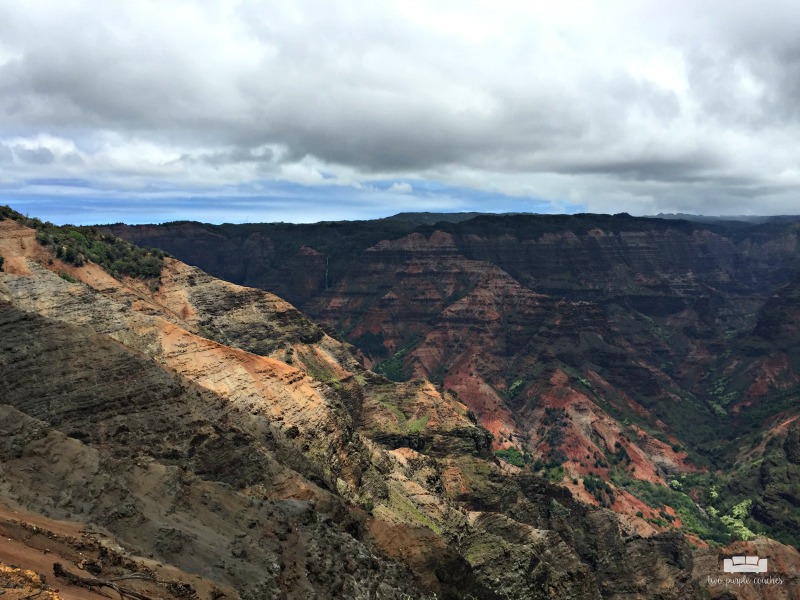 There are plenty of trails too, if hiking is your thing. Just don't go in the rain – the walkways and trails will be extremely muddy and slippery, and clouds often settle in the canyon and completely obscure the view. We got to the main overlook before the clouds rolled in, but couldn't see more than five feet in front of us at some of the overlooks further into the park.
3. Hanalei Bay / Princeville (North Shore)
We stayed on the South shore of the island and took one day to drive up to the Hanalei Bay area (Queen's Bath is near Hanalei). After we hiked back up from Queen's Bath, we continued down the road through Princeville to Hanalei Bay. The drive around the Bay was beautiful, and we found a mostly-deserted parking lot right on the beach to stop and take in the sights for a few minutes.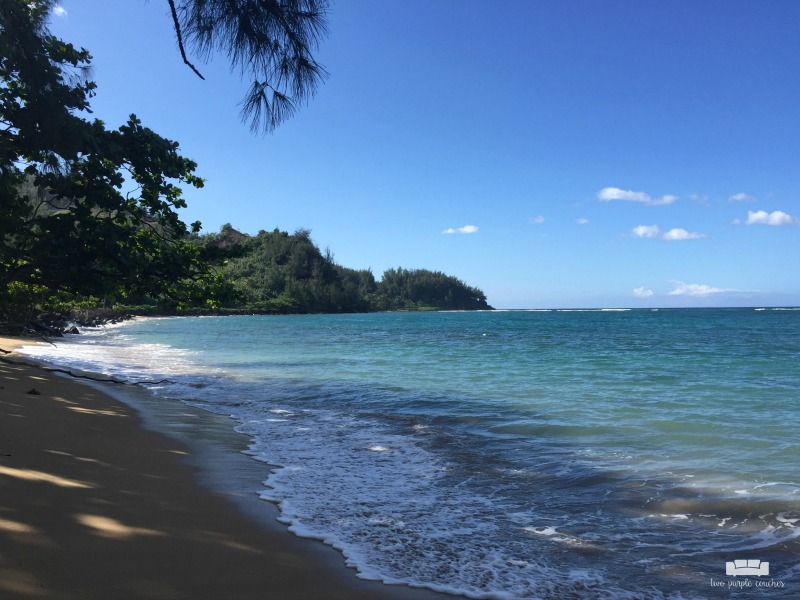 There is also a beautiful scenic overlook in Princeville that gives you a view of the lush valley before you travel on into Hanalei.
We heard that on a clear day, you can get a great view from the Kilauea Lighthouse, which is off the Kuhio Highway toward Princeville and Hanalei. The Lighthouse and its surrounding park were unfortunately closed on the day we drove out this way, so check dates and times before you go!
4. Poipu Beach (South Shore)
We stayed at two resorts on our trip (more on that later) and the first, Ko'a Kea, was right next door to Poipu Beach. We enjoyed a few walks on the beach and saw a couple of Monk Seals sunning themselves as well as a couple of sea turtles relaxing on the beach!
One morning we rented snorkeling gear and went snorkeling in the cove along the beach. I didn't think we'd see much since there were plenty of other beach goers doing the same thing in this shallow area. But when I stuck my head underwater, I was greeted by an entire school of fish swimming past me! We saw needlefish, unicornfish, bullethead parrotfish, lowfin chub, a variety of black, white and yellow butterflyfish and lots more. I was wishing I had an underwater camera! Just a word of caution… be careful how you decide to come in from the water. Look for sandier spots and don't try to walk across the lava rocks… because it's nearly impossible, especially in snorkeling flippers. You may wind up with a few (or a lot of) scratches and bruises. Ask me how I know!
5. Wailua Falls
Kauai had a few days of heavy rains early on in our trip, which meant that there was a lot of water cascading down Wailua Falls when we visited! Apparently there used to be a trail you could hike down to the base of the falls, but it's been closed. You can still get a good view of the double falls from the overlook.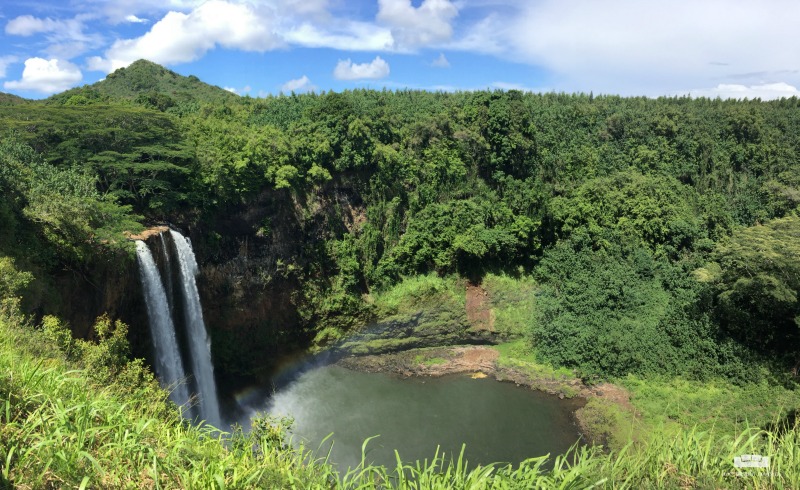 Love this? Don't forget to pin it!