Thank you to Champion for sponsoring this post. All content and opinions expressed here are my own. Click here to read my full disclosure policy.
If you've been a blog reader for a while, you may remember a post a shared several years ago on the upgrades we chose to make when we built our home and why we chose these particular items. (If you haven't seen it, check it out here). When we built, we focused our upgrades on our home's interior and didn't make many changes to the exterior. But now that we've lived here for five years, we're turning more of our attention to our home's exterior and specifically, to upgrading our front door.
When we went through our selection process, we were happy to stick with the builder-basic solid door that was included in our package. But now that we have a better-defined style than we did five-plus years ago, we're ready to think about upgrading and swapping our current door for one with more style.
I am thrilled to be partnering with Champion on our door upgrade project and very excited to announce that this will be an ongoing partnership! I'll be sharing more over the coming weeks and months about working with Champion to select and install our new front door!
But first, back to our current front door and why we're ready to upgrade. Frankly, I find our current door to be boring. Just take a look at the front of our house: yes it's attractive, but it's also a giant wall of brown:
Our brick is brown, our shutters are brown, our door is brown… even our mulch is brown! You get the picture 😉
I think our home's exterior is in need of a pop of color and style—a focal point that will stand out—and a new door will provide just that. Material-wise, our current door has served us well, but it lacks style and uniqueness. I am all about putting your personal stamp on your home, and our personal stamp definitely isn't a basic brown door 😉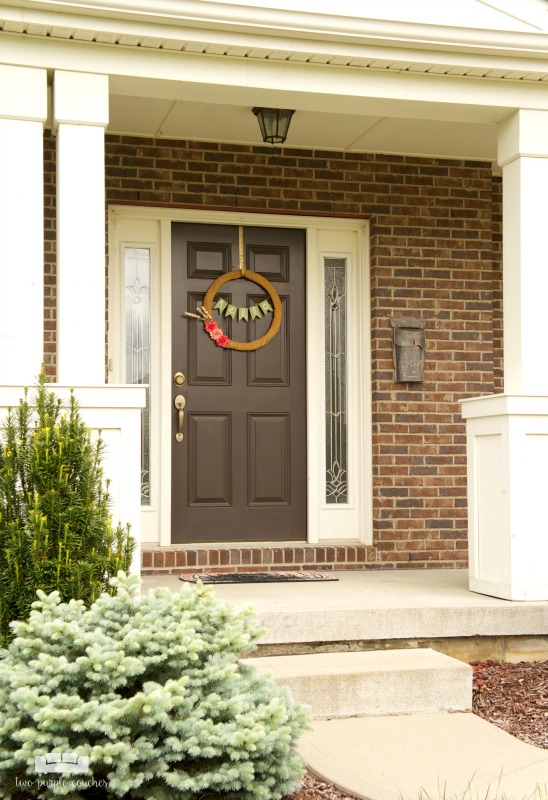 Plus, as my husband would say, our current front door is looking a little "tired." It's suffered a few dings and scratches over the years, and even when I wipe it down, it still looks worn to me.
I have been considering painting our door for a couple of years, but couldn't settle on a color. So when Champion approached me about partnering together on a door project, I was all ears. After flipping through their catalog and visiting our local showroom, which I'll talk more about in an upcoming post, my husband and I found ourselves with lots of stylish options to choose from.
What we like about Champion doors, style-wise, is that they have a great selection to choose from. From traditional to Tudor, Craftsman to modern, they offer a wide variety of solid door and glass insert designs to suit the style of your home and help you express your personal style as well. Each of their glass styles are hand-made, so the finished product truly has an artistic look to it.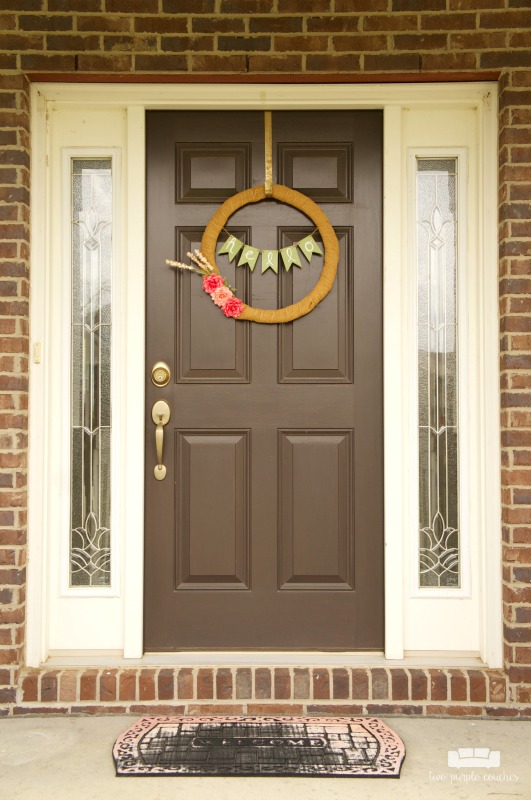 Champion also gets top marks for safety and durability. Our home faces S to SW and we get a lot of weather head-on, especially rain and wind. We also live in a climate that experiences all seasons, so we need a door that can take a beating and still look good! Champion offers both steel and fiberglass doors in nearly all of of their styles, so you can select the material that's best for you.
Between door styles and materials, glass insert options, sidelight options, hardware and more, you can completely customize your door! But I will talk more about this—and what we chose for our door—in an upcoming post!
In the meantime, check out all that Champion has to offer on their website here, or if you've been thinking about upgrading your door, go ahead and make an appointment to talk with a Champion representative! You can find the Champion showroom nearest you on this map.
Love this? Don't forget to pin it!