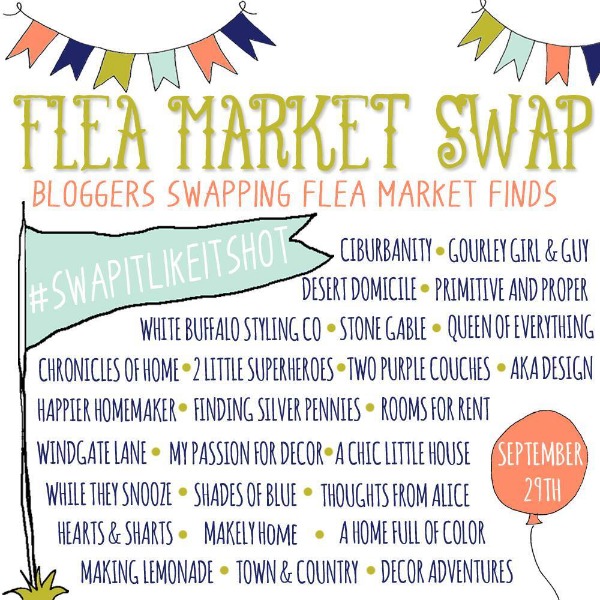 Today, folks. Today is a pretty cool day. Today, the epic "Swap It Like It's Hot" Flea Market Swap is happening. Twenty-six bloggers. Twenty-six crazy-cool upcycled and repurposed projects. I mean, does it get any more awesome than this!?
How does it work? Well, it's sorta like a Secret Santa for swapping junk! Except, you know who has your name. Buuut, the twist is that you don't know what you're getting!
I was super stoked to be asked to participate in this Swap round. I love a creative challenge like this! Receiving a box full-o-stuff and having to reimagine it into something else!? Sounds like a good time in my book. Does that make me weird? Maybe. Oh well! I yam who I yam.
So, what sort of mystery mail did I receive? Danielle from Finding Silver Pennies had my name, and she sent me a box full of round wicker trays (1 small, 4 large) and a macrame thingy.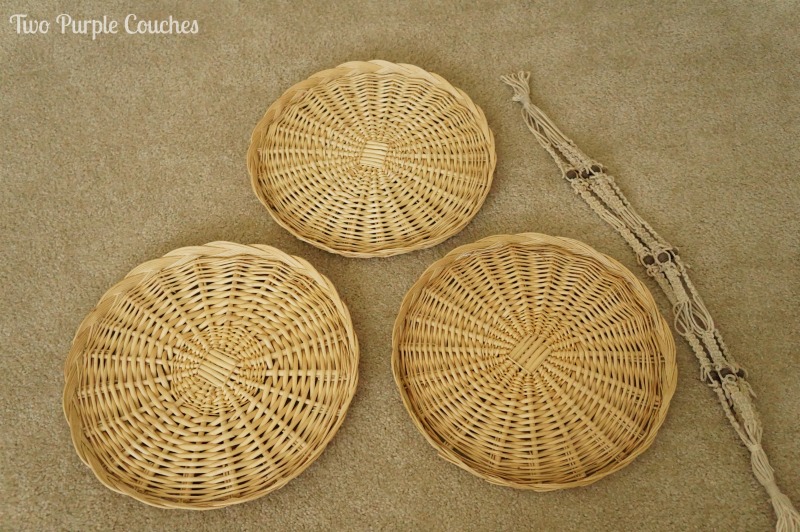 My imagination immediately began churning around things to do with the wicker trays. I could probably do a week's worth of posts on round wicker tray projects. But to save all of ya'lls sanity, I'm keeping it to just this one. For now.
From of the wicker trays, I created a tiered serving tray and a cork message board. Both of these are pretty simple projects with just a few supplies needed. Like spray paint, glue and cork simple.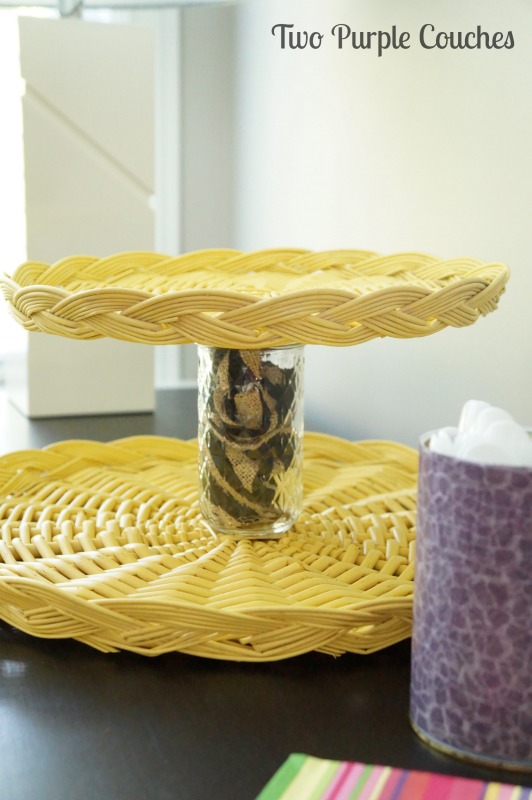 For the tiered tray, I chose Rust-Oleum Painter's Touch in Summer Squash. I gave each side of the trays a few good coats. For the middle stand part, I went slightly unconventional. I found a cute jam jar at JoAnn Fabrics, filled it with zebra printed burlap (yep, I said zebra printed burlap!) and glued it between the trays.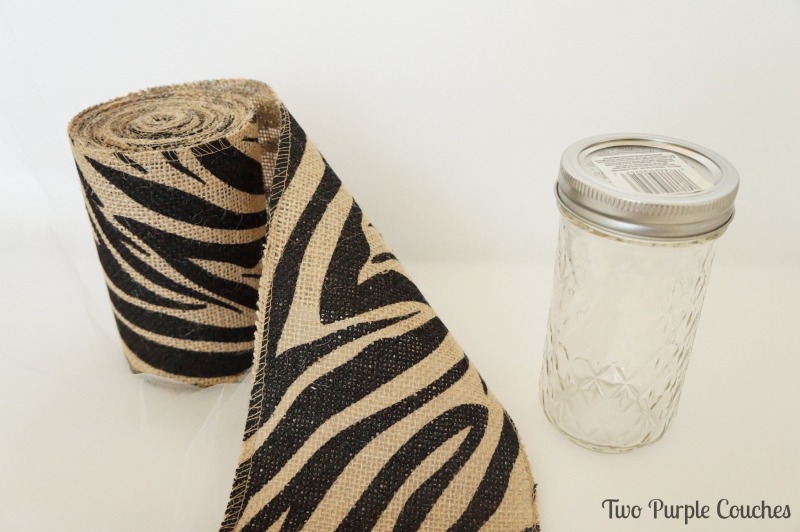 I think a serving tray like this would be perfect for a summer cookout, what with all the wicker, the sunny yellow color… Though I have to caution… it's probably a good idea to not let food come in direct contact with the spray-painted surface! I have a feeling that's not recommended! If I use this for food that's not in some kind of liner or wrapper, I'll cover the trays with sheets of parchment or wax paper.
The cork memo board was just as simple to make. I started with a coat of glossy Rust-Oleum black lacquer spray paint around the edges.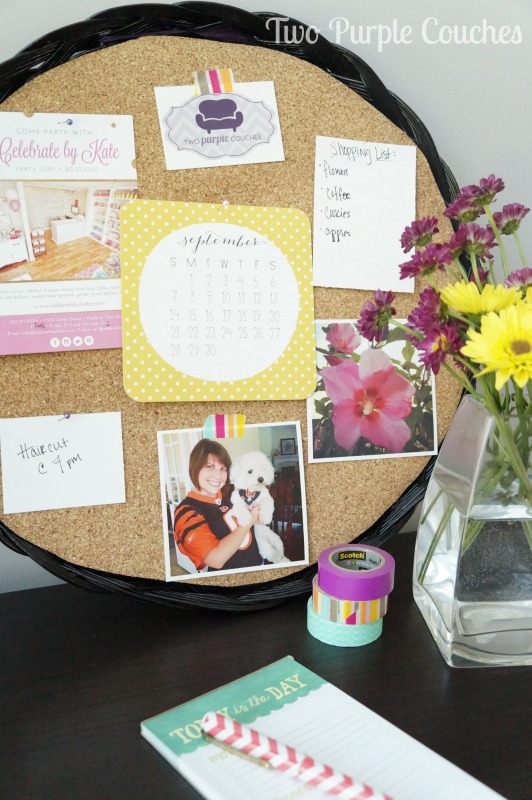 I found a roll of cork at Michaels and cut out a round section to fit the interior of the tray. A thorough hot-gluing session, and voila! Instant memo board!
Now, the macrame had me stumped a bit. I knew I wanted to change the color, so I decided to try dyeing it. (I used RIT powder in Teal). It worked, and I think I'm in love!
Spoiler alert… I'm planning to use it as a plant hanger. An obvious move? Maybe. But I like it! Now I just need to find the perfect plant… these chives are just for photo purposes only 😉
Oh, and I have to say… if you're in the market to dye something, you've got to try the crock pot technique that my friend Lauren suggests here. (Update: no crock pots were harmed in the making of this macrame. This method suggests using a crock pot liner for the dye process so your crock pot is still safe to use for food. Though I still gave mine a thorough wash for good measure). Totally amazing and pretty nearly mess-free. Nothing can be 100% mess-free when I'm around. Case in point: my big toe is currently teal. Whoops!
Well, folks, that about does it for my Swap It Like It's Hot makeovers. But wait! There's plenty more makeovers where this came from! Keep the Swap chain going! Head on over to see how Yvonne at Stone Gable made over the items I sent her way! Or check out all of the other amazing bloggers participating in the Swap challenge. And, I've gotta give a shoutout to my gal Charlotte at Ciburbanity for organizing this crazy awesome event.
2 Little Superheroes
AKA Design + Life
A Chic Little House
The Chronicles of Home
Ciburbanity
Decor Adventures
Desert Domicile
Finding Silver Pennies
Gourley Girl & Guy
The Happier Homemaker
Hearts and Sharts
A Home Full of Color
Makely Home
Making Lemonade
My Passion For Decor
Primitive and Proper
Queen of Everything
Rooms For Rent
Shades of Blue
Stone Gable
Thoughts From Alice
Town and Country Living
Two Purple Couches
While They Snooze
White Buffalo Styling Co.
Windgate Lane
If you're also a lover of flea market flipping and makeover-ing (totally a word), join in the fun with the link up below! Share your favorite flips, swaps and makeovers! If you don't have a blog, no worries! You can still link your project by uploading a photo to Pinterest and adding the pin URL below!
LINK UP YOUR PROJECTS BELOW:
Sharing with: Creative Spark / Work It Wednesday