I'm bracing myself to be shunned by nearly all of humanity when I admit this, so here goes nothing… I'm not a fan of Pumpkin Spice Lattes. *runs and ducks for cover* 
I love pumpkin spice and pumpkin flavored things: pumpkin pies, pumpkins cakes, pumpkin muffins and cupcakes and all number of other pumpkin-flavored baked goods. I like to enjoy my pumpkin baked goods with a nice warm cup-o-joe. I just don't like all the pumpkin flavor dumped into my nice warm cup-o-joe.
But pumpkin spice plus a couple of scoops of creamy vanilla ice cream? Ooooooh yeah, now we're talking!
I think I've had one, maybe two pumpkin spice lattes in the past couple of years. Maybe one from Starbucks and one from a local coffee place. I wasn't a fan, but figured maybe the flavor just wasn't hitting the spot for me that day.
So a few weeks ago, I gave it another shot. Except this time, I wanted a homemade one so I could control the ratio of flavors. I usually find flavored Starbucks drinks, and most other flavored coffee drinks, to be way too sweet. Gimme a plain ole strongly brewed latte any day! I tried this recipe from Melissa over at The Happier Homemaker. It smelled divine while it was heating on the stove! But once I added the mixture to my espresso and took a sip… yep… I just don't like pumpkin spice lattes.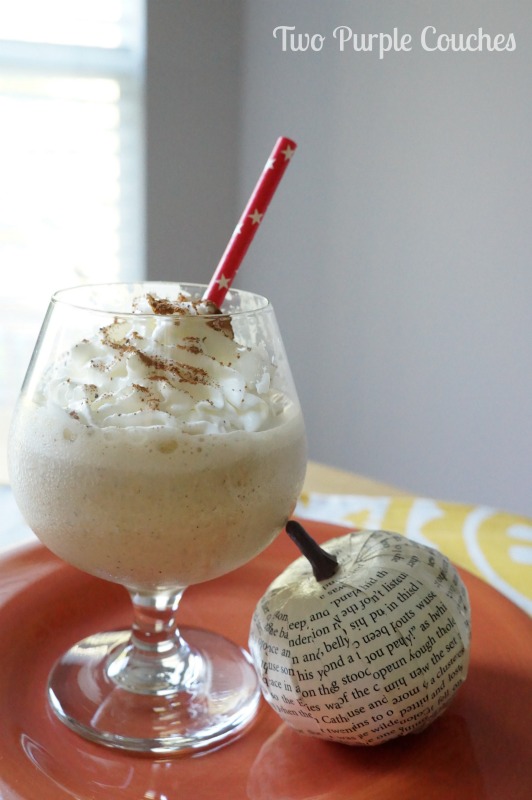 But for some reason, my brain kept turning the recipe over and over in my head… and then… my tastebuds were all like "umm… crazy idea here… but what about making this into a pumpkin spice milkshake?"
So I tried the recipe again, this time with some edits. I added a little more brown sugar, a little less pumpkin pie spice and skipped the coffee. I let it cool in the fridge for an hour or so, then poured it over a few scoops of vanilla ice cream, gave it a blend and…
BINGO! Deeeeelicious!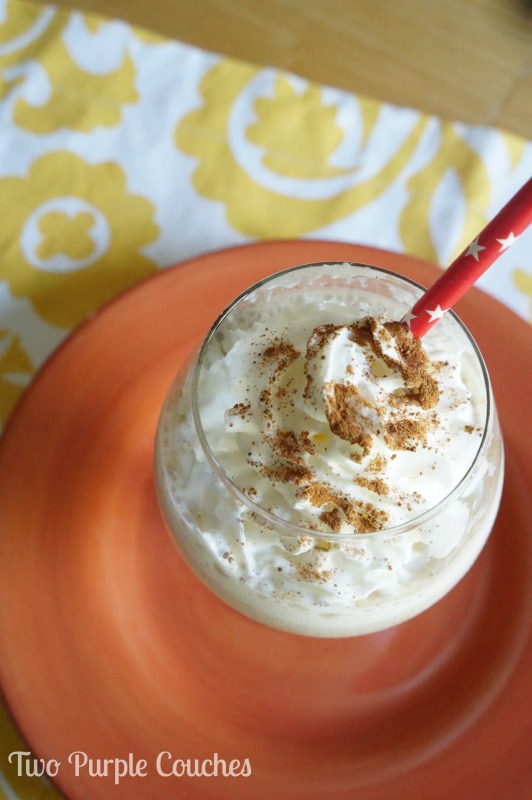 Maybe you're thinking that milkshakes seem a little strange as we're heading into a cooler season. And I'll give you that. But I can eat ice cream any day of the year, plus the temps of summer have returned to Cincinnati (highs in the 80s!), and a refreshing Fall-inspired treat has been just the thing to enjoy as I sit on our deck, in shorts and a tank top, and watch the leaves change their colors.

Pumpkin Spice Milkshake
Author:
Two Purple Couches
Whip up a delicious homemade pumpkin spice milkshake, inspired by the flavors of a pumpkin spice latte.
Ingredients
1 cup of 2% milk (or the milk/milk alternative of your choice)
2 tbsp brown sugar
3 tbsp pumpkin puree
½ tsp pumpkin pie spice
1 tsp vanilla extract
2-3 scoops of vanilla ice cream
whipped cream, cinnamon and nutmeg for garnish
Instructions
Add all ingredients, except whipped cream, cinnamon and nutmeg, to a small saucepan and whisk to combine.
Warm on medium heat until steaming. Do not allow to boil or burn.
Transfer to a glass bowl or measuring cup and cool in refrigerator for 1 hour.
Add scoops of vanilla ice cream to a blender or drink mixer.
Pour cooled pumpkin mixture over ice cream and blend until smooth.
Garnish with whipped cream, cinnamon and nutmeg if desired.
Notes
Adapted from The Happier Homemaker
Do you have recipes that you love one way but not another? Or traditionally seasonal recipes that you've reinvented? I want to hear what they are! Leave me a comment, or better yet, a new recipe to try 😉
Sharing with: Creative Spark / Work It Wednesday