Thank you to Minted for providing the artwork for this post. All content and opinions expressed here are my own. Click here to read my full disclosure policy.
April is a special month for my husband and I because it's the month we got married. And this year it is particularly special because we are celebrating our 10th wedding anniversary! I have no idea how it's already been 10 years, because it feels like yesterday (or at least just a year or two ago) that we were saying our vows in front of our family and friends. But here we are, 10 years later and still blessed to be spending each day together.
This post contains some affiliate links for your convenience. Click here to read my full disclosure policy. 
I am thrilled to once again be partnering with Minted to bring you today's post. I recently had the opportunity to select a few pieces from their gorgeous foil-pressed art prints as part of their special semi-annual Free Foil Event that kicks off today! And really, the timing couldn't be better! I've been eyeing these beautiful art prints for a while, and with our anniversary this month, it was the perfect opportunity to select some anniversary photo art to add to our home.
With everything being digital these days, we don't have a lot of photos displayed throughout our home, and I've noticed I tend to gravitate towards abstract art when it comes to decorating. But Minted's foil-pressed art prints give me the best of both!
I decided on two prints to commemorate our 10th wedding anniversary:
Young Wild and Free by Fine and Dandy Paperie
Here's how I personalized the first option:
I love the gold "confetti" around the mat; I think it gives the print such a chic and trendy look. Many of the prints come in gold, silver or rose-gold foil, so you can customize them to your style.
I also chose this foil-pressed quote because it reminds me of our wedding vows.
Isn't it crazy how quickly your wedding day goes by? I thought I would remember each and every detail, but most of it is a blur! I remember some random parts, like eating sub sandwiches with my bridesmaids while we painted our toenails, and insisting to the nice lady in the back of church that I didn't need a handful of tissues while walking up the aisle! Do you have random memories of your wedding day?
Fun fact: My husband and I were set up as a blind date for my sophomore class dance. A few weeks later he asked me to his prom (he was a junior!) and we've been together ever since! And if you're into numbers, he proposed to me on the same date of that dance, six years later (somewhat coincidentally), and we got married on the same date that he asked me to be his girlfriend, seven years later.
I personally think Minted's foil-pressed photo art is amazing; it takes framed photos to a whole new level, in my opinion, and gives them such a sophisticated and artistic look. And there is a great variety of designs and styles available—so much so that I had a hard time choosing which prints I wanted!
Here are a few more of my favorite designs from their foil-pressed art and gifts collection:
His and Mine by Rachael Miller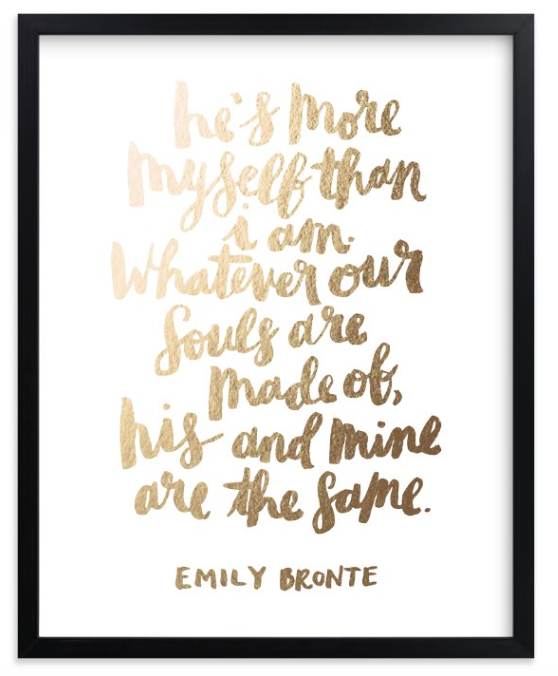 Papercut Love by Hooray Creative
Golden Brush Strokes by Qing Ji
A Favorite Poem or Quote by Minted
This one is really special because you can customize it to anything you like! You could type up your favorite poem, quote, or a lyric from the song you danced to at your wedding.
You can browse Minted's full Foil Event selection here and find special coupon and promotional details here. The Foil Event runs today through April 24th, so don't delay if there's something you love!
These art prints would make beautiful bridal shower or wedding gifts ('tis the season!), Mother's Day gifts, or would also be a sweet way to celebrate a new baby in the family. Minted also has a special Graduation Event starting today through April 24th!
Would you choose one of these prints for yourself or give one as a gift?
Love this? Don't forget to pin it!