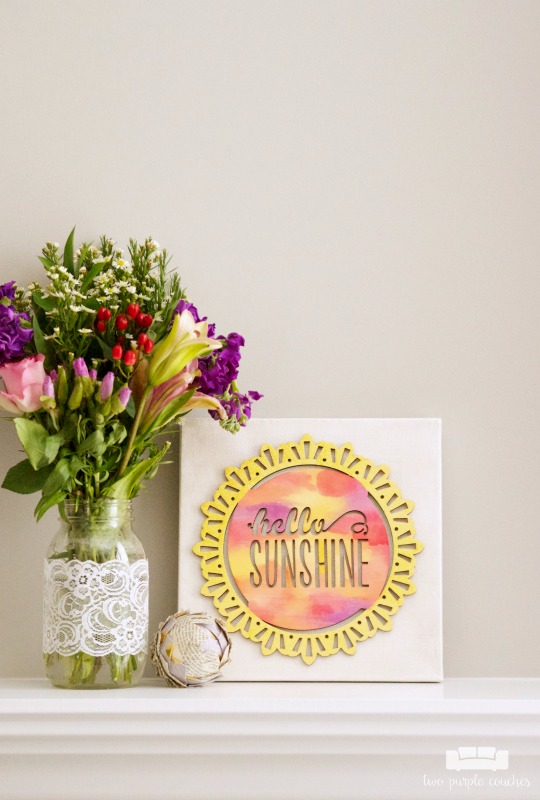 Do you ever happen upon the clearance aisle at the craft store, fill your cart with all sorts of materials and surfaces that scream I-could-do-something-with-this, and then dump them in a drawer when you get home and promptly forget about them? Yeah, me too. I am notorious for bringing home things that I think I can someday make something out of. And then they pile up in my craft room for… let's just say for a while. So I was pretty excited when my friend Sarah from Flourish & Knot suggested putting together a blogger challenge, called There for the Making, where we would only use things we already had on-hand to create something new. Genius, right!?!?
One of my favorite aisles at Michaels is their wood blanks aisle. It's always full of neat wood surfaces and shapes just begging to be turned into wall art and home decor. And when this aisle gets confetti'd with yellow clearance stickers, I go nuts. Problem is, I get the crafty version of writer's block once I get them home and have no idea what to make with them. But this challenge was the perfect opportunity to finally create something. I pulled out this cute "Hello Sunshine" sign and started thinking. After some debate and browsing DIY wall art ideas online, I decided to try painting the sign with watercolors to make my own wood plaque art!
And it worked!
This post contains some affiliate links for your convenience. Click here to read my full disclosure policy. 
How to make your own wood plaque art:
Materials Needed:
Wood plaque
Watercolor brush
Art canvas
Hot glue gun and glue stick
Tutorial:
1.) Grab your Sakura Watercolors Set and start painting your wood plaque in small sections. The paint won't flow and bleed as easily as it does on watercolor paper, so working in small sections will keep it from drying too quickly!
2.) While the wood plaque is drying, grab a plain art canvas. Mine is about 10″ x 10″. Paint the canvas with the DecoArt Metallics paint. I used Pearl, which is a shimmery white, to add a subtle sheen to the backdrop, but you could use any color you like.
3.) To add glitter around the edge of the wood plaque, brush Mod Podge on in small sections, then coat generously with the iridescent glitter. Turn the plaque over and tap it a few times to remove excess glitter. Work over a piece of paper so you can pour the excess back into the glitter container. Work your way around the plaque until the entire edge is glitterized (that's a word, right?), then set it aside to dry.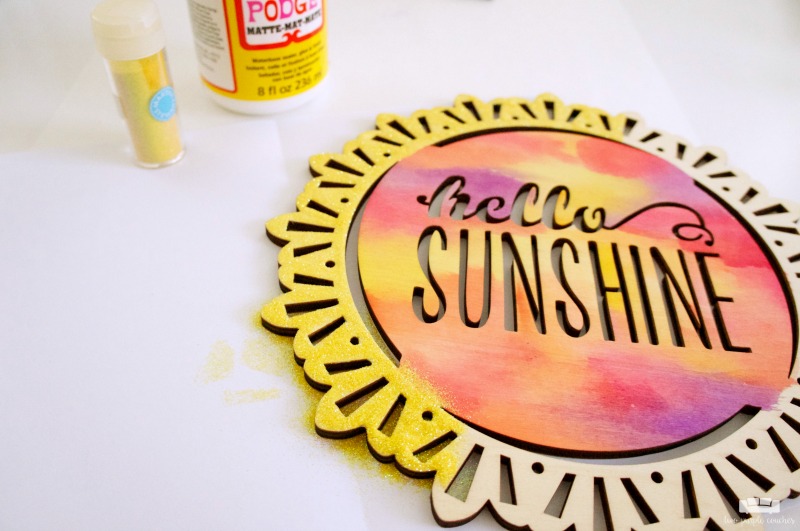 4.) Once dry, heat up a hot glue gun and generously coat the back of the wood plaque with glue. Center it on the canvas and press down gently for a minute or two until the plaque is adhered to the canvas.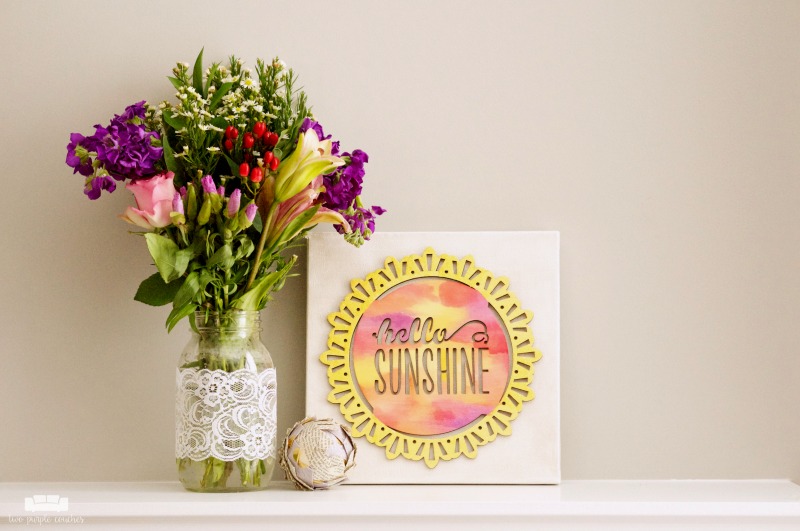 I love the cheerful colors on this wall art and it's totally getting me in the mood for Spring! I wish I could splash these pinks, purples, and yellows around our home with the flick of a brush. I'm also pleased-slash-surprised that watercolors look this cool on wood… this is a total game-changer, guys! My mind is swirling with ideas now!
Plus I'm thrilled that I finally used items from my craft stash. Kind of like de-cluttering… but not, haha! Be sure to check out the other clever projects my blog friends are sharing today! You can start by hopping over to my friend Meg's blog, Green with Decor, and following the loop from there!
We'll be back in April with a special Earth Day edition of There for the Making. For now, I hope you'll pour yourself another cup of coffee and visit the other bloggers participating in our no-spend DIY series. All of these projects prove that we have hidden craft and DIY possibilities waiting in our homes! It IS possible to be creative without spending a dime!
There for the Making – February Challenge!
DIY Birch Business Card Holder by Minty Green Dream
Chalk Paint Chair Makeover by 2 Bees in a Pod
Sponge-Painted Picture Frame Makeover by Flourish & Knot
DIY Chalkboard Monogram by Personally Andrea
Gemstone Wrap Bracelet by Lifeovereasy
"Hello Sunshine" Wall Art by Two Purple Couches
St. Patrick's Day Wine Bottle Makeover by Green with Decor
DIY Barn Board Mirror – Ikea Hack by Vin'yet Etc.
DIY Organizational Clipboard by DIY Passion
Geometric Planter by Love Create Celebrate
Toilet Paper Roll Turned Plastic Bag Holder by Design Inside the Box
Chair Makeover by Simple Nature Decor
Vintage Toolbox Turned Craft Storage by My Creative Days