Fall mantel decorations get a modern, tribal inspired makeover with simple neutral accents and colorful purple pumpkins. Try these DIY ideas in your home!
Creating my fall mantel decor is one of my favorite activities of the season. I thoroughly enjoy thinking up a theme, going through my bins of decorations, and shopping our home to find items to use on our mantel. Maybe you feel this way, too? I also love to use items that aren't super specific to the seasons. Of course there have to be some pumpkins included, but I like the challenge of re-imagining accents that I already have.
I'm sharing my mantel today along with several blog friends for our Decorate Your Mantel Series: Fall Edition, hosted by Amy from My Life from Home. You can find links to everyone participating at the end of this post – I know you'll find lots of creative and beautiful ideas for fall mantel decorating!
We've had a few crisp days here in Cincinnati and now I am totally in the mood for Fall! I've already dug out my Fall candles and cozy sweater throws. Now it's time to switch up my home decor and first on my list is my mantel. I've been on a boho kick lately, so I decided to go for a tribal-inspired fall mantel this year.
One of my favorite things about decorating, especially seasonal decorating, is experimentation. It's okay if your style evolves over time or throughout the year. Decorating and design give you the opportunity to freshen up your home and try out new colors, patterns and combinations.
Now let me tell you more about my tribal-inspired fall mantel decorations!
This post contains some affiliate links for your convenience. Click here to read my full disclosure policy. 
To create my tribal-inspired fall mantel, I first decided on colors – black, white/cream and a few splashes of purple. I gathered up all kinds of decorations that fit the idea in my head. Some are DIY projects, some are items I've found at fairs and flea markets, some are from big box stores. I'll include affiliate links to what I can, or at least to similar items, as some may be one-of-a-kind or from several seasons ago.
Similar feather art here and here / Fuzzy textured pillow here
Once I had all my items collected, I began arranging them on my mantel until I had a vignette I liked. I am experimenting more and more with creating layers in my decor, for instance, overlapping artwork or layering smaller decor in front of frames or other pieces. I find that this gives my vignettes more visual interest, and oftentimes, more texture too.
Similar tribal art here and here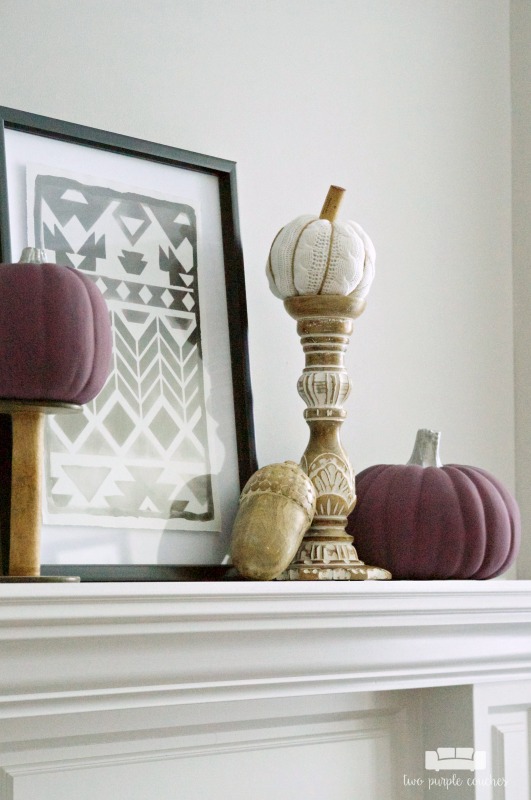 Similar pillar candle holder here and here / I used DecoArt Chalky Finish in on my pumpkins.
Click here to see how I made the painted wicker chargers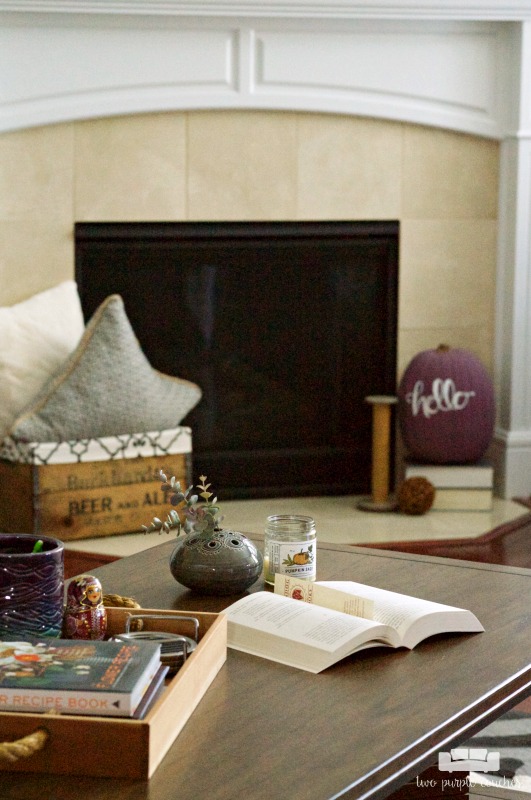 Similar wood crate options here and here
My tribal-inspired fall mantel is a bit different, a bit non-traditional for the autumn season, but I love that! The neutral creams and blacks feel appropriate for fall, and of course I had to throw some splashes of purple in there! I've noticed purple is becoming a more popular color for fall—what's your favorite non-traditional color to use this time of the year?
Decorate Your Mantel: Fall Edition