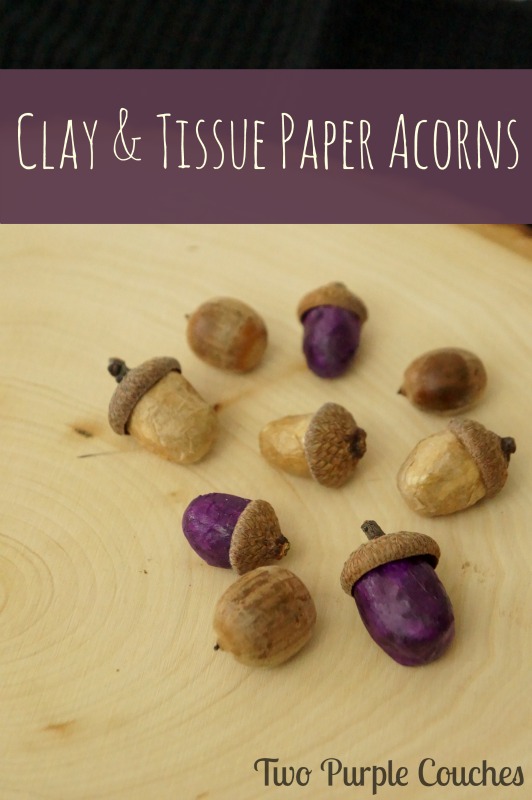 Sometimes, an idea strikes me and won't let go. Does this ever happen to you? That's the case with these tissue paper covered clay acorns. I was brainstorming ideas for a Fall craft, and kept coming back to some leftover clay and loose acorn caps.
Now, I'm nowhere near a master sculptor, but I figured I could make something resembling an acorn out of clay.
After all, I did manage to make a tiny clay Eiffel Tower, so an oval-ish blob shouldn't be that hard, right?
Right. Sort of. They're a little more oblong than they are round, but oh well!
To dress them up, I combed through our tissue paper stash until I found a more-traditional tan and a less-traditional purple.
Now, the next steps get a little messy. But half the fun of crafting is the mess-making. Also, I've never been able to craft (or cook) without making a mess, so this is just the norm around here.
Apply a small amount of Mod Podge to the dried clay acorn shape, then layer on small pieces of tissue paper until the whole acorn is covered. Apply a final coat of Mod Podge to seal it.
Once the Mod Podge'd acorns are dry, use hot glue to apply the caps.
And now they're ready to become part of your Fall decor! Just pop 'em in a little dish or make up a bunch to use as table scatter for a Thanksgiving centerpiece. How cute are these!?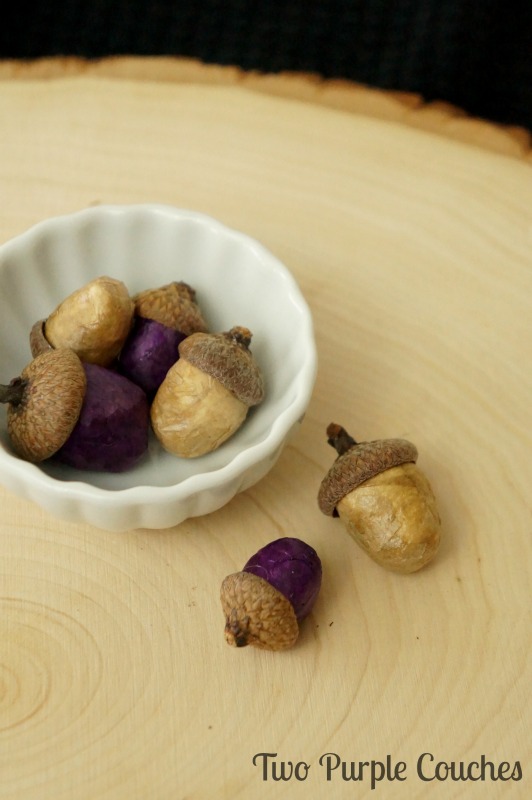 Sharing with: Awesome Things Tuesday / Merry Monday / Something To Talk About / Home Decor & More