Hello friends! Long time no post, right? The last couple of weeks have been a blur of travel and excitement, first to the Haven Conference for home & DIY bloggers in Atlanta, and then on to Panama City Beach for a family vacation. But now I'm back home, doing loads of laundry and planning out what I want to do here on the blog for the rest of this year.
I thought today I'd share more about my trip to the 2016 Haven Conference and what I took away from it this year (which was a ton, as usual!).
If you're not a blogger, you might be wondering what am I even talking about!? There are lots of different annual conferences for bloggers, but for those of us in the home and DIY space, there's Haven—a 3-day conference held every summer in Atlanta, Georgia. It's attended by about 300 bloggers, plus incredible sponsors and vendors from The Home Depot, Ryobi, Moen, Shaw Floors, 3M, CedarSafe, DecoArt, The Home Decorator's Collection, and Behr to name a few. The schedule is packed with classes on various blogging topics, from photography to hands-on building sessions, and also includes some time for us to cut loose and have some fun!
Blogging can be a very introverted kind of profession—many of us, myself included, are self-employed and work from home. Instead of meetings, we chat via email or through private Facebook groups. Instead of happy hours, we connect and catch up through social media. So it's super awesome/overwhelming/incredible/refreshing to get to spend a whole weekend talking to each other in real life, in real time. It's also one of the main reasons I wanted to attend the Haven Conference for my 3rd time. There is nothing like meeting and talking to other bloggers in person!
I attended Haven in 2013 and 2014, but had to miss last year since I was still recovering from my surgery. This year, I was really looking forward to running into old blogging friends and connecting with new ones. Last summer I was lucky to meet Amy from My Life from Home through a mutual friend. And since we both live in Cincinnati, we've been getting together ever since for coffee, to talk blogging, and even for craft nights. Plus, we collaborated on this little project known as Home for Fall, our first e-Book! I convinced Amy that she had to go to Haven this year, and let me tell you how wonderful it was to have a friend to travel and room with. We also met up with a bunch of blog friends from a Facebook group we all belong to, and by the end of the weekend we were exhausted and hoarse from all of the laughing and talking we'd done! Expect to see their faces around here in the near future—we are working on some cool collaboration ideas!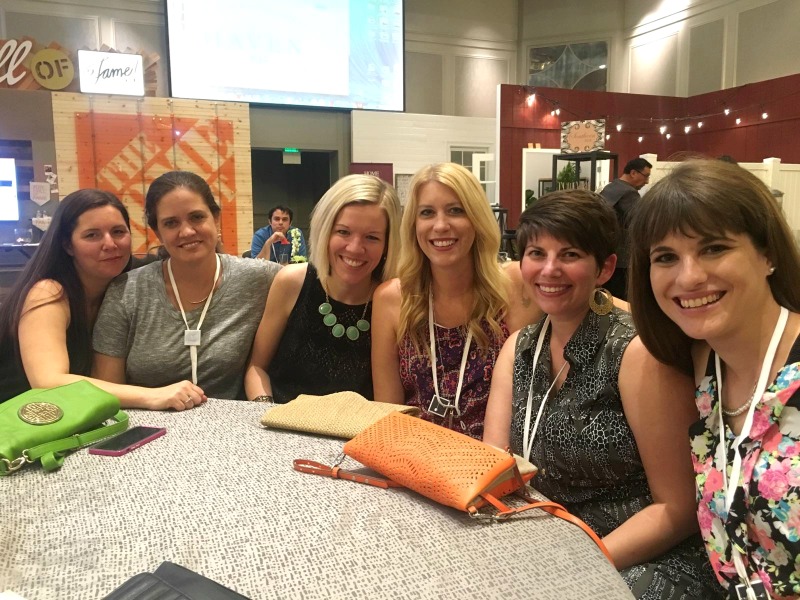 From left: Kim from Knock It Off Kim, April from Uncookie Cutter, Meg from Green with Decor, Amy from My Life from Home, me and Amanda from Love & Renovations
Amy and I met up with Meg at the airport on Thursday. Later that afternoon, Meg and I discovered we had a real life mutual friend! She went to college in Cincinnati and worked at an agency here with one of my best lifelong friends! Small world, huh? I take that to mean that Meg and I were meant to be friends 😉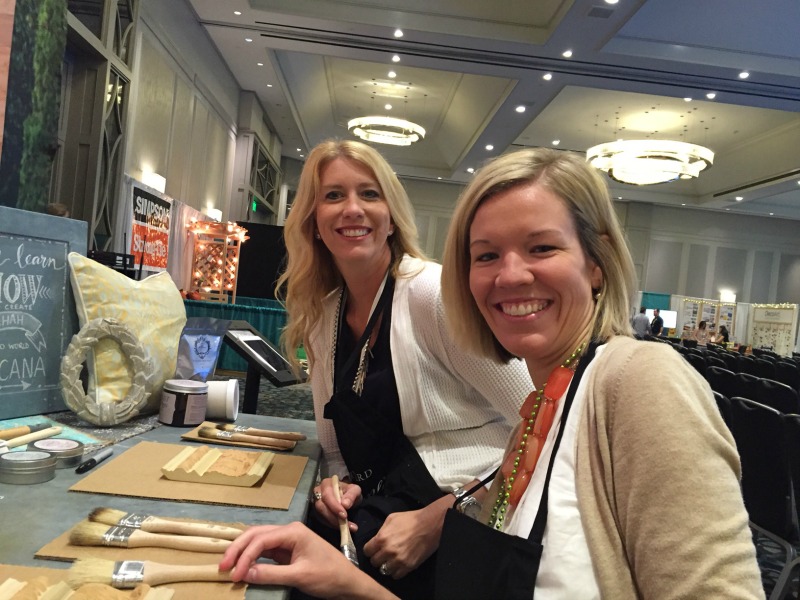 Here are Meg, Amy and I (I was taking the photo) at the Amy Howard at Home booth trying out some of their cool paints and techniques. 
I also got to meet a few of my fellow Merry Monday co-hostesses in person! We had so much fun talking about blogging, our love of Harry Potter, crafting and so much more.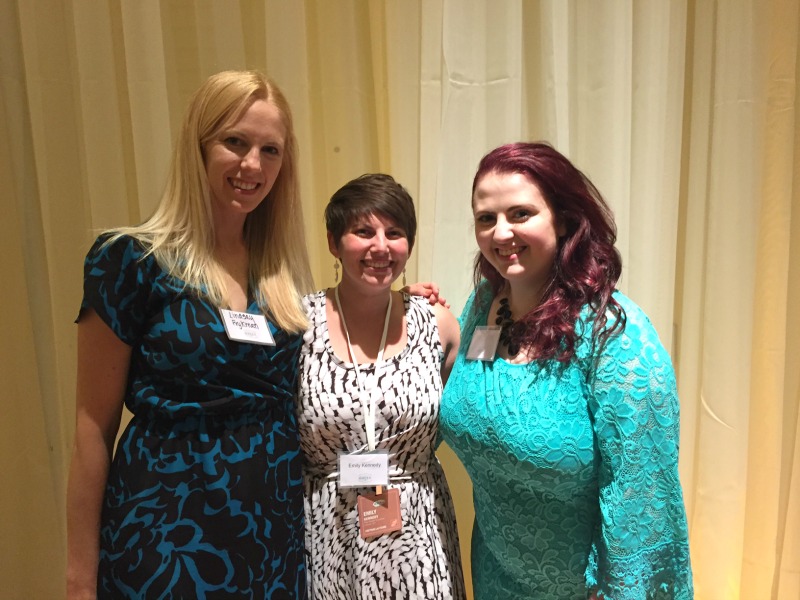 From left: Lindsay from Crazy Organized, me, and Chelc from Inside the Fox Den
I have to add this – one of the funniest things about meeting blog friends in real life is realizing how tall or short we really are! The photos where we're all sitting down are deceiving – I am suuper short, barely reaching 5-feet tall, and most of these ladies towered over me! Especially Amy and Meg who are both nearly 6-feet tall. I laughed so hard when someone told me they pictured me so much taller on my blog; that might be the best compliment I've ever received!
Now let's talk a bit about the sessions I took at Haven this year! It might seem like attending the same conference 3 times, you'd run out of information to absorb, but that is far from the truth. Yes, some of the topics are repeated each year, but there were also a lot of new sessions to choose from this year. The blog world is constantly changing and evolving, especially where social media is concerned—just think of how many times Facebook, Pinterest and Instagram have updated their algorithms over the past year or so! We bloggers have to stay on top of that knowledge and figure out the best ways to make sure you, our readers, can find our content.
I wanted to take some classes this year that would make me stretch outside of my blogging comfort zone (yes, that's a thing!). Now that I've been at this thing for a few (or 4) years, I know what I'm comfortable with, and more importantly, what makes me uncomfortable. So those are the exact areas where I want to learn and grow in the coming year! I sat in on Kirsten's session on email marketing, and I am so inspired to create and launch a fun and valuable newsletter soon. I want this to me more than just a digest of my posts, I want to include the things you really want to see, so keep you eyes peeled because I'll be asking for your help and opinions soon!
Home Decorators Collection set up their beautiful furniture and accessories throughout the hotel and conference rooms. This dresser was one of my favorites!
I think my photography skills have been steadily improving, especially now that I've upgraded from my iPhone to a real camera. But I learned SO much about new techniques for shooting photos, especially rooms, from Aniko's photography class. And I have some photography equipment to add to my Amazon wish list 😉
I also learned about SEO (search engine optimization), how to utilize data in Google Analytics, social media marketing, affiliate marketing and much more!
Haven is also a great opportunity to get hands-on with power tools and do-it-yourself projects. One of the coolest pieces of swag I brought home is one I made myself! Rockler Woodworking set up a lathe at their booth and gave us the opportunity to turn our own wood-handled bottle openers!
Usually, I come home from Haven feeling overwhelmed. In past years, I've fretted about re-designing my whole blog and my whole house! But this year, I am feeling very calm. Maybe five days at the beach helped, but I was feeling this way throughout the conference. I am the kind of person that needs reassurances that I'm doing things well, or doing things the "right" way. When you're self-employed, there are no annual performance reviews or manager meetings to give you guidance, so attending Haven helps me gauge things. I am feeling very calm and confident heading into the second half of 2016. I am excited to see how my blog grows, to hear from all of you, to uncover new friendships and opportunities, and to dive deeper into this crazy trail I'm blazing through the Internet 🙂
One last thing I want to say, and then I promise I'm finished because I know this post is SO. LONG. If you've ever considered attending Haven, or any kind of conference or event like this, but you're feeling scared or unworthy or reluctant, I just want to say – push those thoughts aside and go for it! It is totally, 110% worth it!
(psst – if you haven't reserved your copy of our Home for Fall e-Book, now is a great time to do it! We're offering 30% off with the code Back2School!)