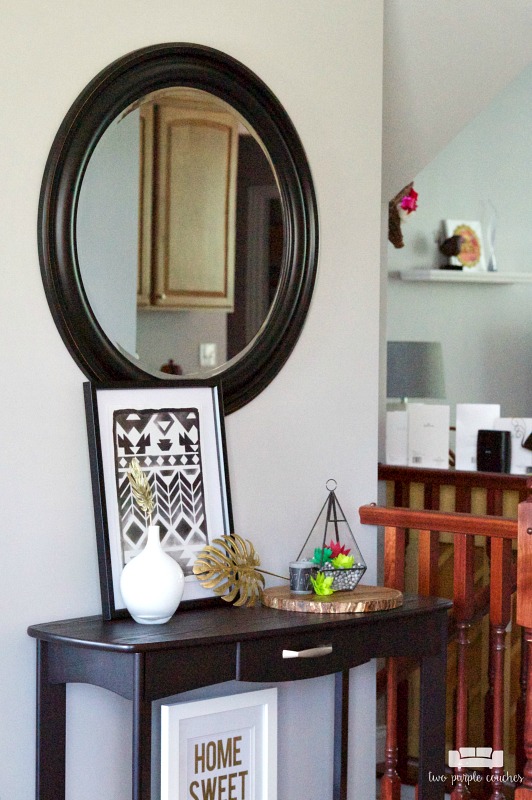 I'm excited to kick off a new series with you today! My good friend Amy from My Life from Home invited me to join a special summer series called Room by Room. Over the next several weeks, myself and a group of talented bloggers will be giving you tours of homes, room by room! Some are polished, some are in-progress, but the whole idea is to share our homes, our decorating plans and challenges and give you a glimpse into the spaces where we live our lives. First up in our series is, naturally, our entryways! I've recently refreshed my console decor and I'll give you a tour of my summer entryway.
I guess I should start this series off with a short introduction in case you're new to Two Purple Couches! My name is Emily and my husband and I have lived in our home for five-and-a-half years. It was a new construction home that we selected and built, and we've spent the past severals years making it our own. I'll admit, I still struggle to pin down and define our style. I would say our home's design is Transitional/Traditional, with a very open floor plan on our first floor. I like elements of modern, boho/eclectic and traditional decor with a touch of vintage/farmhouse. See, I said it was hard to pin down! So basically, I like what I like and I decorate however the mood strikes me! Most of the time, I think it works together!
Because of our open layout, I sometimes find decorating and photographing our space to be a challenge. Throughout this series, I'm going to keep it real; maybe you struggle with some of the same things, or maybe you've cracked the code to furniture arranging and styling an open floor plan like ours. In which case – shoot me an email! I'd love to hear your tips!
But first, let's focus on our entry! Our foyer is basically a long hallway that separates our dining room and my office. When you open our front door, you get a straight shot through our entryway and into our family room – you can see my summer mantel above our fireplace.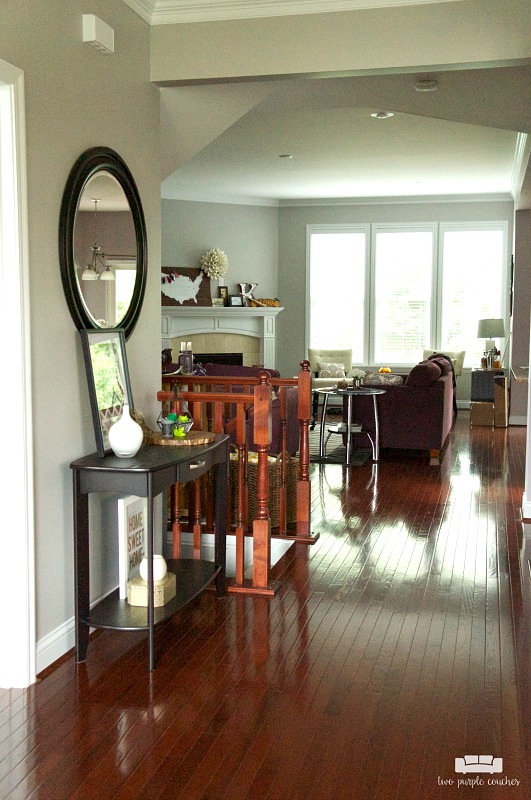 The color of our foyer walls is Behr's Natural Grey, but we had Devoe paint tinted to match, which we also used in our family room. These vinyl designs were one of the first decor projects we did years ago. You can read more about how we laid it out here.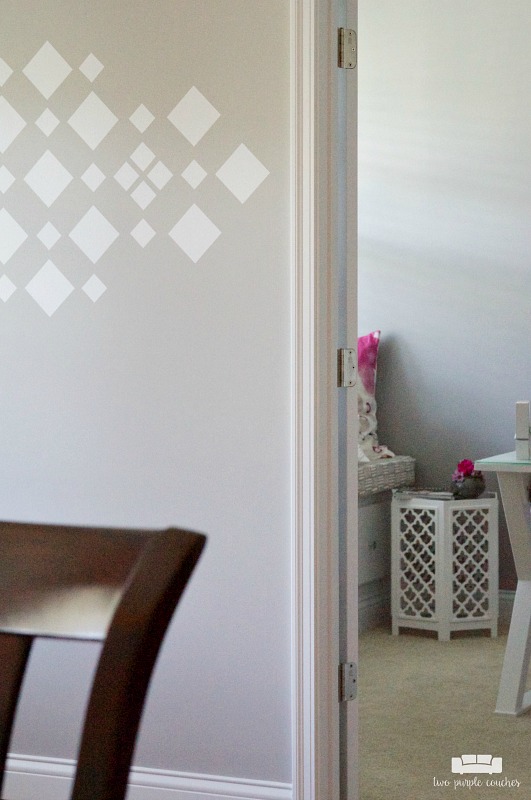 This post contains some affiliate links for your convenience. Click here to read my full disclosure policy. 
Our entry console table is simple, but fits well in the space we have. We found it on Amazon several years ago – it's the Danica Console Table by Winsome Wood.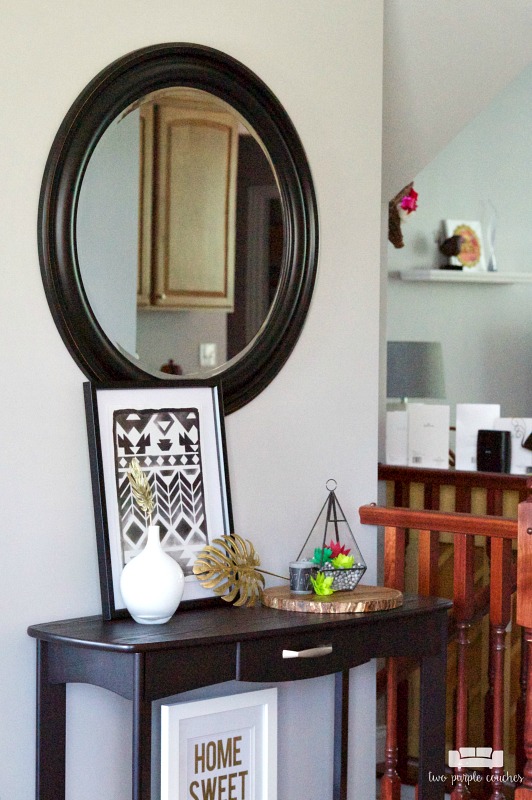 I gave our foyer table a quick decor update for summer, bringing in some watercolor tribal art, metal monstera palms, a white IKEA vase (similar here) and one of my latest crafty projects, this faux succulent terrarium atop a wood slice.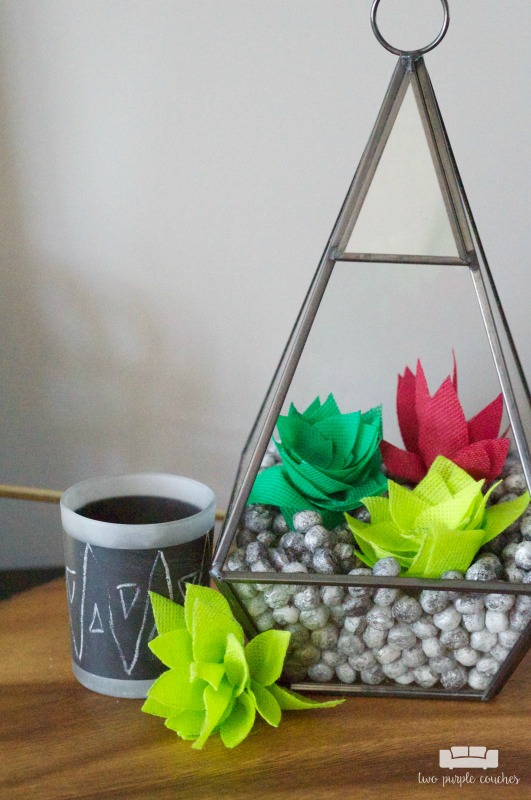 I don't have too many future plans for our entry. We recently upgraded our front door – you can see the before-and-after right here.
I've been talking for years about getting a new rug or a hall runner.The mat we currently have was purchased out of necessity more than style. We moved into this home a week before Christmas, and had no grass to speak of for months. Mud was constantly getting tracked in through the front door and we needed a large mat to try to collect some of it! I'd love a sturdy rug in a darker color palette with a fun geometric or ikat pattern. If you have any suggestions or brands you love for high-traffic areas, please leave me a comment!
Other than updating the rug, my only other plans for the space are to hang something on that small wall behind the front door. I recently did a painting at one of those wine-and-painting places that I think will fit perfectly – I just haven't put it up yet! Maybe some day down the road we'll update the light fixture, but for now, it suits us fine!
Room by Room: Entries & Foyers
There are tons more entryway inspiration and ideas to be found today! Be sure to join us next Wednesday as we'll be sharing and showing off our kitchens!