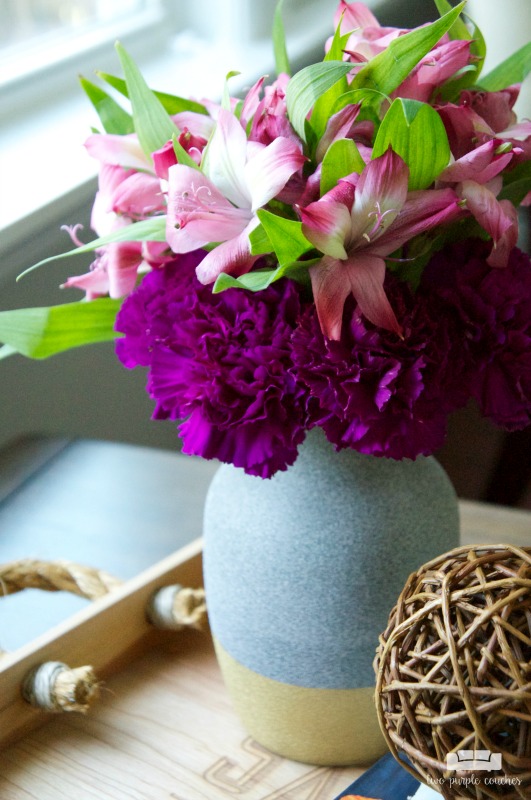 Thank you to HomeRight for sponsoring this post. All content and opinions expressed here are my own. Click here to read my full disclosure policy. 
I always say that it's amazing what a coat (or two) of paint can do to transform anything – from small home decor accents to a whole room. I recently had the opportunity to try out the new turntable accessory for spray painting from HomeRight and put this belief to the test once again. I was able to easily transform a simple glass vase into a beautiful gold-dipped vase in a single afternoon! (Be sure to keep reading – there's a giveaway opportunity at the end of this post!)
Last Fall, I got to try out a small Spray Shelter from HomeRight (read about it here), and it totally changed my spray-painting game. When you pair a Spray Shelter with this new turntable stand, you get the perfect dynamic duo for painting smaller items and home decor accents. Especially dimensional items that you'd otherwise have to handle in order to get all sides painted. I have a special knack for touching my project too soon and getting wet paint all over my hands, and subsequently smudging said project. With this revolving stand, you can slowly rotate it while you spray, so all sides get even coverage and you don't have to spray—wait—rotate anymore!
Let me walk you through how I turned a dollar store glass vase into this gold-dipped vase.
How to paint a gold-dipped vase:
Materials Needed:
Glass vase (washed and dried)
Stone-textured spray paint
Gold spray paint
Plastic bag
Washi tape
Tutorial:
I've been trying my hand at video and put together this quick how-to:
If you prefer written instructions, read on:
1.) Set up your HomeRight Spray Shelter and place the Turn Table in the center.
2.) Start with the stone-textured spray paint and work in small sections, slowly rotating the turntable as you go, to cover the whole vase in a light coat of paint. If needed, apply a second light coat and allow to dry according to can instructions.
3.) Once it's dry enough to be handled, decide how much of the bottom portion of the vase you want to be gold (I painted about one-third of my vase). Add a ring of tape – I found that washi tape adhered better than painter's tape. Then cut the zip top off a plastic bag and slide it over the top portion of the vase. Secure it to the washi tape ring with more pieces of washi tape. Set the vase back on the turntable, and lightly coat the bottom with gold spray paint.
4.) Once the vase is fully dry, carefully remove the tape and plastic bag, and then your gold-dipped vase is ready for a beautiful bouquet of flowers!
I have become slightly obsessed with this stone-textured spray paint recently. I used it to create an outdoor lantern project for our Home for Summer e-Book and have been combing our house for other things to paint ever since. This simple vase I picked up a while back from the dollar store was the perfect candidate! Doesn't it look like a neat modern home accent you'd find in a home decor store? I think so!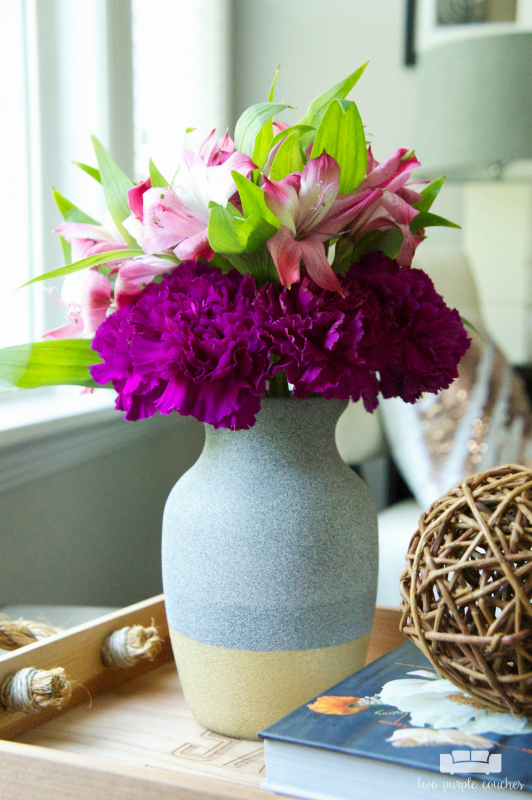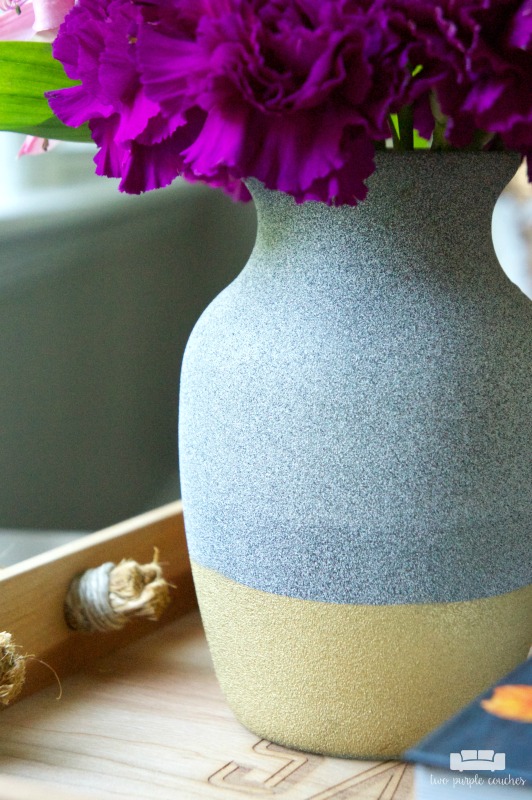 Have I convinced you that you need a HomeRight Spray Shelter and Turntable yet? I have? Good! Because now you've got the chance to win one for yourself! Use the widget below to enter.This giveaway is open to U.S. residents age 18 and over.
Love this? Don't forget to pin it!