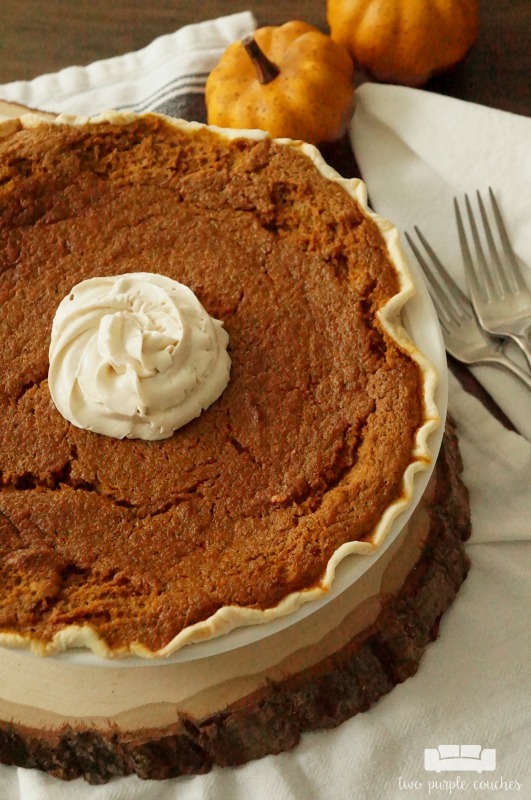 My grandma's pumpkin pie recipe is like nothing you've ever had before! It's light and moist, with an airy meringue-like texture. And it is oh-so-delicious!
I am so excited to be joining Wayfair's Second Annual Battle of the Pies with my grandma's special pumpkin pie recipe!

Since this is a family recipe, I thought it'd be fun for my mom and I to make it together. Plus, I've never made this recipe myself; my mom makes this pumpkin pie every Thanksgiving for our family dinner, and I wanted to have the pro in the kitchen with me for my first attempt!
And I have to say, my first attempt turned out deliciously! It may not be the prettiest pie ever made, but boy did it taste good!
Grandma's Special Pumpkin Pie
Ingredients:
1½ to 2 cups canned pumpkin
1 cup brown sugar
3 egg yolks, slightly beaten
3 egg whites, beaten to stiff peaks
1 cup milk
¼ tsp cinnamon
¼ tsp ground cloves
¼ tsp ground ginger
¼ tsp nutmeg
1 tsp salt
Directions:
Mix all ingredients, except egg whites, in a mixer on slow speed. Beat egg whites until stiff peaks form, then fold thoroughly into pumpkin mixture. Pour mixture into prepared pie crust. Cover just the crust with foil so it won't burn. Bake at 425-degrees for 15 minutes, then reduce temperature to 350-degrees and bake 40-50 minutes or until a knife inserted near the center comes out clean. Remove foil near end of baking time so crust turns golden brown. Cool on a wire rack for 2 hours, then refrigerate.
This recipe makes one 9-inch pumpkin pie.
Note: Covering the crust with foil can be a little tricky. Tear off a few strips of foil and loosely fold them around the crust, taking care not to let the foil cover or sink into the pie filling. You might also consider placing your pie pan on a cookie sheet before baking. My pie plate was filled to the brim and I didn't want it to spill over while baking an make a huge mess in my oven!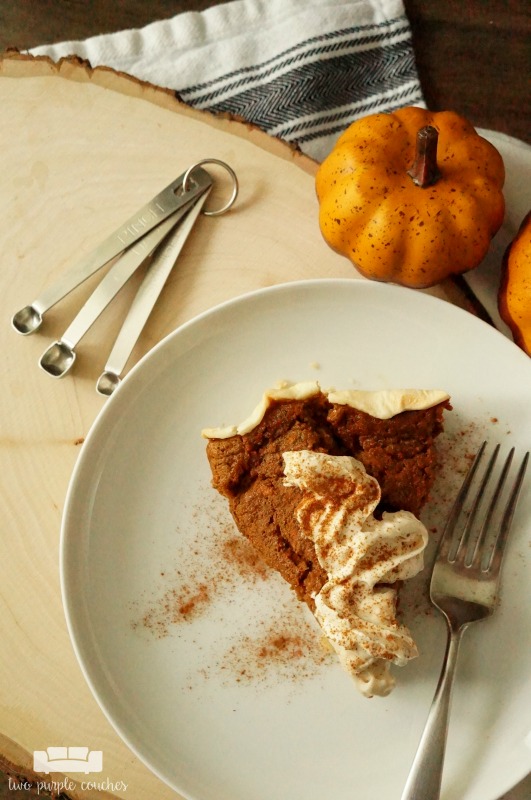 What makes this pumpkin pie special is its texture, which is achieved by using three eggs instead of two. Beating the egg whites and then folding them into the rest of the filling gives this pie a light texture that is almost like a meringue. Top it off with some whipped cream and a sprinkle of cinnamon and you have a quintessential piece of all things fall, family and warmth! (As an aside – my mom found a can of vodka-infused caramel whipped cream at a local specialty shop and ohmygoodness! It is so delicious dolloped on top of a slice of this pie!)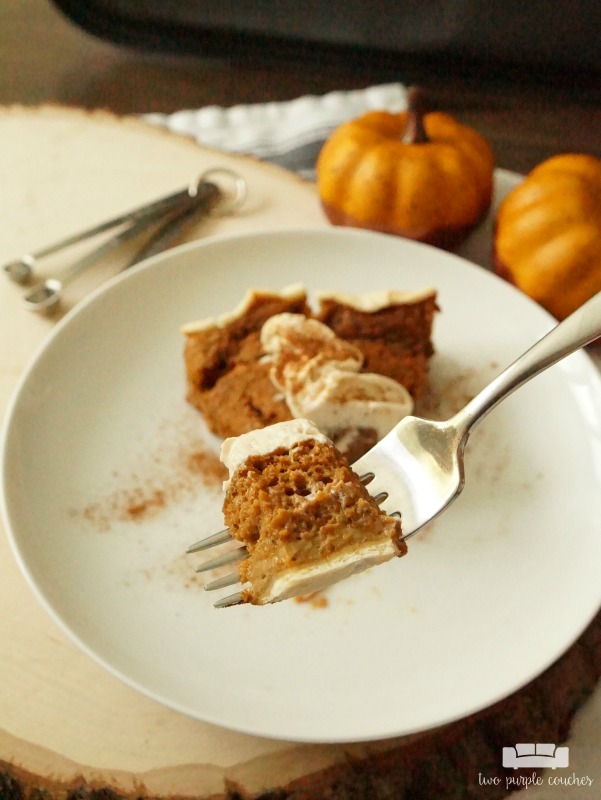 You can use a store bought pie crust or make your own. I used store bought this time around, but the next time I make this pumpkin pie, I want to try a homemade crust. I would also recommend pre-baking the crust before pouring the filling in. I didn't think I'd need to do this, but I think my crust would've held up better if I had—you can see in some of my photos that it fell apart a bit. There's beauty in the imperfections, right?
If you need some baking supplies to get you started, be sure to check out Wayfair's bakeware selection. I especially love this pie plate and these dough cutters. Wouldn't this pie be so pretty with a layer of dough leaves on top? I think these would add such a beautiful detail to this pumpkin pie, especially for Thanksgiving dinner!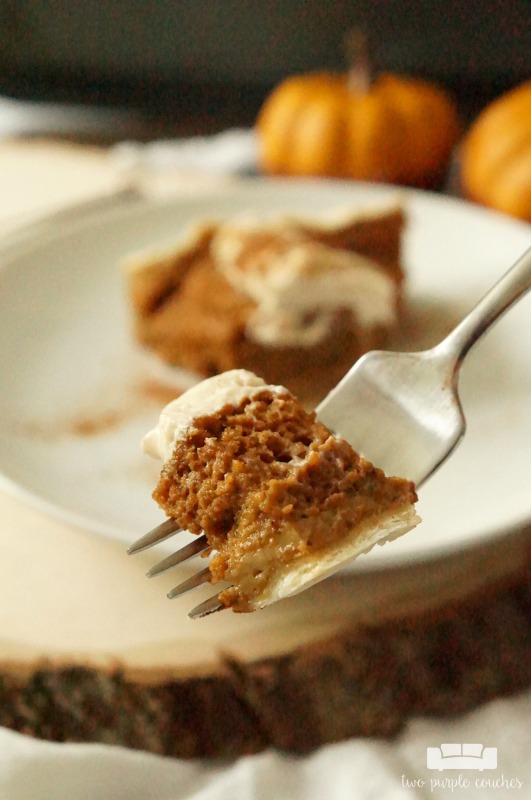 Do you remember how I said I was sharing my pumpkin pie for Wayfair's Battle of the Pies? That means there's a friendly competition going on! The blogger who gets the most comments and social shares on their pie will win a Wayfair gift card! If you think my grandma's pumpkin pie sounds like the most incredible pie ever (and how could it not!?), please leave me a comment and share this post on Pinterest, Instagram, Twitter or Facebook!
Love this? Don't forget to pin it!
Disclosure: I received a Wayfair gift card for my participation in this campaign. All opinions on pie are my own. Click here to read my full disclosure policy.