Does anyone else feel like these weeks are flying by entirely too quickly!? We are still in building mode and probably will be for the foreseeable future! If I had to chose one hashtag to describe our life right now, it would be #buildallthethings. I'm also channeling Dory. My new motto is "just keep building."
You can catch up on all our One Room Challenge posts here: Week 1 / Week 2 / Week 3
And here's a reminder of my vision for my home office:
We are making progress on our furniture-building projects, but it feels like we're moving at a snail's pace. Though when you consider all of the small steps that go into building a piece of furniture, we've checked quite a few things off the list!
An update on the window bench… it's been primed and painted and is pretty much ready to be installed in my office. We are working on the drawers this week and have hit a couple of mini roadblocks… Tom cut up the wrong piece of wood; we bought a router table that our router didn't fit in; we needed to get new router bits and a bit extender to make our router work in the table… the list goes on!
But we keep on keepin' on! I am so excited about this piece! We had to move it around last night so I could paint it, and I couldn't pass up the opportunity for a quick photo opp!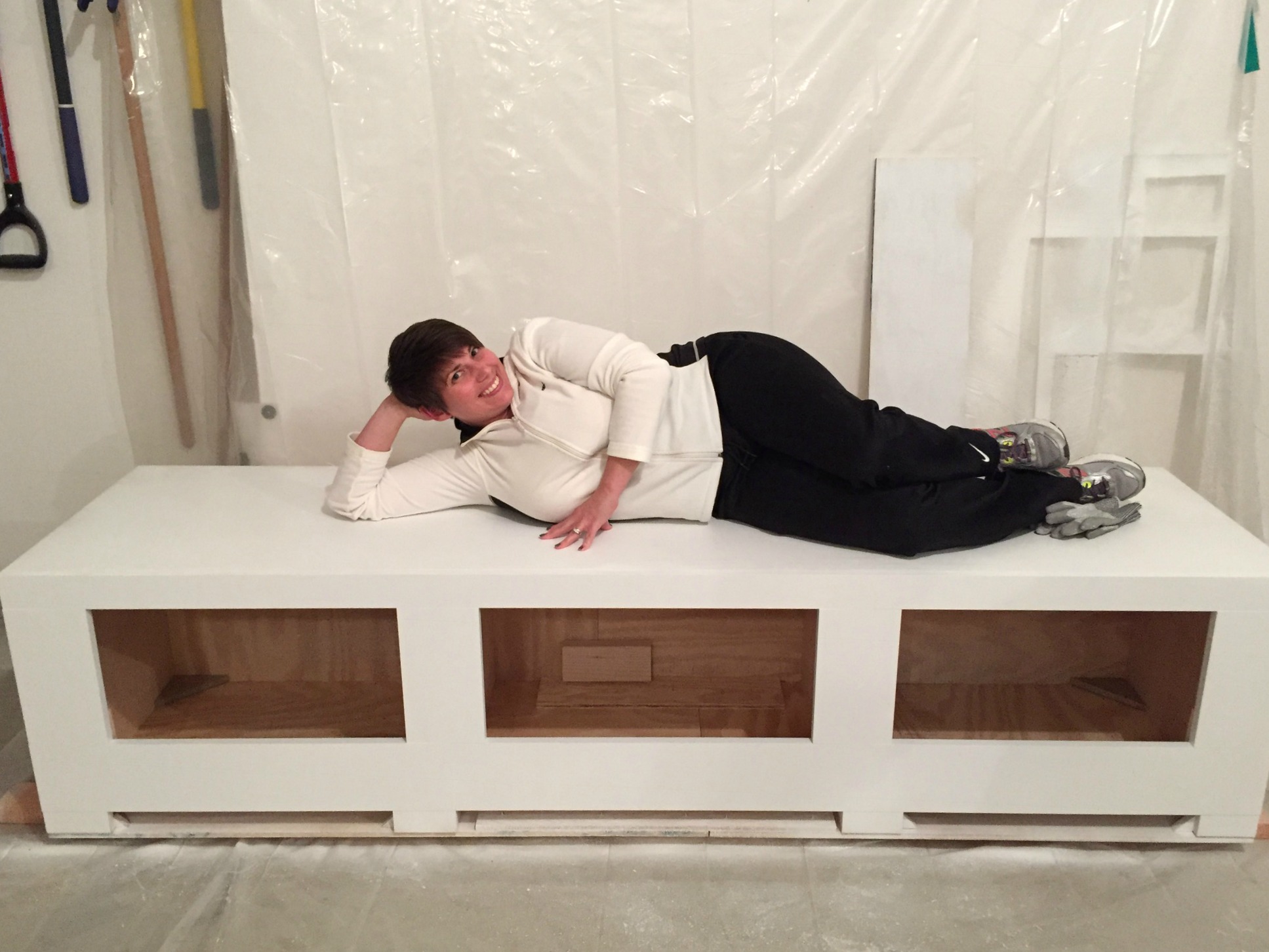 We also built the cabinet that will be installed next to the bench. Here's our initial sketch as a reminder: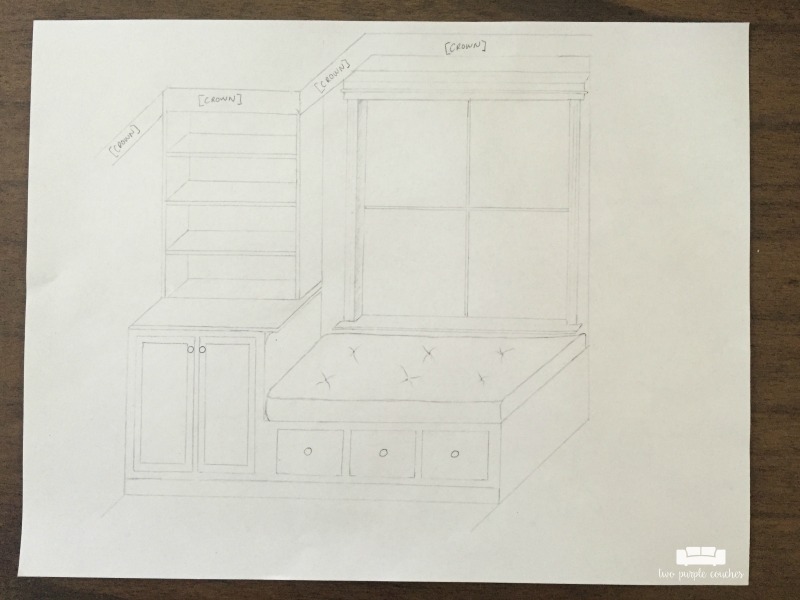 And here's what the cabinet currently looks like:
On the agenda for the next couple of days is to assemble & install the drawers in the bench and make the doors for the cabinet. Then we'll start on the shelves that will above the cabinet. And if we're lucky, we'll have time in the next two weeks to make and install the bank of cabinets and shelves to go on the opposite wall. I think we're going to need a lot of luck 😉
Oh, and my fabric from Minted arrived yesterday, so I can get started on the cushion cover for the bench and some throw pillows!
Trim out window
Remove baseboards
Buy a new desk chair
Buy or make a new desk (I wrote about some of my favorite finds earlier this week; spoiler alert – I chose one of these!)
Build window bench
Build drawers for window bench
Build cabinet bases (sorta done… we've built one of four)
Build cabinet doors
Select cabinet hardware
Build bookshelves
Paint cabinets, window bench and shelves white
Paint window trim
Install and paint crown moulding
Sew bench cushion
Sew throw pillow for bench
Build ladder for bookshelves
Art & decor for shelves (I'm sure there will be some DIYs included here!)
Additional furniture or lighting (tbd)
Be sure to head over to Calling It Home and check out how the Featured Designers and my fellow Guest Participants are coming along on their room makeovers!
I am so excited to be partnering with some amazing brands to make my dream home office plans a reality. Thank you so much for your support!
Minted // D. Lawless // Wagner