Create a festive holiday porch with these simple decorating ideas! All you need is some garland, ornaments, evergreen and an easy DIY sign!
Holiday porch decorations are quickly becoming one of my favorite things about seasonal decorating! It's fun to think about decorating our front porch in the same ways that I think about decorating our dining room and family room. I would always add a Christmas wreath to our front door, but for the past couple of years, I've been putting more focus on creating a festive holiday porch to greet our guests throughout the season.
Last year, I went with a vintage look for our porch, and this year I am bringing many of those same elements back, but trying to change them up a bit for this year's holiday porch. Click here to see my vintage-inspired Christmas porch. After all, where's the fun in doing the exact same thing year after year!?
This "NOEL" sign is new. Sort of. Remember my large "Welcome" sign? Well, when I made that sign last year, I had every intention of painting a Christmas version on the backside. I just didn't get around to it until last week. #betterlatethannever #storyofmylife Click here to see my DIY Welcome porch sign.
This vintage Flexible Flyer sled is still one of my favorite finds, and I look forward to displaying it on our porch every year. I've been wanting a pair of skates, and finally found what I was hoping for at a vintage market earlier this Fall. I think they're the perfect addition to the sled and to our holiday porch!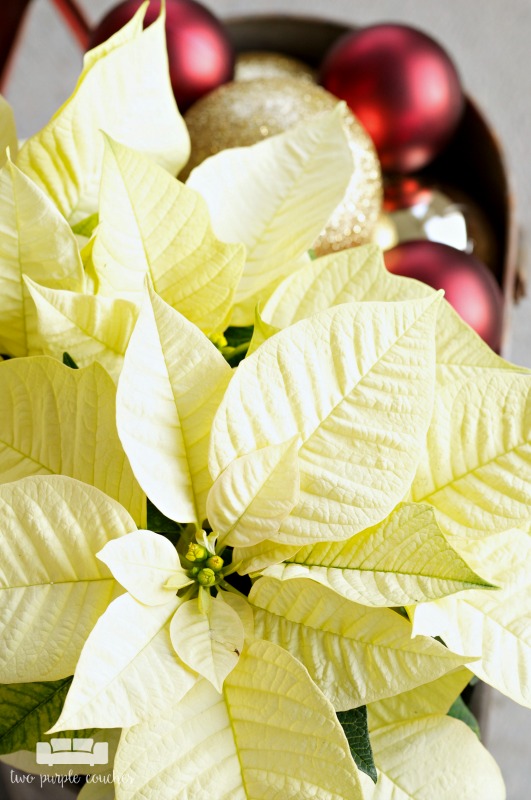 These galvanized pails I have are perfect for holding fresh poinsettias and plastic ornaments. I just wish we lived in a region where I could leave the poinsettias out all season! But at least they'll make the inside of our home festive, too.
I found the small potted spruce tree at my local grocery. I was very tempted to buy a 3-foot tall Christmas tree, but settled for this guy instead. He's pretty cute, though!
The final touch on our holiday porch is this colorful monogrammed ornament! So now I'd love to know—on a scale of minimalist to Clark Griswold, how much do you deck out your front porch for Christmas?