Simple Christmas front porch decorations a vintage touch. Create a pretty holiday porch with garland, lights and a vintage sled draped with ice skates!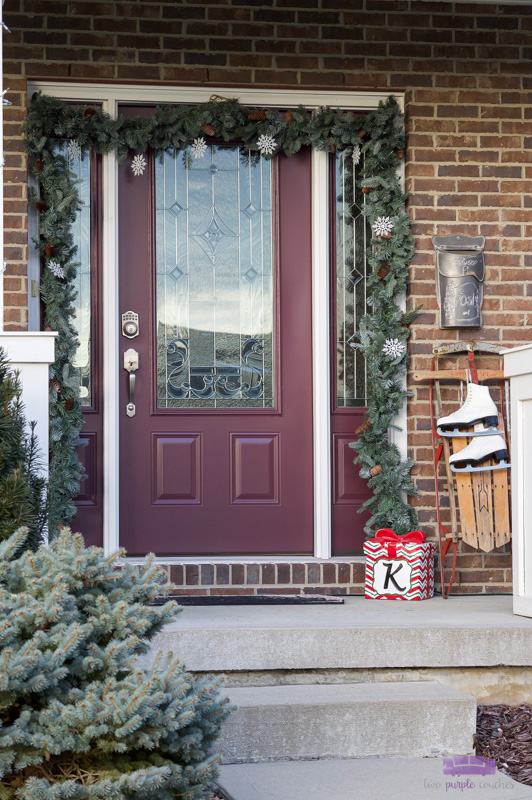 My Christmas front porch is pretty simple this year, featuring garland, lights and my favorite vintage sled. But this easy decorating idea still sets a festive holiday mood for guests!
I'll be honest, I had a very different vision for our Christmas front porch this year. It may have involved several real, moderately-sized trees. But this vision hasn't exactly panned out, and so I am turning to my trusty garland and vintage sled to create a cute, festive porch to share as part of our Decorate Your Porch: Christmas Edition blog hop today.
This year's Christmas front porch decorations are similar to the previous two; you can click here to see my 2017 Christmas porch and click here to see my 2016 Christmas porch. But that's okay! I think it can be hard not to get swept up in the idea of a whole new look for your porch, tree, house, whatever-it-is each Christmas. We see so many unique ideas in magazines and online, that I think it's become the norm to think we need to completely change our decor from year to year. But that is just not feasible for everyone, myself included. While my creative imagination would love to do this, my wallet (and our home's storage capacity), would not! So I am reviving my tried-and-true holiday decorations for my Christmas front porch.
I did make a slight change this year by using two strands of garland around our front door. In years' past, we've just hung one strand, even though we purchased two. The snowflakes were in my Christmas craft supplies bin, and I thought they'd be a nice addition to the garland.
I found the pair of ice skates at a market last year and was so thrilled. I've been wanting a cute pair of skates for years! I love the vintage touch they add when paired with this Flexible Flyer sled.
I needed one last element to complete the look of my Christmas front porch, and this monogrammed gift box did the trick! Now our front porch is all ready to welcome guests throughout the holiday season!
Don't miss the other beautiful porches being shared today from our Decorate Your Porch group!